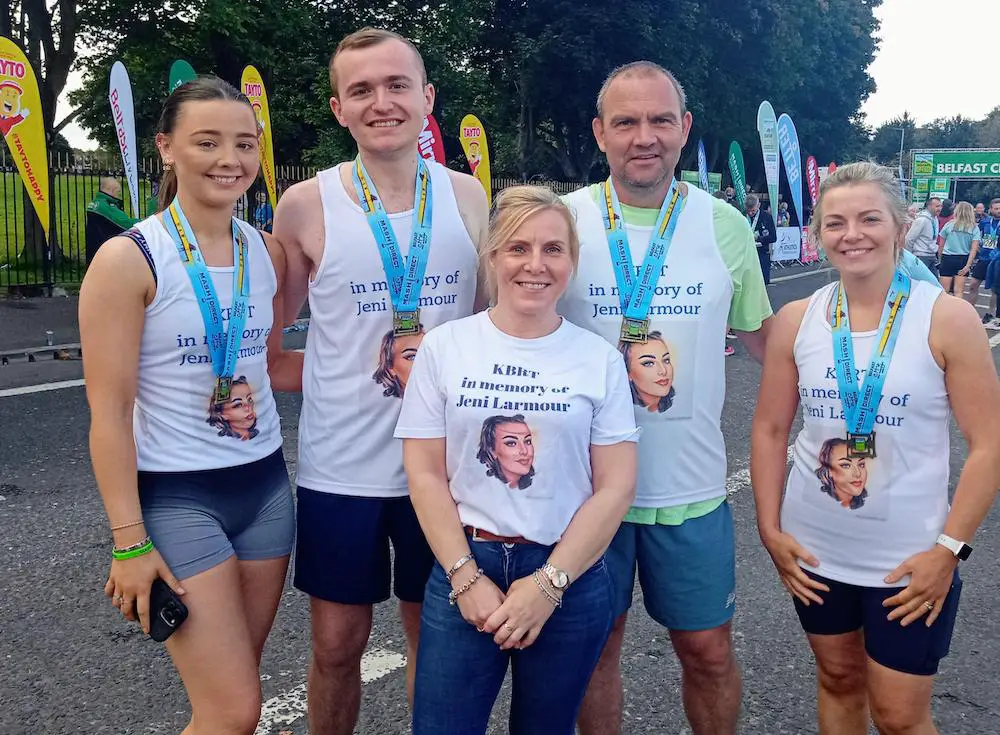 A fundraising run in memory of Newtownhamilton student Jeni Larmour has raised a fantastic £4,238 for the Kevin Bell Repatriation Trust.
A team of four runners competed in the Belfast half marathon in September, encouraging friends, family and colleagues to dig deep for their efforts.
And what a response there was!
The team – made up of Matthew Currie, Beth Preston, Robert Hutchinson and Jill Murphy – entered the run under the name 'Jeni's Diamonds' in tribute to the former Royal School Armagh deputy head girl.
Jeni died in Newcastle where she had gone to attend university.
She and mum Sandra, travelled across from Newtownhamilton, to the city on Thursday, October 1, 2020.
On the Saturday morning, hope of a new dawn for her daughter had turned to despair for Sandra who received the dreaded call and learned that Jeni had died.
In June, Kavir Kalliecharan, 19, of Coleridge Close in Leeds, who was one of eight people found in the student accommodation where 18-year-old Jeni passed away, pleaded guilty to possession of MDMA, ketamine and cannabis. He was handed a conditional discharge.
Earlier this month, an inquest verdict found that the lethal ketamine was "provided by another". Sandra said it "vindicated" her daughter and this came as a comfort to her family.
The heartbreaking loss of Jeni, at the age of 18, came as a huge shock.
And it was the Kevin Bell Repatriation Trust which stepped up to ensure Jeni was brought back home to Newtownhamilton and offer support to family in their hour of need.
Sandra, therefore, was delighted that the run held in Jeni's memory had been so successful, describing the total raised as "fantastic".
She told Armagh I : "I would like to say well done to the runners Matthew Currie, Beth Preston, Robert Hutchinson and Jill Murphy, and a big thank-you to everyone who donated.
"The Kevin Bell Repatriation Trust helps hundreds of families each year faced with a bereavement and the arduous task of bringing the body back home to Ireland.
"It is a charity who were of invaluable and immense support in bringing Jeni home from Newcastle-upon-Tyne back to Newtownhamilton."
Colin Bell collected the cheque from the runners and thanked them for their very generous donation.
Indeed, their efforts – and the generosity of all who supported them and others who fundraise for this worthy cause – will ensure this vital and valuable support and practical help can continue to be extended to all those who need it in their time of great loss.
Sign Up To Our Newsletter