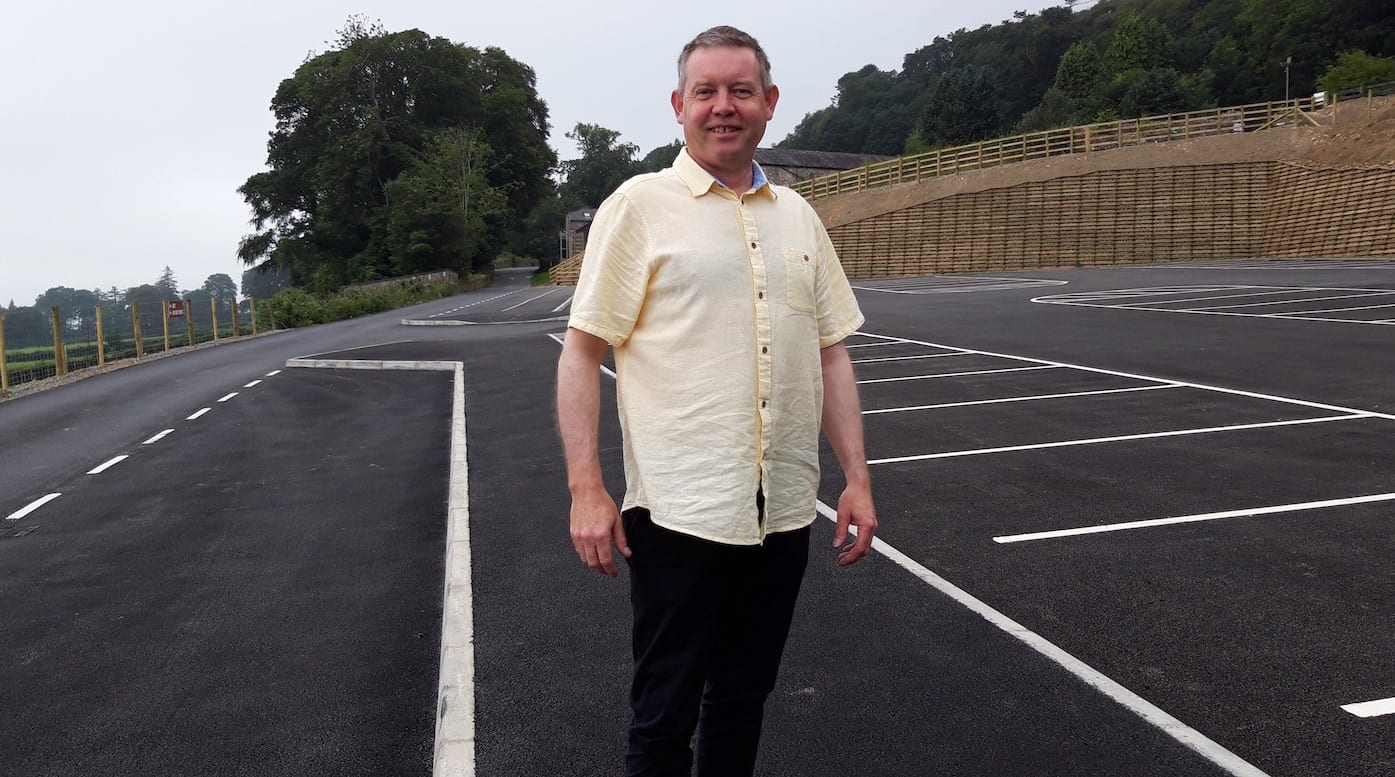 Work on increasing car parking space at Slieve Gullion courtyard has been completed.
A total of 84 extra spaces have been made available following years of lobbying to help alleviate growing issues around the popular tourist destination.
And it comes ahead of a potential major £750,000 tourist development plan for the Slieve Gullion Forest Park – including an outdoor event venue within the walled garden.
In June, Armagh I revealed that Newry, Mourne and Down District Council looking at making a formal bid for rural development funding.
The Department of Agriculture, Environment and Rural Affairs could contribute up to £500,000 if successful. And the council would then provide £250,000.
The hope is to fund two particular elements.
The outdoor space would include tiered seating, landscaping within the walled garden, a stage and purpose-built event area. It would see audio-visual enhancements made to allow performances to be staged, and there would be improved access to the car park, courtyard and Giants Lair.
Speaking on the improved car parking this week, Sinn Fein councillor Mickey Larkin said: "The popularity of Slieve Gullion is increasing year on year and it is important to continually review facilities on site.
"The issue of adequate parking on site has been to the forefront of discussions between myself and Council officers over the past number of years.
"With the development of the Fairy Trail, forest walks and the Footsteps in the Forest festival there has been increasing pressure on parking which has spilled over onto the surrounding side roads.
"This has had a detrimental effect on local residents who have found themselves hemmed in by visitors. With this in mind car parking for an extra 70 vehicles was provided two years ago.
"The added provision of 84 more parking spaces this year and with the implementation of traffic management plans for events, it is hoped that these problems will be addressed.
"As the development of this historic site continues over the next few years it is imperative that the Council take on board the views of the residents who live in the vicinity of Slieve Gullion.
"I will continue to communicate the opinions of the local community as we pursue the development of the tourism product in South Armagh."
Sign Up To Our Newsletter