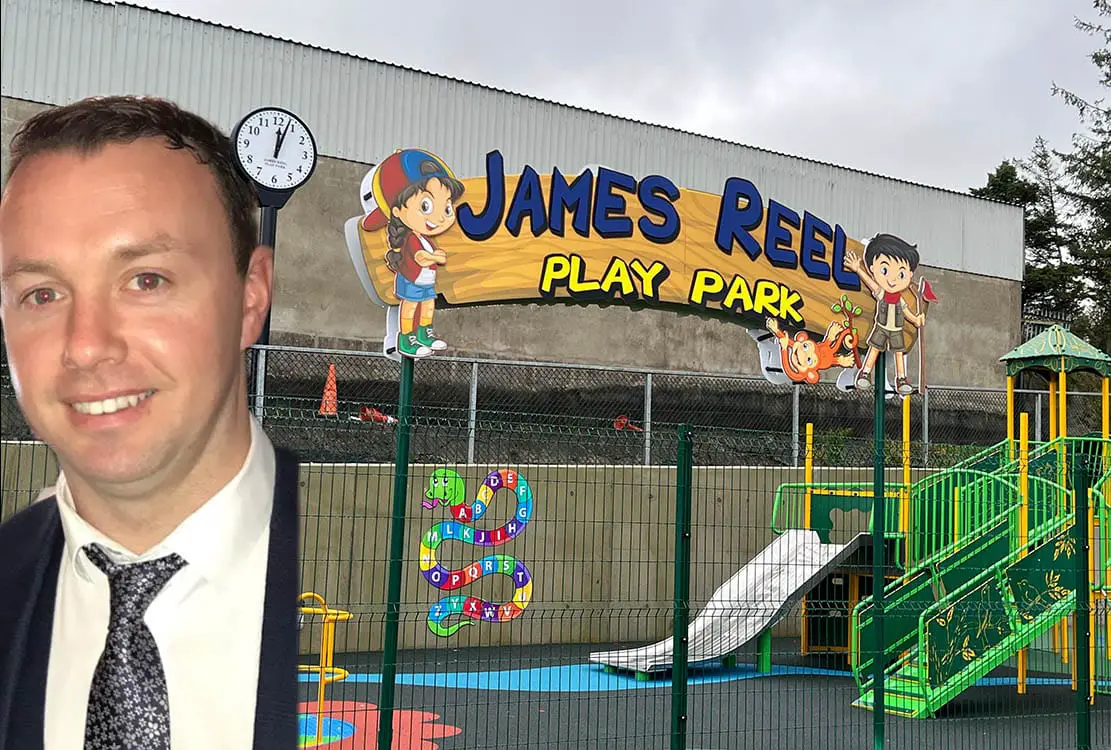 A children's play park, in memory of a young Co Armagh dad who died suddenly, will open less than a year after a campaign was launched.
The James Reel Play Park in Silverbridge will officially open to the public this coming Sunday, November 6.
The play park campaign – launched by his family on November 29, 2021 – has seen over £100,000 raised in what James's sister Aisling Martin described as "just unbelievable".
"We asked the community to get behind us, to back us and that we would follow through and here we are, 11 months later, it's completely finished – we couldn't be prouder," Aisling told Armagh I.
"It's an amazing facility for the whole of Silverbridge and the wider South Armagh area. We have the park, we have a lovely wee garden area; picnic benches; it's his legacy.
"It's never going to bring him back but his name will live on in the community and that was the goal from the outset. That's all we wanted for his kids. When James passed away his wife Mairead was expecting. She has since had a little boy (baby James). It's there for him and his sisters."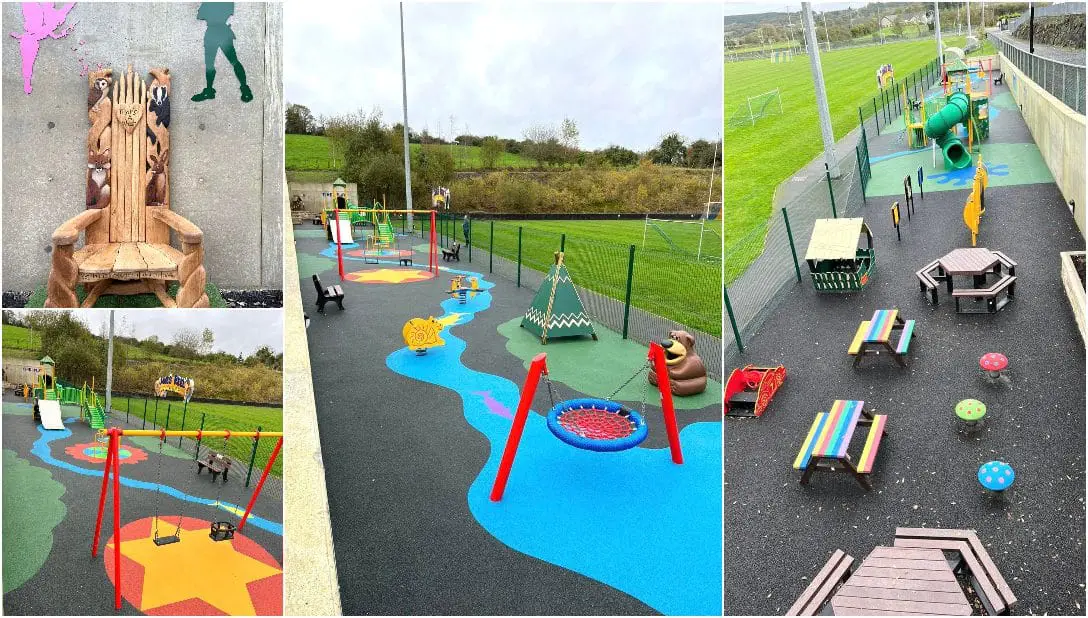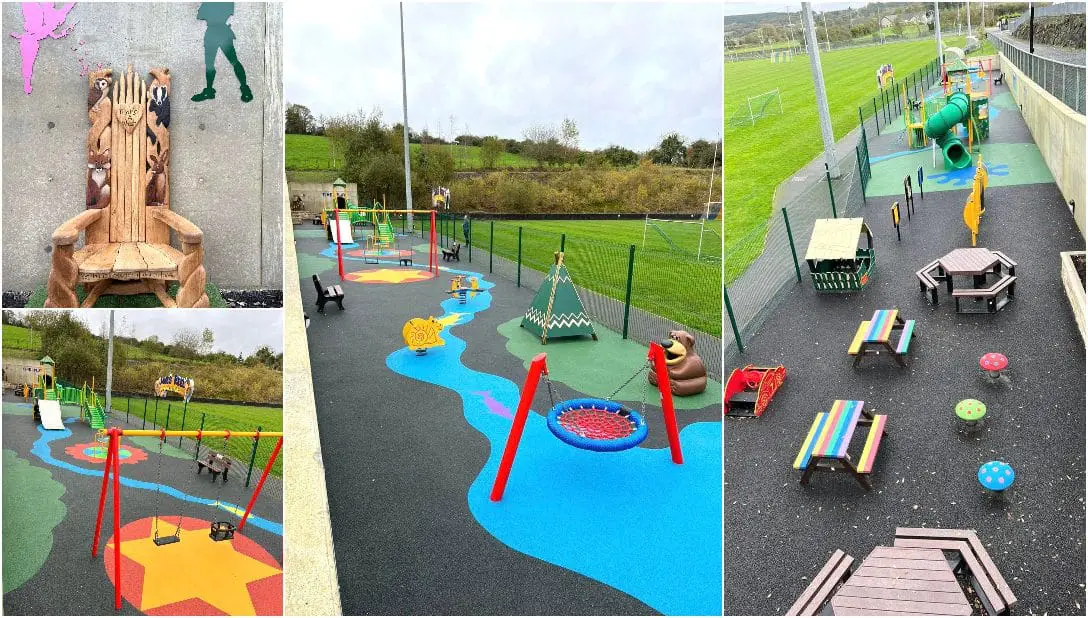 Emotionally, Aisling says, it has been a lot because "you're dealing with the community's money and you're hoping to fulfil something that they can stand back and look at and think, yes…"
And in terms of turnaround, Aisling says even the contractors said the timescales in which they managed to pull off the park were unheard of.
"We were told that when a play park is even suggested in the Council circles; it's talked about, then there's funding looked for, it could run on for five years. To start a campaign and come up with over £100,000 in 11 months is just unbelievable."
The community response was always going to be great but Aisling says it went beyond anything they could have imagined.
"To see 5,000 turn out in Armagh for the Christmas Cracker when Armagh played Tyrone was amazing. Armagh played in the James Reel Time2Play jerseys," said Aisling, who reserved special praise for first cousin – and Armagh manager – Kieran McGeeney who made it happen.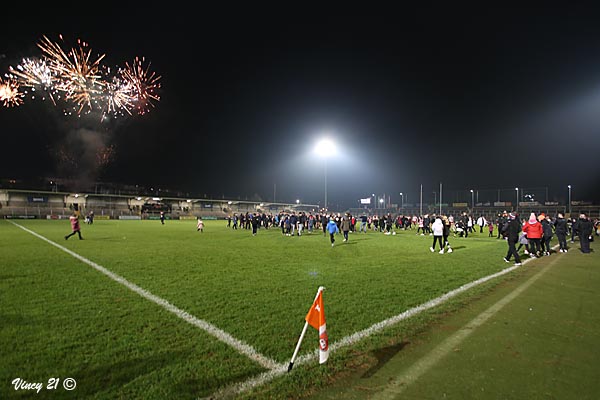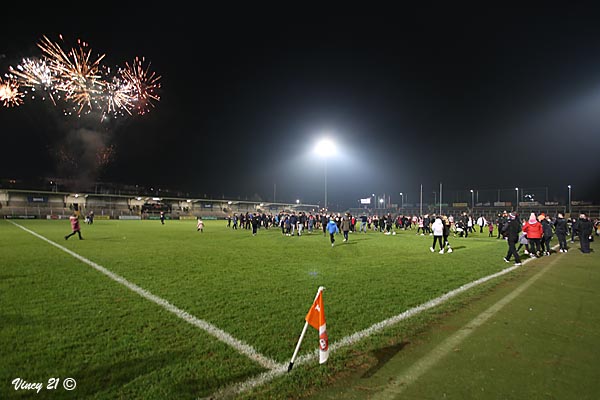 Adding: "The night with the 02s in the Carrickdale was also a massive success. We said from the offset we were not standing with buckets asking people for free money; we were going to run events where people could come and get something for their money and that's what we did. We run three big events and then obviously all the local schools and community got behind us. Everybody in the community played their part.
"At the end of the day, it's for the kids of the area so it was nice to see the children getting involved and even now, the wee kids are meeting us and asking 'is the play park opening soon?'"
Aisling said Silverbridge GAA – where the play park is based – were tremendous throughout the process.
"If there was anything we needed they were there. There was a lot of voluntary work to build it which was brilliant. Mairead's family – her daddy – got involved which helped them too."
The Reel family purchased the clock while the Conlon family paid for the sign – the two biggest pieces that stand out.
Said Aisling: "From the outset, Time2Play was our campaign slogan; we wanted people to realise that nobody is guaranteed tomorrow, take time with your family, with your kids, just take time out in general and that was the main emphasis of the whole campaign, to highlight the importance of time because we didn't get that with James."
As for the James's legacy – it will be a lasting one for all remember.
"The girls [twins Maisy and Sadie] to this day – they are now five (3.5 when James died) and everyday they ask, 'Aisling, is daddy's park opening today?' They call it daddy's park. It is a community park, it is the people's park, it's not any single person's park, but to them it's their daddy's park. All you want is a happy place where the kids can remember.
"James' superpower in life was making kids laugh. He'd only come in my back door and he'd have a child hanging by the legs, turning them upside down. With the park, he still gets to make kids smile and laugh."
Asiling added: "People die in the community and there are vintage runs named after them, there are football blitzes, or golf classics, the play park just fitted for James because he was a massive big kid at heart. No matter where he took the kids he always looked for the best play parks to go to. That was his thing.
"Wee baby James, he's just over a year old. To see him now, he's waddling into the park and there's stuff for him. His daddy's name is over the park. Kids forever will ask can we go to James Reel Park and that's all we wanted. We just wanted his name to live on and I think that's what we have achieved."
Sign Up To Our Newsletter