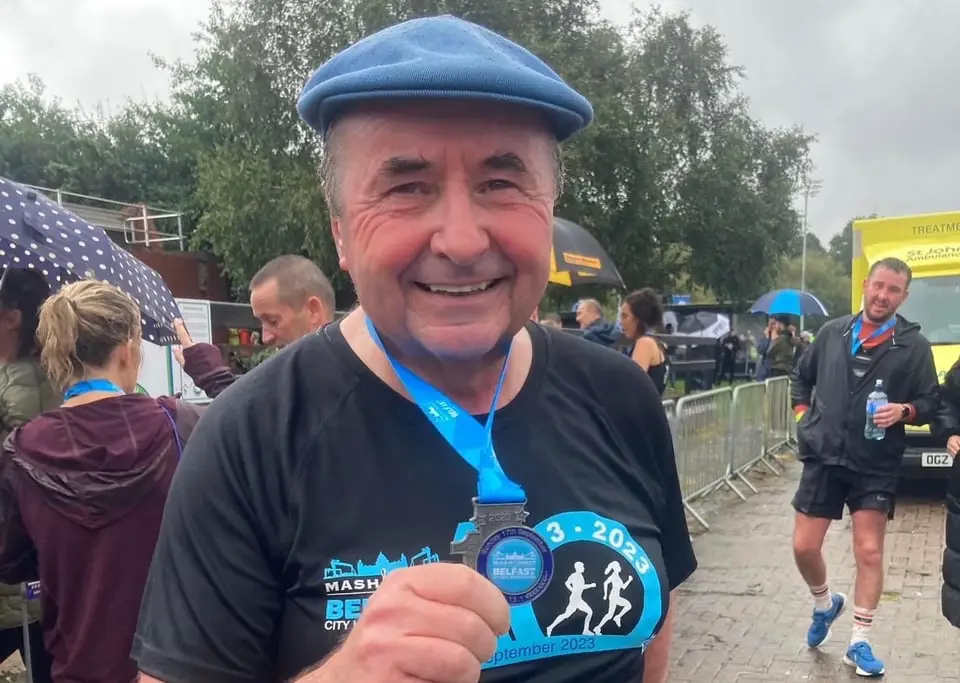 A county Armagh man has been chosen as an Irish delegate for the New York City Marathon Opening Ceremony.
The TCS New York City Marathon Opening Ceremony starts off race weekend the first weekend in November with a celebration at the finish line in Grand Central Park.
It features the Parade of Nations—a showcase for runners from all over the world—and will conclude with fireworks over the finish line.
Pat McGinn, from Camlough, has been chosen by the race organisers to represent Ireland in the Parade of Nations event, which takes place within the ceremony and sees marathon runners from across the world parade across the finish line – which they will be aiming to cross in good time two days later.
Pat who will be running the marathon to raise funds for the Southern Area Hospice was selected to be part of the Parade of Nations after organisers heard his story about how he started running and his charity fundraising.
Said Pat: "Being selected to participate in the New York Opening Ceremony is a great honour for me. There are 50 thousand runners from 130 countries taking part in the New York City Marathon.
"The Parade of Nations is a showcase for runners from all over the world and I am delighted to have been one of those selected to represent my country, Ireland, in the opening ceremony."
Reflecting on how he had initially got into the sport of long distance running Pat said: "Ten years ago this month I was seriously ill in Craigavon Area Hospital after having surgery to remove a cancerous growth and then taking sepsis.
"Daisy Hill & Craigavon hospitals medical and care staff saved my life. My recovery took some while, the cancer was gone but the fear of it, sepsis or infection returning was huge. I had an awful fear of crowds and infections. However my family and friends were good to me and understood. I had to work it out in my own time.
"It was then I pledged that if I got well I would do things that I had just thought about but always found the time not to do them. Things such running 10ks, half marathon's and full marathons."
Pat started to go for walks, cycles and runs along the towpath in Newry.
He continued: "I was out on the bike one day with my life long friend, Laurence McCabe, and we chatted about doing something for our 60th birthdays and we decided we would run the 'London Marathon' for the local Southern Area Hospice in memory of his late father Dermot.
"I have to be honest, 'running' the marathon was a lot easier said than done, but we finished it in a time of approximately 6.30 hours."
He says that his first Marathon was a great learning experience and that "preparation is key no matter what standard of a runner one is".
Pat has since then completed London, Dublin, Jersey marathons, the Great North Run and numerous half-Marathons, cycled from Mizen to Malin, and climbed mountain peaks throughout Ireland. All his exploits have helped raise money for Charities such as Cuan Mhuire (Sr Consilio's), the Southern Area Hospice and Cardiac Risk.
He continued: "I carry a lot of friends who I have lost in my life's journey in my heart over those 26 miles. They and all those people who throw me a few bob in my collections for the charities, help me get over the line.
I'm the blessed one with my life, health, family and friends."
He had great praise for the local running clubs.
"The running fraternity, the clubs and athletes, are a great bunch of people. There is no elitism amongst them at all, taking time to encourage and advise me. We all might have different motivations for our running challenges but there is a mutual respect and camaraderie, between all.
"The only person I have to beat in my running challenges is the person I see in the mirror, although I have to confess that I do now set myself realistic time targets which is another form of motivation."
Pat recently completed the Belfast Half Marathon unscathed and now is focused on his next challenge the New York City Marathon on Sunday, November 5.
Sign Up To Our Newsletter