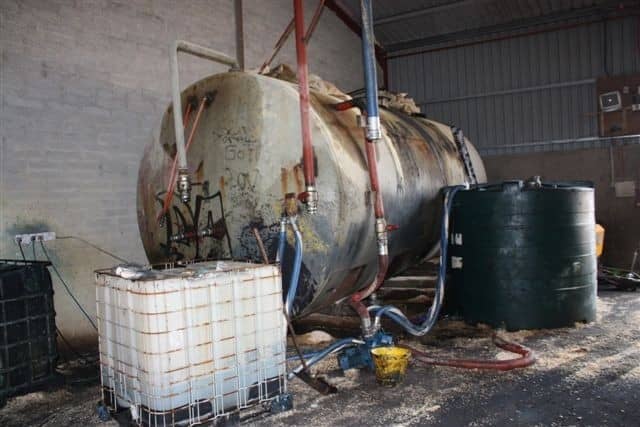 A man was arrested after a laundering plant capable of producing nearly 13 million litres of illicit fuel a year, and evading over £9 million in duty and taxes, was discovered by HM Revenue and Customs (HMRC) during a search of industrial premises in the Meigh area of south Armagh on Thursday.
HMRC officers, accompanied by the PSNI, seized 3,000 litres of fuel and safely removed 15 tonnes of toxic waste from the site. They also seized plant machinery and two vehicles.
Mike Parkinson, Assistant Director, Criminal Investigation, HMRC, said: "Our success in today's operation means we have stopped a large amount of illicit fuel entering the legitimate market, preventing further revenue loss and helping law-abiding traders fight unfair competition. We have also safely removed toxic waste which can cause untold damage to the environment and local landscape.
"These are difficult times for businesses economically and it is impossible for legitimate traders to compete on an unfair playing field. We owe it to them to support them in any way we can.
"Buying illicit fuel not only funds crime, it also supports and encourages these dangerous activities within our communities. If anyone has information about fuel fraud we would encourage them to contact the Customs Hotline on 0800 59 5000."
The man from south Armagh has been released on bail and investigations are continuing.
Read more news:
Welcome for new labelling to allow all Ireland cattle trade without penalty
Archbishop of Armagh Sean Brady has offered his resignation to Pope Francis
County Armagh company to create 348 jobs with £54m investment
Clarke set to miss Crossmaglen championship campaign
Paul Grimley resigns as Armagh manager
Armagh Post Office WILL relocate to Emerson's supermarket despite consumer concerns
Priest voluntarily steps aside as 'historical' allegation is investigated
Major city road proposals include roundabout at Scotch Street
Sign Up To Our Newsletter