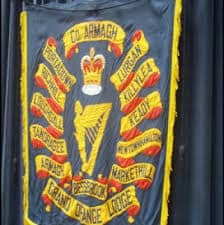 Sinn Féin councillor Mary Doyle has raised a number of "serious concerns" following a decision by Armagh Council to approve a funding application for £10,000 made by Markethill Loyal Orange Lodge, as it prepares to host this year's Twelfth of July demonstration.
The original funding request was for £19,200 for a range of events leading up to July 12, however, as the maximum grant is £10,000, this was the figure which Council voted to award.
Councillor Doyle said: "I and my Sinn Féin colleagues have serious reservations about the allocation of this money.  This application was first brought to an Executive Committee meeting for approval on 6th March.  I was concerned about the huge amount of money being applied for so I requested a copy of the application form.  I received a copy of the application but not the scoring sheet, I requested this at the Executive Committee meeting of 24th March.
"When I finally received the scoring sheet it showed that one of the four essential criteria was not completed.  The scoring sheet asks 'Is the group non-political / non-sectarian?'  This section was left blank by the council staff who completed it.  I fail to understand how an application which cannot fulfil all essential criteria was recommended for approval and I have asked council officials to clarify this.
"In addition one of the columns on the scoring sheet had been redacted meaning I was unable to see it.  I want to know why this was done and I have again requested all scoring information?  I am incensed that as an elected representative for this area I am being deliberately blocked from seeing information on a funding application to this council.
"In my opinion this application in its current form is not valid and is therefore ineligible for funding.
"I respect Unionist culture, their history and their right of expression.  I also believe that it should be supported and resourced, in consultation with the whole community.  However all council funding applications must come under the same levels of scrutiny and I believe that the manner in which this application was treated leaves the Council decision to award £10,000 open to legal challenge."
Read more Co Armagh news:
Pink T-shirts for council staff to promote Giro d'Italia race
Giro rural community funding a 'welcome' boost
Newsletter
Sign up for our weekly newsletter here.