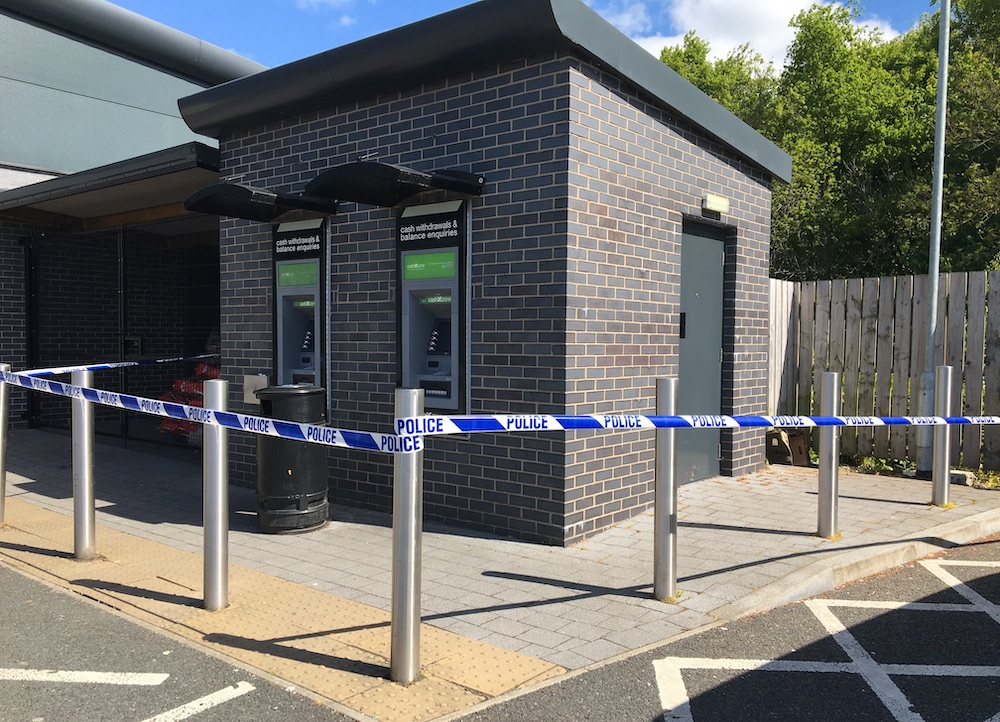 Police have appealed for witnesses after a significant sum of cash was stolen from an ATM at Richhill.
And following the theft from the Portadown Road premises – understood to have happened overnight –  they have urged people to be vigilant and report any suspicious activity.
As we earlier reported, the ATM at Fruitfield Service Station was targeted and the culprits made their getaway across fields.
Store owner Philip Woods condemned the thieves and told Armagh I : "It just shows the world we live in, when people like this are still going about doing these bits and pieces in the cover of darkness.
"There is not much to say, the provider will try to get us up and running as soon as possible. The police have started an investigation, they have gathered evidence."
Detectives investigating the burglary cordoned off the scene and tonight (Wednesday) made an appeal for witnesses.
It was reported at around 2.30pm this afternoon.
Chief Inspector Tim Flanigan said:   "A hole had been cut in the back of the ATM and a sum of money taken. It is believed this happened during the night.
"This theft will, of course, cause disruption to the local community. And I am appealing to anyone with information, or who noticed any suspicious activity in the area, to get in touch on 101 quoting reference number 862 of 13/05/20.
"More generally, I would encourage people who live close to rural businesses, such as filling stations, to tell police immediately if they see any unusual activity in the area.
"For example, if you hear machinery late at night or in the early hours please let us know.  Also, if you see people or vehicles appearing to pay particular attention to certain premises, call police on 101. In an emergency, or if you suspect a crime is in progress, dial 999."
Earlier the incident was condemned by local DUP representatives – Newry and Armagh MLA William Irwin and Alderman Gareth Wilson – who both appealed for people with information to report it.
Alderman Wilson said: "I would appeal to anyone who may have witnessed any suspicious activity in the early hours of Wednesday morning to contact police immediately and assist with their inquiries.
"Hopefully those behind this theft can be apprehended and brought to justice."
And Mr Irwin MLA added: "This is a well used and important resource for local people and it is scandalous that such a theft has taken place.
"It is clear that those behind this theft have not been afraid to take some time in breaching the unit and the cover of darkness and the tree foliage has obviously assisted in this process.
"Hopefully those responsible will be brought before the courts and the ATM service can be resumed quickly."
Sign Up To Our Newsletter