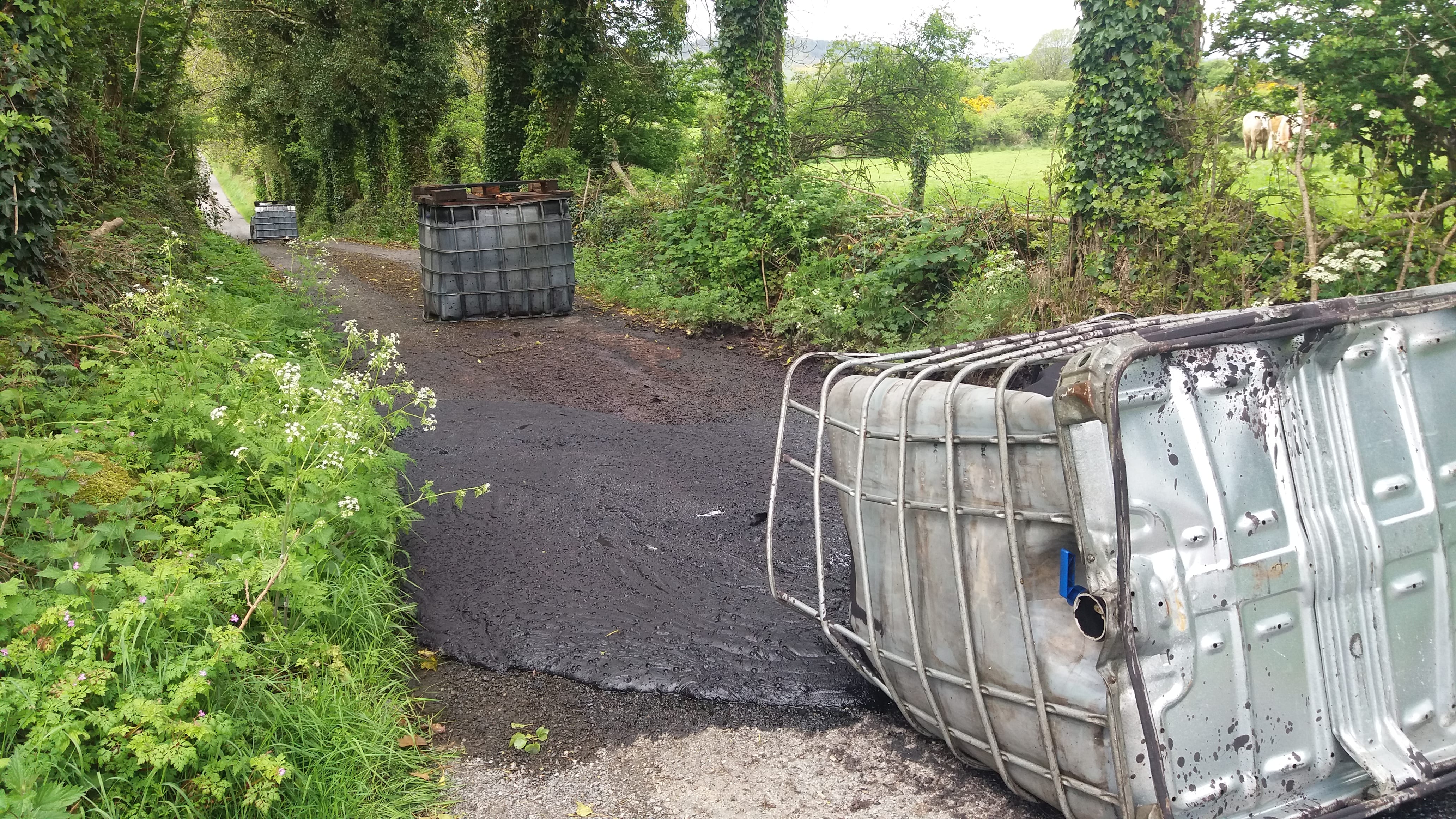 Residents of a south Armagh village found themselves 'sealed in' after fuel launderers dumped toxic pods in the middle of their road.
Slieve Gullion Sinn Féin Councillor Mickey Larkin has condemned those responsible and spoken of the "deep sense of anger within the community" at the actions of "selfish individuals who continue to profit by poisoning our countryside".
He said the residents of Grants Road, Jonesborough awoke to find one end of the road sealed by four cubes of toxic sludge.
Councillor Larkin added: "The method used to dump the waste ensured that the cubes split and spewed their poison onto the road and verge. As cattle grazed in an adjoining field acidic sludge flowed into gullies and water ways.
"This is essentially an attack on the community. It is anti-social and anti-community. Apart from the risk to the health of the local population, wildlife, farm stock, flora and fauna there is the damage to the reputation of South Armagh and the Gullion region, an Area of Outstanding Natural Beauty.
"Those involved in these activities are not Del Boys, they are not lovable rogues dodging the tax man. They are criminals and polluters whose acts are endangering the local ecosystems and the health of the people of South Armagh.
"Roads in this region were last blocked by the Brits and before that by the corrupt Stormont  regime. This is the level that these people have stooped to. They have nothing to offer the residents of South Armagh and should hang their heads in shame."
Read more news:
Watch: Co Armagh man's amazing fiddle cover of Italia '90 anthem 'Put 'em under pressure'
Look inside the £800 a month Gosford Castle apartment
Planners approve new pizza restaurant and takeaway in Armagh in record time!
Tributes to mother-of-three after 'tragic' death at Craigavon Area Hospital
Council pledges backing for Independents Day initiative with 'shop local' message
Five men arrested on suspicion of burglary after police circulate car details
Police investigate "tragic" death of patient at Craigavon Area Hospital
Sign Up To Our Newsletter