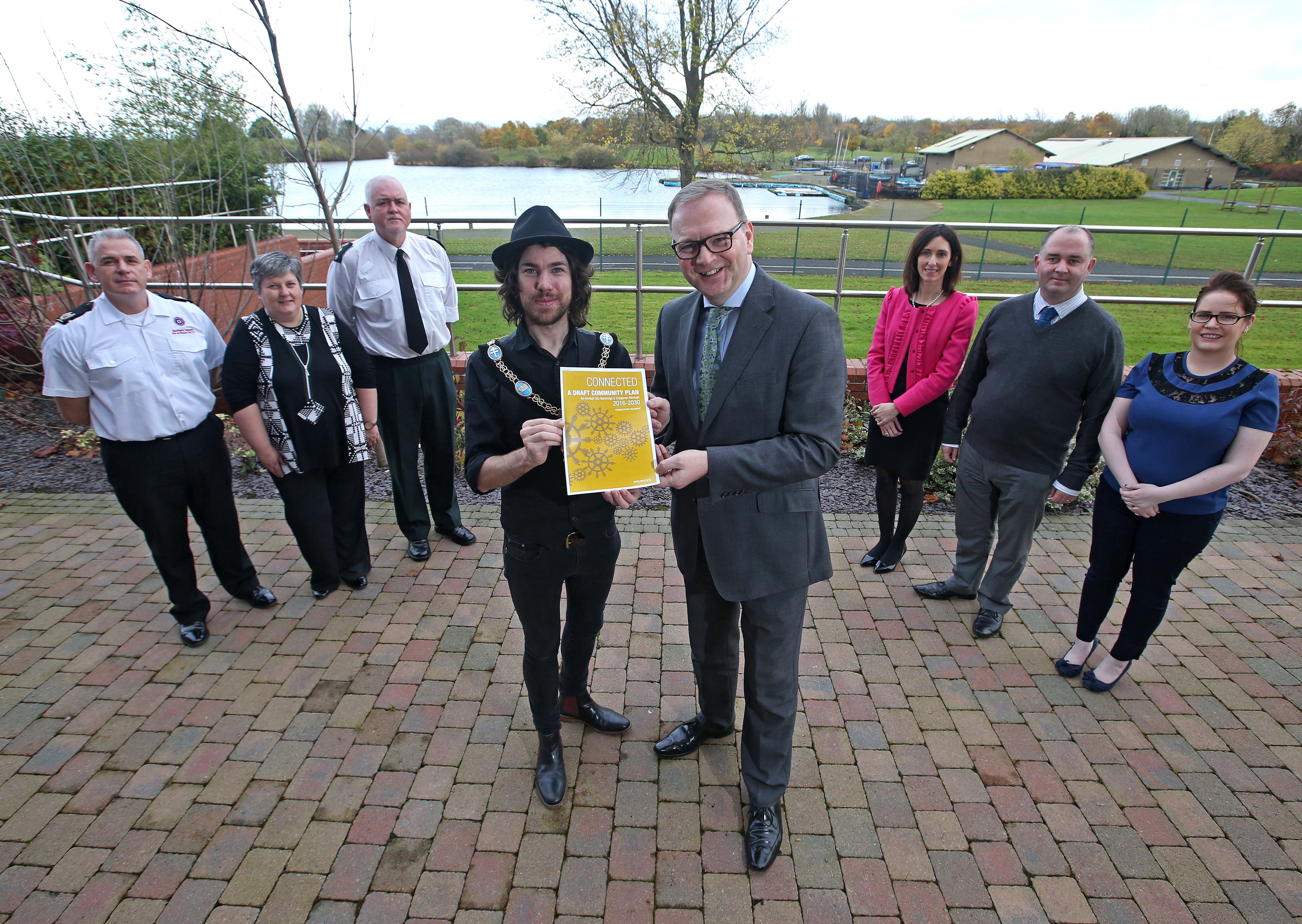 Armagh and Keady will be included in a series of community consultation events as the public get the chance to have their say on the future development of our borough.
Armagh City, Banbridge and Craigavon Borough Council has produced a draft community plan which will dictate what the local authority will want to achieve over the course of the next 15 years.
But it will turn to the public to help put the meat on the bones, so to speak, as it moves forward.
Entitled 'Connected', the newly-launched draft plan sets out the future direction of the borough and will shape the areas in which people live, work and visit.
The document was developed following a series of consultation events with key partners, local residents, businesses and community groups with the findings helping form the vision, strategic themes and long term outcomes.
Speaking at the launch Lord Mayor of Armagh, Banbridge and Craigavon, Councillor Garath Keating, said: "The draft community plan is a very important step in outlining how statutory bodies can work together with local people to help build a cohesive and positive future for the borough.
"However, this document is only the beginning of the process. We are fully committed to ongoing community consultation and engagement and we want to share our vision with and hear the views and opinions from all members of the community. It's your borough and your future – it is time to get Connected!"
Promoting equality and improving quality of life for everyone is a very important aspect for developing wellbeing in the borough.
And to help address this a full Equality Impact Assessment (EQIA) has also been conducted in parallel with the draft plan and the council is also seeking opinions from all aspects of the community.
The Draft Community Plan, EQIA and comments form can now be viewed and downloaded from www.armaghbanbridgecraigavon.gov.uk/consultations.  Hard copies can also be requested from E:communityplanning@armaghbanbridgecraigavon.gov.uk, phone (028) 4066 0644 or in writing from Community Planning Department, Armagh City, Banbridge and Craigavon Borough Council, Old Technical Building, Downshire Road, Banbridge, BT32 3JY
A series of public consultation events have also been organised to provide the opportunity to discuss and give feedback on the plan at the following dates and locations:
Monday, 28 November, 3– 5pm, Tommy Makem Centre, Keady.
Monday, 28 November, 7– 9pm, Hayloft, The Palace, Armagh.
Tuesday, 29 November, 3– 5pm, Rathfriland Community Centre, Rathfriland.
Tuesday, 29 November, 7 – 9pm, Old Town Hall, Banbridge.
To register for any of these events please contact the Community Planning department by email at communityplanning@armaghbanbridgecraigavon.gov.uk or  again phone 4066 0644.
The consultation period will remain open until Monday, January 16, next year.
Picture: Lord Mayor Garath Keating and Chief Executive of Armagh City, Banbridge and Craigavon Borough Council Roger Wilson are joined by statutory partners and council officers to launch the Draft Community Plan for the Borough. Pictured, from left to right, are Lloyd Crawford, Northern Ireland Fire & Rescue Services; Evelyn Hanna, Libraries NI; Chief Inspector Bernard O'Connor, PSNI; Lord Mayor, Councillor Gareth Keating; Roger Wilson, Chief Executive; Sharon O'Gorman, Strategic Director- Position; Gerard Rocks, Southern Health Trust; Michelle Markey, Community Planning Officer.
Read more news:
Disqualification for director of bureau de change which went into liquidation
Four people injured following collision at Armagh traffic lights
Man charged with three counts of attempted voyeurism at Orchard Leisure Centre
Public consultation on city's east link road to begin in the spring
Driver left shaken after narrowly avoiding children 'playing chicken' round Umgola
Minister visits Gosford and promises action to end road safety parking nightmare
Young mum's lucky escape after losing control of car on untreated rural road
Sign Up To Our Newsletter