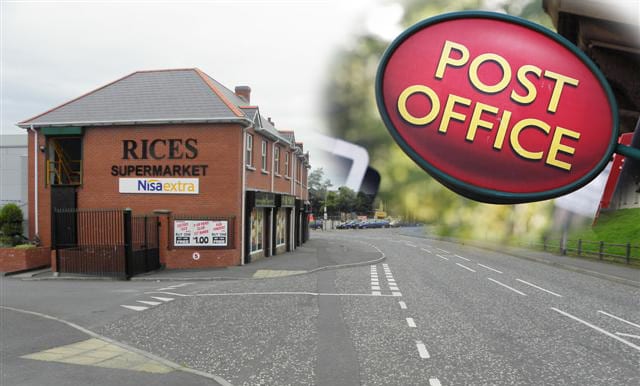 The Post Office has approved a proposal to relocate its Keady branch and extend opening hours over seven days a week.
And an outreach service at nearby Darkley – which was maintained by the town branch – will continue to be offered to residents, it has been confirmed.
There had been some concerns that it may have been axed as a result of a move which will see substantial resources being invested into the new Post Office outlet at Rice's Supermarket.
The Post Office has offered reassurances that the Darkley facility will be retained after the move takes place.
Armagh I revealed in July the proposals to relocate the Keady branch from Kinelowen Street to Rice's Supermarket had been brought forward and would go out to public consultation.
That consultation has now concluded and, after considering the comments and submissions, Post Office has decided to press ahead with the plans.
There are no dates yet for the relocation; Post Office says "final arrangements" are being made, but the move is expected to take place sooner rather than later.
The new main-style facility will be incorporated into the supermarket at Victoria Street with a bright and fresh environment for customers.
Post Office says it has been working closely with the new operator to plan the layout of the counter area, which will
consist of a dedicated Post Office and queuing area, ensuring optimum use of the space within the store.
There will be access via three separate entrances and signage will be in place to guide customers to the Post Office area, which will be through double automatic doors without the need to walk through the complete shop.
The Post Office counter area will be easily accessible for wheelchair users, with sufficient space and privacy for conducting business.
There will be two screened serving positions, a low level serving counter, a low level writing desk and a separate queuing area for customers, who will be able to access the same products and services with a wider selection of on demand travel money.
The change also means that residents will benefit from longer opening hours – seven days a week, from 8am until 7pm daily, including lunchtimes.
Regional network manager Suzanne Richardson confirmed the outcome of the consultation and says it will help ensure the future provision of Post Office services to the Keady area.
She said: "We received a number of comments from customers and local representatives during the consultation period, mainly in support of the move. The majority of feedback welcomed the convenient new location, improved parking, easier access, more space and longer opening times that the new premises would provide.
"Other feedback commented about the extra distance some customers would have to travel to access Post Office services. This feedback helped me to understand customers' views and to make sure that all such information was taken into account before finalising our plans.
"The move of this branch is part of our modernisation and investment plans to provide a Post Office network that is sustainable and will better meet customer needs for the future.
"As part of the programme, our proposal to relocate Keady Post Office aims to help safeguard Post Office services in the local community for the longer term and provide an improved and more modern service."
Ms Richardson added: "I have carefully considered our original proposal, the feedback received during the public consultation period and the impact on local residents and the wider community.
"Having also reviewed pedestrian and vehicular access to the new site, I am confident that the new branch is suitably located and that this new way of offering Post Office services will meet customer needs, whilst helping to provide long term viability and future sustainability for Post Office service provision in Keady."
Become a member
Support local, independent businesses by becoming an independent member.
Become a member