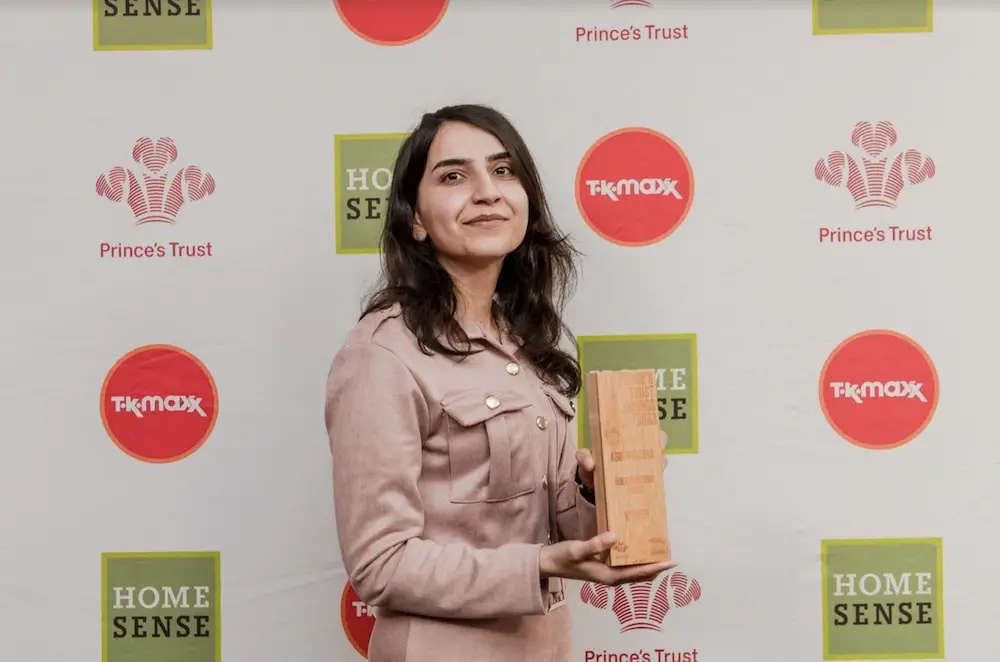 A young refugee from Syria, now living in Portadown, has been named as the winner of an award from The Prince's Trust after overcoming barriers in education and improving her confidence.
The Prince's Trust and TK Maxx and Homesense Awards recognise young people who have succeeded against the odds, improved their chances in life and had a positive impact on their local community.
Abir Ramadan, 25, scooped the Delta Air Lines Breakthrough Award, which recognises a young person who has overcome personal barriers to take their very first steps towards achieving their goals.
"If someone had told me that one day I'd be settled in a new country with a bright future ahead of me, I never would have believed it was possible. But look at me now," said Abir.
Abir is an asylum seeker from Syria. Originally from Raqqa, she and her family had to leave and came to Northern Ireland in 2016.
Soon after arriving, Abir enrolled in college to improve her English, and was eventually linked in with the local Job Centre.
However, she felt as if she was being steered towards jobs and courses she wasn't comfortable with or didn't match her interests. She was also struggling due to language barriers and was left feeling frustrated, isolated and alone.
Her perseverance to improve her prospects paid off and she managed to enroll on more suitable courses, achieving entry level qualifications in customer service and money management.
"When the pandemic and subsequent lockdowns hit, I felt as though things were going backwards. I started to struggle with my mental health as my opportunities to practise English became increasingly limited. I felt trapped in an unfamiliar country and as though I'd never be able to achieve anything. It felt as though no-one would give me a chance."
At the end of 2021, Abir heard about The Prince's Trust through the local church and took part in the YouthStart programme, a 12-week personal development and employability course that helps young people build self-confidence and skills to learn and earn.
"When I started the programme, I was really nervous and found it hard to open up. I'd lost my confidence. However, the idea of making connections with people from a similar background who also wanted to improve their lives gave me the courage to gradually come out of my shell. I felt like I made progress every week and started going from strength to strength."
After the programme, an opportunity arose to take part in a banking bootcamp with NatWest, and Abir was encouraged to take it. She exceeded all expectations on the bootcamp and was awarded an apprenticeship once it had ended.
Though the apprenticeship didn't turn out to be the right fit for Abir, she learned a lot from the experience and grew in self-confidence, knowing that she had been recognised for her hard work and drive.
Staff at The Prince's Trust saw that Abir had a lot of potential for going into interpreting, as she can speak three languages – Arabic, Turkish and English, and has such a desire to help people.
She enrolled into an interpreting course with the support of staff and this remains her long-term career goal. Abir is now a Prince's Trust Young Ambassador and has been awarded UK citizenship which she is thrilled about.
"The Prince's Trust is life changing. The YouthStart programme and support of the staff have been incredibly helpful and I now have opportunities I never thought I would have."
On winning the Delta Air Lines Breakthrough Award, Abir said: "It hasn't fully sunk in that I have won the Northern Ireland Breakthrough Award, but I'm massively proud of how much I've achieved and how far I've come."
Nicolas Ferri, Vice President – EMEAI at Delta Air Lines, said: "A huge congratulations to Abir on everything she has achieved.  Delta's work with The Prince's Trust is vital to support disadvantaged young people to change their lives and get into work, education or training. It is truly inspiring to see the progress Abir has made, and we look forward to seeing her continue to achieve even bigger and better things in the future."
TK Maxx and Homesense (TJX Europe) have been partners of The Prince's Trust since 2013 and are one of The Trust's largest delivery partners of the Get into Retail programme.
This is a two to six week course that develops young people's skills in the retail sector and supports them into positive outcomes in retail. TJX has also supported the Prince's Trust Achieve programme since 2016, working with schools across the UK to build the confidence and teamwork skills of young people as they prepare for life after education.
Youth charity The Prince's Trust gives young people the skills and confidence to get their lives on track. Three in four young people helped by The Prince's Trust move into work, training or education.
Sign Up To Our Newsletter