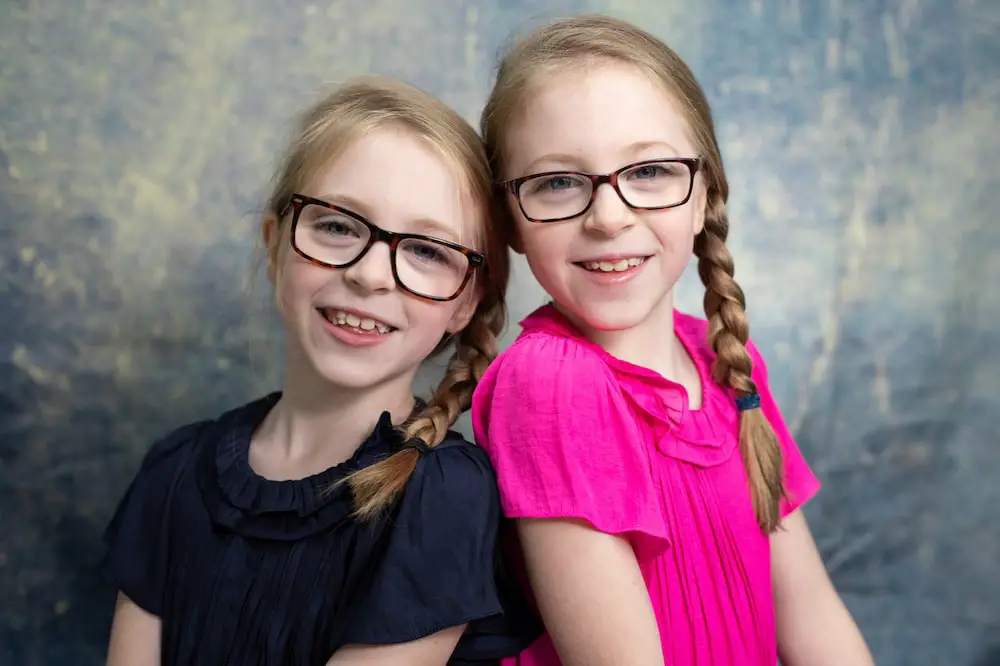 The lockdown has affected us all, but children are perhaps feeling it the most as they are missing school, friends and family.
But nine-year-old identical twins Kayla and Nicole Fox, from Portadown, have used their time wisely, creating a song each comforting us all in the fact that there is "hope and light at the end of the tunnel".
Speaking to Armagh I, their mother, Paula, a nurse in the NHS, said that the girls have had an interest in acting and singing from a young age.
It all started for the talented twins in P2, attending after-school clubs at Portadown Integrated Primary School.
"The did that once a week", said Paula. "At the end of it all they put on a play for the parents and they ended up taking two of the lead roles.
"I then started sending them to lessons outside of school for singing and drama, then I saw that Rising Talent were holding auditions for their agency."
Since joining, they have both been incredibly successful in their acting career, appearing in the latest series of hit crime series 'Marcella', and featuring in the most recent TV advertisement for 'Power NI'.
However, Paula said that the two girls, who attend with Robyn Keegan's performance school in Portadown, have a real passion for music and singing.
During one lockdown day, she had said to her daughters about penning a song about the current situation.
Said Paula: "I don't know how they do it, for I couldn't. I said to them about writing a song. They have done a few wee bits and pieces before where I have heard them singing something which they told me they wrote themselves."
First off the mark was Nicole. Within half and hour she had written a song which she performed perfectly. Not to be outdone, shortly later Kayla, sparked by sibling rivalry, went on to pen her own.
Paula recorded the twins' renditions of their original songs, posting them on Facebook, and it was here that they caught the attention of Composer and Musical Director Mark Dougherty.
Mark was Musical Director of the North American tour of Celtic Thunder, which played to average audiences of 7,500; as well as MD on Riverdance and most of the major musicals across the UK and Ireland – West Side Story, A Chorus Line, Les Miserables, Cabaret and Chicago, to name but a few.
When Mark spotted the videos he was taken aback and incredibly impressed to see great song writing from children so young.
Paula said: "I sing myself, Nicole plays the keyboard and Kayla plays guitar. I play both the instruments but I have never written a song so I think they are going beyond anything I have ever done.
"Both of them sing in a choir in Portadown with me, which is lovely. I have another daughter who sings in the same choir but she just wouldn't be as interested in the music as they are."
Speaking about how the girls are coping, she said: "They are missing their family, especially my mum, their nanny. She would look after them a lot and cousins who she would also mind.
"I think the songs try to highlight that there is hope and there is light at the end of the tunnel.
"I think the videos – which were put together with images by Rising Talent – are really poignant and make it."
Nicole Fox, age 9, has written and performs her own song, "Rainbow"

Nicole Fox, age 9, has written and performed her very own song, "Rainbow" to cheer you all up! We hope it travels far and wide to spread smiles across your faces! With vocals recorded on an iPhone and musical arrangement by Mark Dougherty, we think you'll love the end result. We are so privileged to represent Nicole, her twin sister Kyla, and over 100 other young people across the island of Ireland

Posted by Rising Talent Agency on Saturday, May 30, 2020
'You Gotta Believe' written and Performed by Kyla Fox

We are so privileged to represent the Fox twins who are not only lovely little actors but also extremely gifted musicians…and only 9 years old! During lockdown they each wrote a song on their phones and when Composer Mark Dougherty heard their incredible original versions he was inspired to help them by arranging two professional tracks and placing their vocals on it. We can't wait for you to hear the stunning end result. First up is Miss Kyla with her very own song, "You Gotta Believe," to brighten up your day!!

Posted by Rising Talent Agency on Friday, May 29, 2020
Sign Up To Our Newsletter