An Ulster Unionist Assembly candidate has taken the people of Portadown by surprise.
Councillor Doug Beattie MC has posted photographs of himself removing Union and Ulster flags from electricity poles.
The reason?
The flags were not up to standard and were looking the worse for wear.
The councillor had been out and about on Friday wh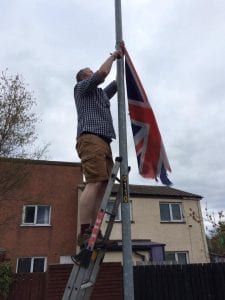 en he saw the flags, returning on Saturday – complete with ladder – to take them down.
Councillor Beattie joined the Ulster Unionist Party in March 2014 much to the delight of Party Leader Mike Nesbitt.
Sign Up To Our Newsletter