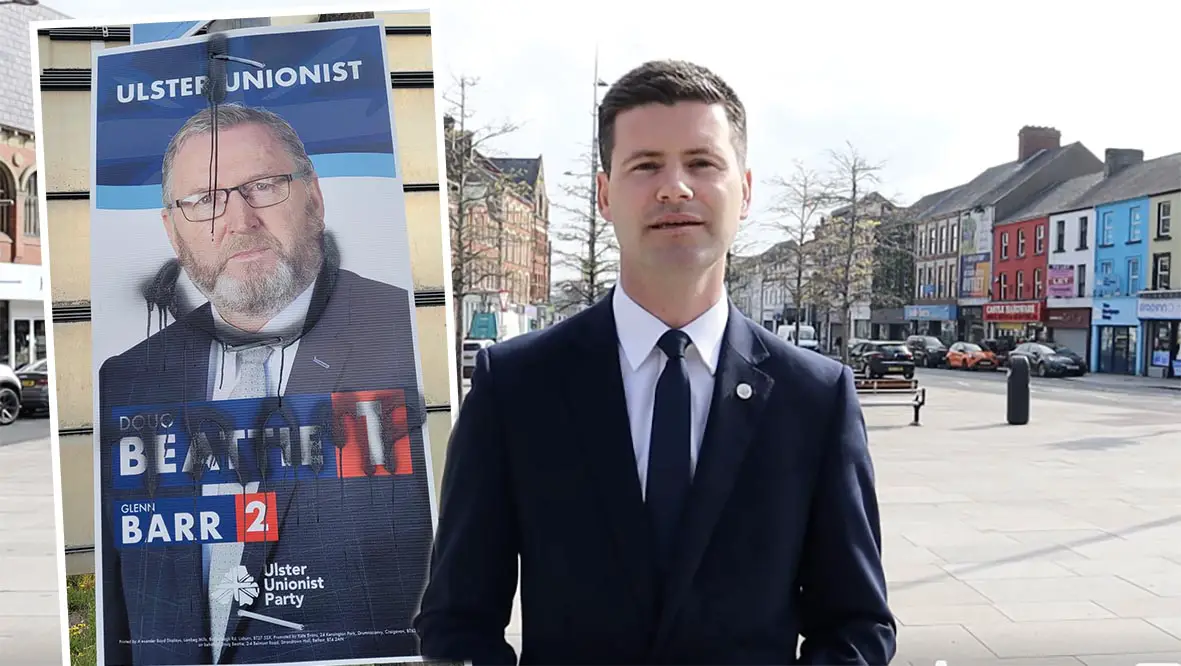 Two unionist candidates in Upper Bann have become the latest to suffer at the hands of mindless vandals in the lead up to next's Assembly elections.
Ulster Unionist Party leader Doug Beattie, in response to crude graffiti which depicted a noose around his neck on one of his election posters in Portadown – and almost illegible scroll underneath – simply tweeted: "Traitor or Lundy or Tramp…… seriously whatever adjective you use it'll have no effect".
Meanwhile, DUP candidate Jonathan Buckley said a large number of his election posters were graffitied, including two billboards, which were daubed with IRA-themed messages.
In a video post, Mr Buckley stated: "For those who don't know my family, I want to say this, we don't do walking away and we do not cower down to intimidation, whether it was my great-grandfather who carried with his bare hands an IRA bomb out of the crown buildings in Armagh, whether it was my family members who served in the UDR during the worst times of The Troubles and last year when I received information that I was 'a legitimate target' I did not cower down to intimidation."
Mr Buckley said he, like the people of Upper Bann, "will stand firm and not bow down to any forms of intimidation", adding that "it will take more than a can of spray paint to silence me".
He continued: "Thanks to the PSNI for contacting me this morning, and thankfully I have obtained some very interesting CCTV footage which will be useful in the police investigation. On this day next week the people will have their say."
These incidents are the latest in a long line of election poster crime that has plagued candidates from various parties over the last number of weeks, particularly in Upper Bann.
Sign Up To Our Newsletter