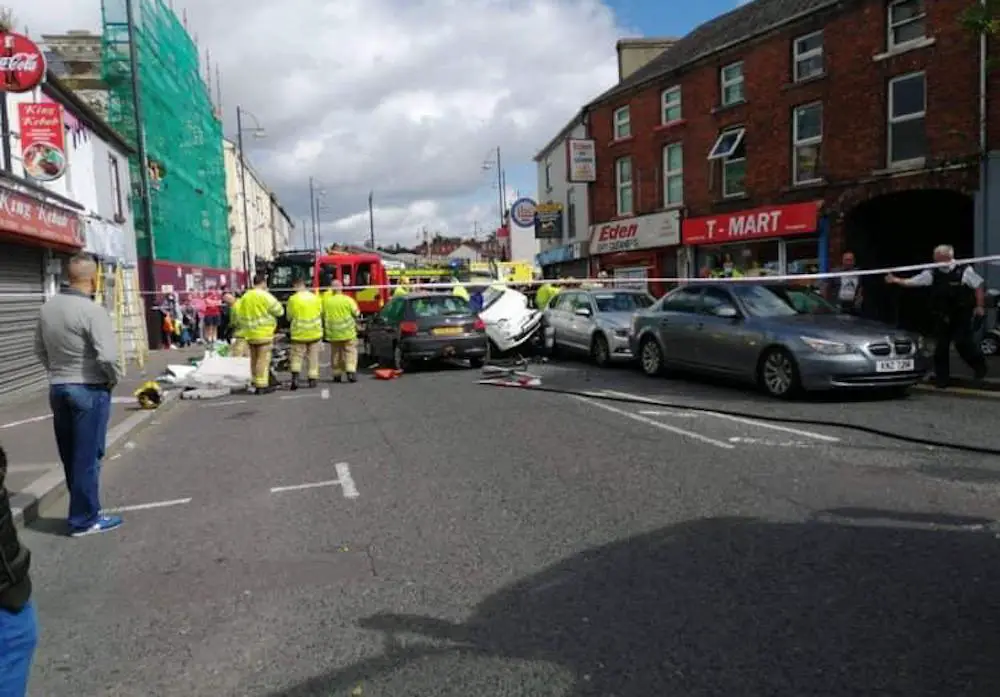 Two women were rushed to hospital following a serious multi-vehicle collision in Portadown town centre earlier this afternoon (Friday).
Three cars were directly involved with a number of others damaged in the incident described by eye-witnesses as "horrific".
The incident happened shortly before 1pm.
One eye-witness, speaking to Armagh I, said the scene was "just awful".
"The fire crews were working on the wee white car for ages – the poor people involved," she added.
"I didn't see the crash but I heard the commotion afterwards; how it ended up like that God only knows but I'm praying for all those involved."
The NI Ambulance Service said it received a call at 12.55pm following a multi-vehicle collision.
Three emergency crews were despatched to the scene including a specialist HART (Hazardous Area Response Team) officer. HART officers are trained to respond to serious and major incidents.
"Following assessment and initial treatment at the scene, four patients were taken to Craigavon Area Hospital," a spokesperson for the NI Ambulance Service added.
Two women aged 84 and the other aged 22, were trapped in a car at the scene for approximately 45 minutes, according to NI Fire and Rescue Group Commander Paul Rogers
Eleven firefighters were tasked to the scene and they had to use specialised hydraulic equipment to release the trapped women.
"Two females, one aged 84 with spinal injuries and the other aged 22, were trapped and released using the hydraulic equipment," said Mr Rogers
"Both were taken to hospital by the NI Ambulance Service. There were no other casualties."
The road was re-opened later that afternoon.
Images from the scene show the gravity of the incident, with ulster Unionist MLA Doug Beattie, whose office is on Bridge Street, describing the scene as "horrific".
Just been sent this @BeattieDoug
How in God's name can this even be!!!! pic.twitter.com/YCsIrqDcxC

— Julie Flaherty (@flahertycom) September 4, 2020
Sign Up To Our Newsletter