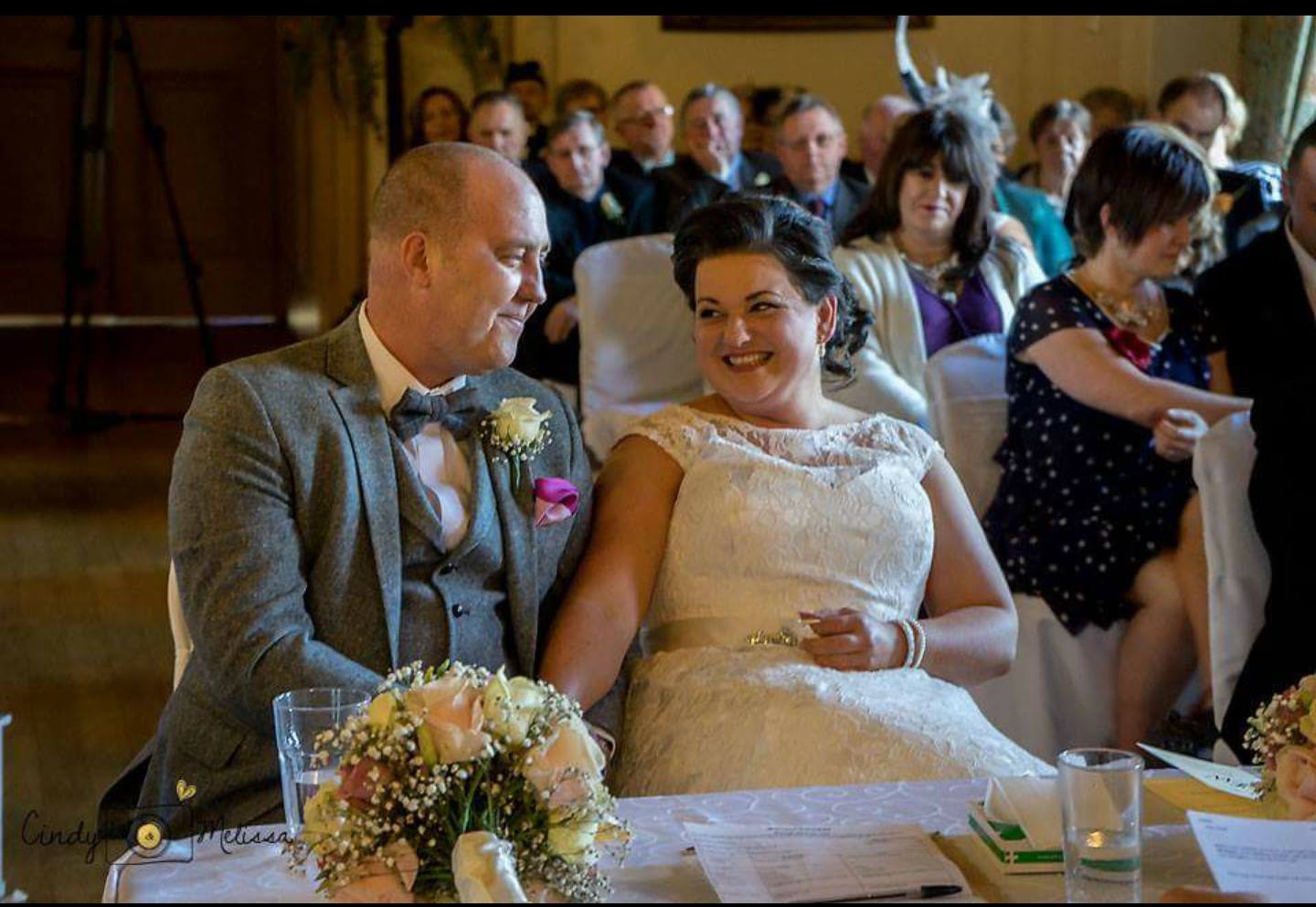 A county Armagh man with a terminal cancer has fulfilled his wish of marrying "the woman of my dreams" at an emotional ceremony surrounded by family and friends.
Forty-two-year-old Willie Turner, a former swimming instructor, married his beautiful bride Lyndsey Browne in the stunning setting of Brownlow House in Lurgan on Monday.
The couple had been overwhelmed by the response to a public appeal for help last November.
More than £3,000 was raised through a gofundme page and businesses soon stepped up to the mark, all offering their services free of charge, to make their big day a reality.
Fifty close friends and family came together on Monday to watch the couple tie the knot.
And Willie cannot thank people enough for making their dream come true.
Speaking to the Belfast Telegraph, he said: "We are over the moon. It is lovely and what I've always wanted, especially under the circumstances.
"I've lived my bucket list and the only thing on there was to marry Lyndsey, and I've done it, thanks to everyone who has go generously made it happen and made it happen so very quickly.
"It is unbelievable how good and how helpful people from our wee country have been and it is very humbling and we are just so thankful to everyone."
The Portadown couple, who have been together for four years, were determined to wed before Willie loses his battle with Adenocarcinoma – a cancer of the lung lining.
Willie and Lyndsey have two sons, Freddie and Bobby, aged 10 and 20 months respectively. Lyndsey has two sons, 10-year-old Jake and Luke (11), from a previous marriage, while Willie has a daughter, Karson, aged 12.
Willie, who is due to undergo further chemotherapy, had been given just months to live when diagnosed last August.
The chemo will not cure the cancer, which is terminal, but doctors hope it will slow it down.
The couple will next week take the family to Lanzarote on honeymoon for their first holiday abroad.
Lyndsey too is delighted to have married the man of her dreams, whom she describes as "my best friend".
She told the newspaper: "I never thought I would ever marry again but, as I fell in love with Willie, I knew I would marry him."
Read more news:
Two men charged after arson attack on boxing club
First Minister told nothing short of new build and sixth form will do for Markethill High
Digger stolen and driven three fields before loaded onto lorry
Armagh company prosecuted after worker falls from height and breaks nine ribs
Vandals damage four vehicles as car dealership is targeted over the weekend
South Armagh primary school gets £1.5m funding boost
Picture shows man caught trying to force open window of Co Armagh home
Sign Up To Our Newsletter