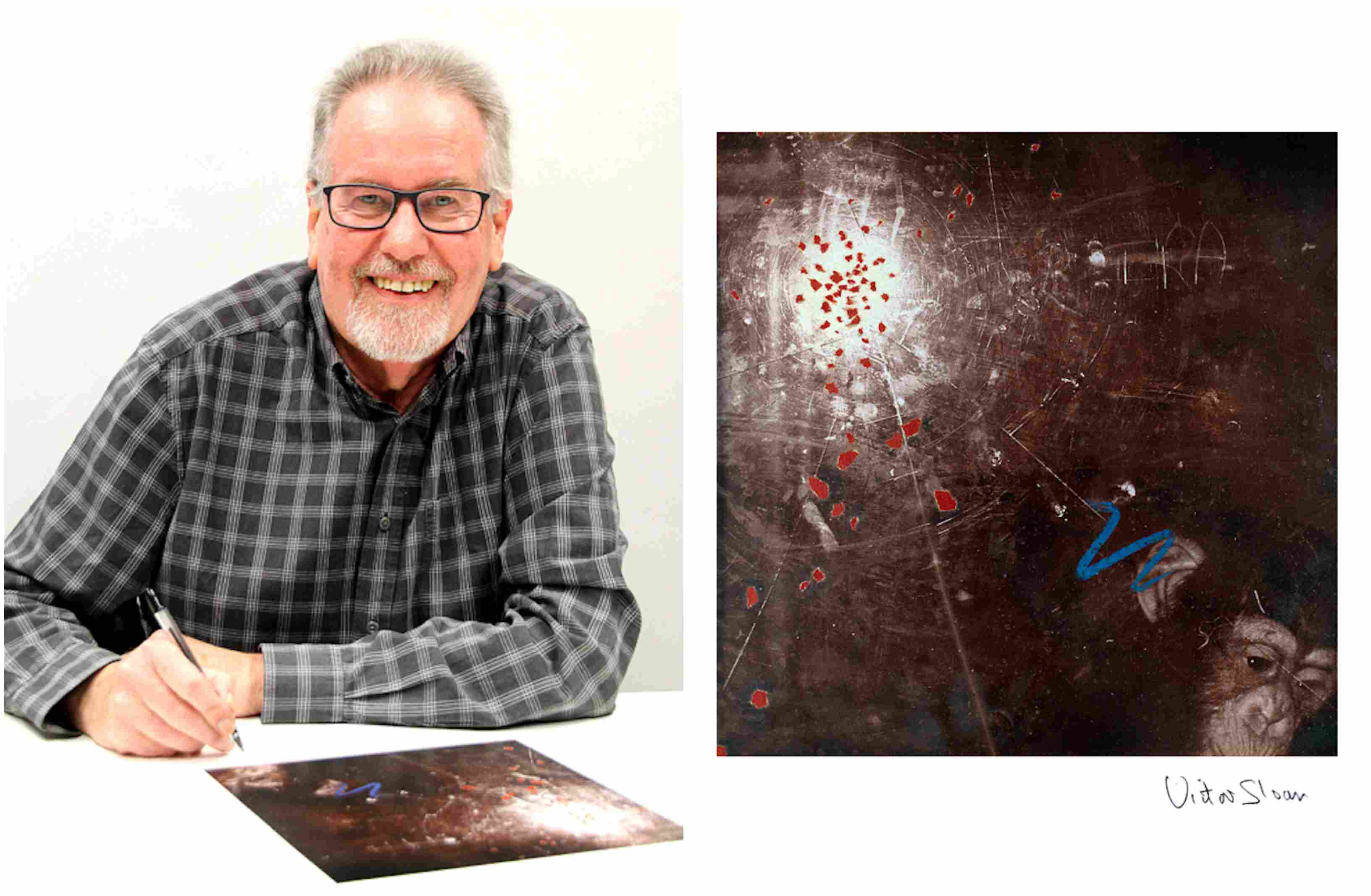 One of Ireland's major visual artists is participating in a special signing event in Belfast next month.
Victor Sloan, who originally hails from Dungannon but now lives in Portadown, will be signing limited edition reproductions of his awe-inspiring Belfast Zoo III images.
Victor started his art practice as an abstract painter. He had always used the camera but it was not until 1981 that he began to use the medium systematically.
However, he had no intention of producing 'pure' photographs for exhibition purposes.
"I want a photograph to say more than a photograph usually says. It's not just a photograph in a magazine. It's a statement… something personal. I want to make people to look at the image in a different way; see behind the image. People tend to dismiss photographs as just being photographs." (1)
In 1983 Victor Sloan paid a visit to Belfast Zoo with his children.
He brought a camera to take some family snaps, but he ended up taking a different, more troubled and troubling kind of
photograph.
He found himself standing looking in sadness and dismay at the chimpanzees trapped behind a pane of scratched, scarred, battered perspex, its cloudy surface smeared with ice cream and marked by graffiti.
As he observes now: "Someone said that you can tell a lot about a society by the state of its zoo."
There and then he decided to take photographs of the animals. But rather than trying to isolate them from their context, he deliberately viewed them entirely in terms of their context.
The chimpanzees are virtually silhouettes, distanced, tenuous presences behind grubby perspex. The glare of the flash bounces uncomfortably back at us and the images have a worn, battered look about them.
The chimpanzees in their cage are on show. The contemporary debate on the ethics of zoos relates to the contested point where elucidation shades over into entertainment, and to the specious presumption of superiority, all issues pertinent, as it happens, to human societies.
It also touches on the conditions of captivity. The thing about animals confined to zoos is that their lives have, particularly in the past, been reduced to impoverished, repetitive parodies of their existence in the wild.
Victor photographed various kinds of animals in the zoo, but felt himself drawn back to the images of chimps because, as he says, we relate to monkeys, we see ourselves in them.
The caged animal, its life recast and displayed as a theatrical, reductive parody of itself, is a metaphor for the individual immersed in the codified, ritualised world of a social and cultural framework. (2)
While it is true that the artist disclaims any social or political intention at this juncture – it was to be a while before he consciously began to interrogate his images – nevertheless, a number of these images function metaphorically as statements about Northern Ireland.
For example Belfast Zoo I, reveals the legend 'I.R.A.' scraped into the perspex, encouraging a reading which would suggest that the Northern Irish are trapped by the I.R.A., like the monkeys in the cage.
They can stare outwards but are incapable of effecting change: they are prisoners in their own society. (1)
As part of Late Night Art, on Thursday, December 6, 7pm-9pm, Victor will be available in Belfast Exposed Gallery (23 Donegall St, Belfast BT1 2FF) for a special signing event. Due to Victor's popularity, it is anticipated these amazing prints will be in high demand.
1: Extract from Marking the North – the Work of Victor Sloan, by Brian McAvera, published by Open Air, Dublin
and Impressions, York, England
2: Extract from A Broken Surface: Victor Sloan's Photographic Work by Aidan Dunne in Victor Sloan: Selected
Works 1980-2000, published by Ormeau Baths Gallery and Orchard Gallery, January, 2001.
Belfast Exposed are proud to be producing 50 signed limited edition reproductions of the original Belfast Zoo III by Victor Sloan, one of Ireland's major visual artists.
These unique high-quality reproductions are printed on 'Hahnemuhle FineArt Baryta Satin 300gsm' archival paper. The dimensions of the prints are 17" x 17", which includes a 3.5" white border. The signed limited edition prints are £125 and come with a certificate of authentication. To purchase one of these exclusive signed limited edition prints, please contact Conor by email at c.obrien@belfastexposed.org or by phone at 028 9023 0965.
Sign Up To Our Newsletter