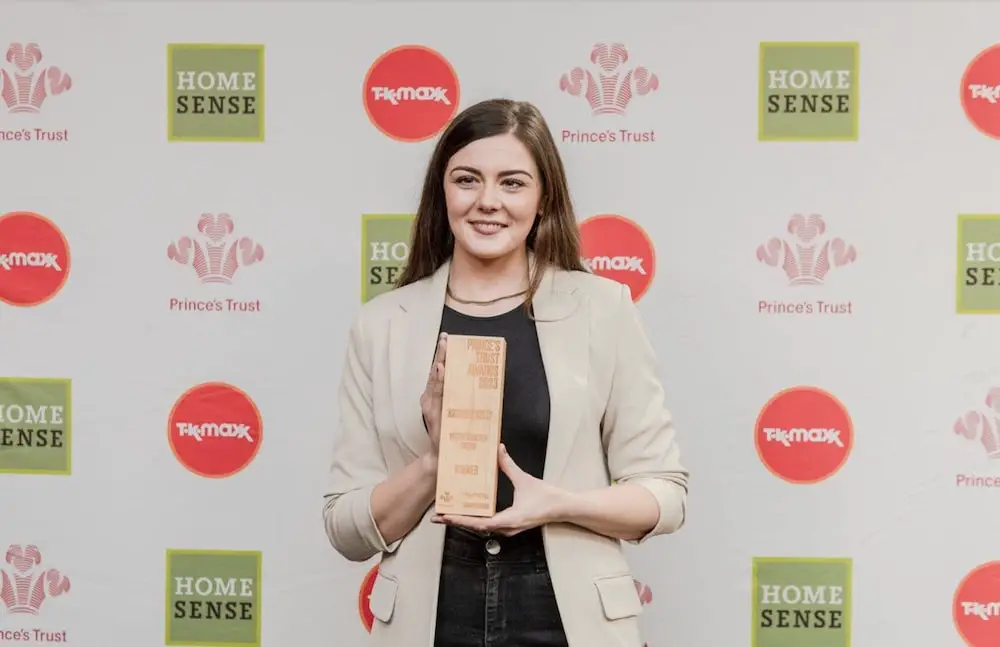 A young Portadown who set up a thriving photography business against the odds has has been named as the winner of an award from The Prince's Trust
Sionibha Kelly, 24, scooped the award which recognises young people who have succeeded against the odds, improved their chances in life and had a positive impact on their local community.
"I've loved every minute of being with The Prince's Trust! It boosted my self-confidence, expanded my horizons and encouraged me to be creative again."
Following a car accident in 2015, Sionibha had to leave behind aspirations for a career as a beautician. In the following years, she did some other jobs but always wanted to return to doing something she loved in a creative industry.
"The car accident left me without the use of my right arm. I spent the next two years in recovery and had to learn how to use my arm again; even how to hold a pencil. The whole experience had a huge impact on my confidence, and I lost all hope."
During the pandemic, Sionibha was working as a cleaner in a call centre when she saw an advert for The Prince's Trust on Facebook, featuring a young woman who had turned her life around with help from the charity. This inspired her to find out more about the Enterprise course.
"As soon as I spoke to the staff at The Trust, I felt so excited and welcome. Through the Enterprise programme, I learned what I needed to set up my own business. It felt so empowering to do something for myself."
Sionibha then signed up to a photography course with The Prince's Trust.
"I'd been fascinated by cameras from a young age, but I never actually thought about turning that interest into a career. I had hoped to do makeup or lashes, but that became difficult after the accident. Discovering photography was like a whole new door opening. In the space of a couple of weeks, my mindset about life shifted."
The course helped Sionibha learn new photography skills, encouraged her to envision how it could become a full-time job and, importantly, helped her develop her sense of self.
"Looking back, I didn't even know who I was before. The accident happened when I was 17 so a lot of my friends were getting on with their lives and doing everything I wished I could do. I felt isolated, and anxious going into public spaces or speaking with strangers. The Prince's Trust helped me express myself in so many ways – they pushed me out of my comfort zone without even realising. I'll talk to anybody now!"
Sionibha has come full circle, from being inspired by a young woman telling her story in an advert, to beginning her own journey of inspiring other young people in her role as a Prince's Trust Young Ambassador.
Sionibha opened her own photography studio a year ago and is already having to look at a bigger premises to cope with demand. She also regularly works at the Dog Bark, a local dog park where Sionibha helps to look after the dogs whilst expanding her portfolio of pet photography.
"The Prince's Trust brought me out of my shell completely. I'm not the girl I used to be and I have overcome so much without even realising it."
On winning the Homesense Young Achiever Award, Sionibha said: "Winning this award has given me so much confidence in myself and my business and I still can't believe I've won. I'm so grateful to everyone who believed in me and offered me support to make this happen."
Jo Murphy, Vice President and Corporate Responsibility Director, TJX Europe said: "We are thrilled to support the Young Achiever Award, and to celebrate inspirational stories from across the UK. Through our longstanding partnership with The Prince's Trust, we're proud to help young people overcome barriers to build a better future for themselves and have a positive impact in their communities. Congratulations to Sionibha and all the winners
for their amazing achievements."
TK Maxx and Homesense (TJX Europe) have been partners of The Prince's Trust since 2013 and are one of The Trust's largest delivery partners of the Get into Retail programme.
This is a two to six week course that develops young people's skills in the retail sector and supports them into positive outcomes in retail. TJX has also supported the Prince's Trust Achieve programme since 2016, working with schools across the UK to build the confidence and teamwork skills of young people as they prepare for life after education.
Youth charity The Prince's Trust gives young people the skills and confidence to get their lives on track. Three in four young people helped by The Prince's Trust move into work, training or education.
Sign Up To Our Newsletter