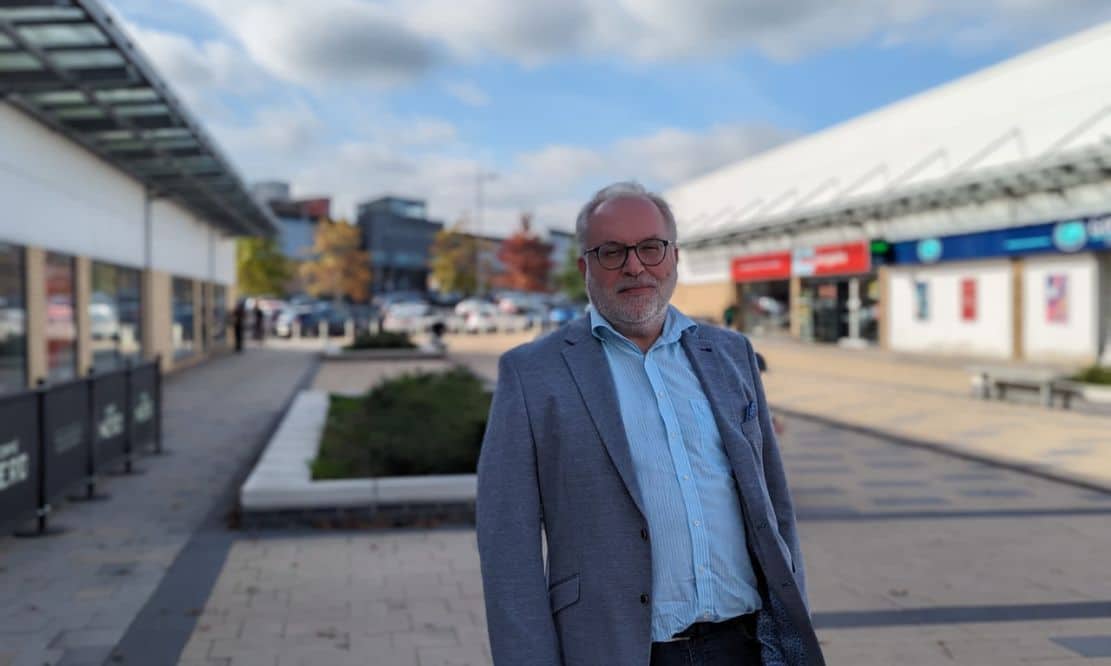 The Chairperson of Portadown Chamber of Commerce has said that despite ongoing challenges, it's not all doom and gloom for the town centre, with steady investment still flowing in.
With the closure of a number of town centre businesses in recent weeks, including the popular McQuillans menswear, many have expressed concerns with the direction of business in Portadown, citing huge costs and overheads as the reason behind the departure of many of the town's much-loved favourites.
So is Portadown becoming almost a 'ghost town' – facing an exodus of local business?
Adrian Farrell, the Chairperson of Portadown Chamber of Commerce, says it's "anything but".
Speaking to Armagh I in a packed Café Nero at 11am on a Tuesday morning, typically off-peak hours for a town centre, Adrian told us: "If anyone were to say to me that Portadown's a ghost town I would be really cross with them."
Adrian argues that businesses in the town are turning over quickly and that vacancies that are emerging are not lasting long.
"The example I would use is B&M beside Lidl. I thought when they'd moved from Magowan West we were going to have trouble. Within 10 weeks that unit was going to Lynas Foods."
He also points to Meadow Lane: "Fifteen years ago there was vacancy everywhere. Now, there's nothing vacant. The Meadows is virtually fully let, the retail park opposite is fully let. The fireplace unit that was empty, it's now got a wool shop in it. You've got the Warehouse Gym that's trading very well. A spanking new Tim Hortons…
"Look at the building across from Hamilton's store. This business has been empty for 20 years roughly. It's occupied now by CPL, which is a recruitment agency based all over Ireland.
"Meadow Lane 15 years ago? Bleak. That has just been transformed and you couldn't get an empty property now on it."
When asked if we should be concerned about Portadown's High Street, in light of the closure of a number of well-respected local businesses, Adrian said: "The dynamic of what's in a town centre is changing. So you're moving from retail more to hospitality and other services.
"But if you look at that Lidl investment, at B&M's investment, the landlord's investment in High Street Mall and the investment in Meadow Lane – people are putting their money where their mouth is and investing in our town centre.
"If you take where we've come from over the last 10 years, we've a mix of national and local companies investing like Café Nero, Lidl and B&M.
"I'm an optimist. If you had told me 10 years ago that we'd have had all the development we've had, I'd have bitten your arm off," he said.
On Monday (October 9), ABC Council launched 'Fit For Future', a new grant scheme designed to help bring vacant properties back into use and revitalise the borough in order to tackle their "high priority" challenge of commercial vacancy.
The scheme, which is open to property owners and prospective tenants, will offer grants of up to £20,000 to qualifying applicants to help support internal and external frontage renovation projects.
"To have that as an opportunity for us to utilise as businesses is, I think, a really positive scheme… That's a real opportunity for somebody that's wanting to get an empty property back into use."
However, Adrian concedes that the town centre isn't without its challenges. From his perspective, the main issues facing the town at present boil down to two factors – struggling recruitment and the cost of doing business.
"You look at the support that was available last winter for utility bills. My own business benefitted from thousands of pounds off our gas and electric bills. That support isn't there this year from national government.
"I think we need some sort of support with energy costs, if government were able to help us on that. The rates holiday we had previously was a real help."
He added: "It's also so hard to get staff. There's businesses recruiting at the minute having to pay top dollar to get staff. But then I look at it that they're getting good pay and salaries are going up.
"If we can get through this winter and hopefully as inflation drops, we'll hopefully have a better outlook for 2024."
Adrian did, however, lament the loss of some independents in recent weeks, saying he was "particularly sorry" to lose McQuillan's, describing them as a "fantastic trader and an asset to the town".
He continued: "I do think there's challenges for businesses here. You have to work really hard to succeed, but I think it's important to recognise that businesses have come in, like Café Nero, and are trading well."
Despite these challenges, Adrian argues that the town is still open for business.
"Online is a huge threat for every town, not just us. But our businesses are doing the best to compete with that. 
"I think businesses and investors see potential and that's why they're investing. You just have to walk around the car parks in Meadow Lane, you walk around the car park at Magowan, there's cars in them. They're shoppers.
"I always think that car parks tell a story. The proof of the pudding is that cars are here.
"I look at trends. Lidl have extended their opening hours here. They don't do that without good reason. If you look at where Lidl was five years ago on the Armagh Road… Now it's in the heart of our town centre in a revitalised part of town."
Adrian also touched on the nightlife in Portadown, describing it as "a nice wee cluster on the top end of the town that we can be proud of".
He continued: "You've got Ma Berry's, you've got Bennetts, you've got AIR, you've got Top Blade, you've got Zio just further over. If anything, I'd like to see that grow but hospitality wise, compared with five years ago, that has moved on."
We asked if a shortage of taxis, especially at weekends, is increasing the likelihood of fights and anti-social behaviour, in the town.
Adrian responded: "Taxis are a challenge, but Belfast is the same. It's not a Portadown problem. It's just another example of the challenges around recruitment."
So is Portadown on the up? While some may look at the recent closure of independent retailers as a step in the wrong direction for the town, Adrian says his message is one of optimism.
He concluded: "I don't want to get complacent, but I do think there's been good stories in the town over the last number of years. There's some businesses in this town that other towns would love to have.
"It's extremely difficult in these inflationary times to trade, but people are giving it their best job. If you look at it in the round and if you look at where we were five years ago, we've come on leaps and bounds as a whole. We've had big hitters coming in and investing in the town.
"Look at the likes of The Bottom Drawer in Magowan. Over the last couple of years they've expanded into the unit beside them. To me, that's a demonstration that people are confident enough to invest in their business to grow it."
He added: "Sometimes you have to look beyond the headlines and see what people are actually doing…We used to be called the 'Hub of the North' and I think that still applies. Empty space is being converted back into use and I think that tells the story better and more eloquently than anything I can say."
---
Read more: Blow for Portadown as well-known independent announces high street departure
Sign Up To Our Newsletter