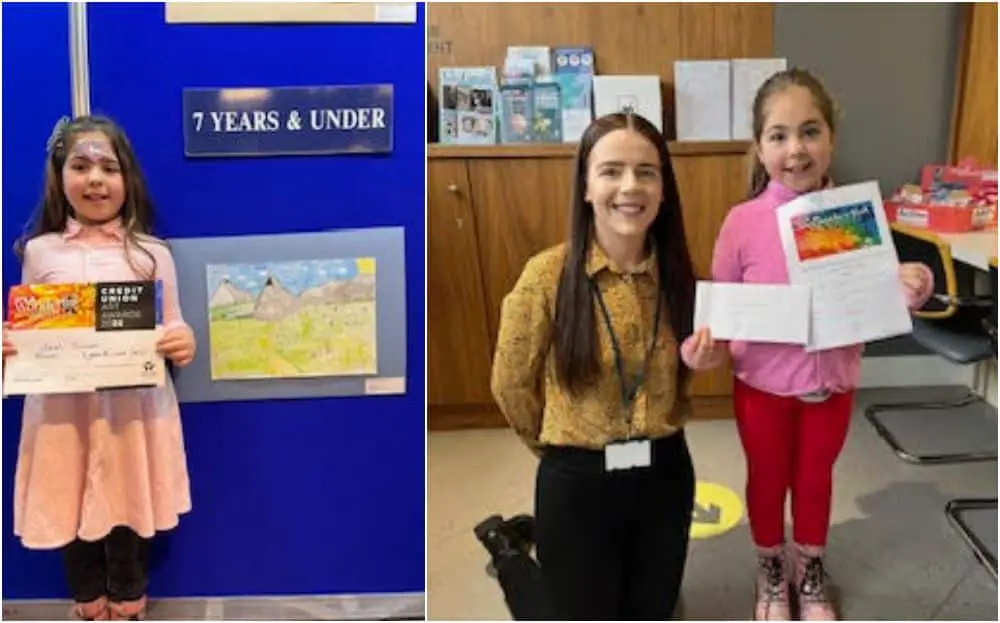 A young Portadown girl who is deaf and loves to spend her time drawing, has won her category in the all-Ireland Credit Union Art Competition.
Sarah Thompson is the only entrant from Portadown Credit Union to win at national level in the seven and under category, having initially won at branch and chapter (entries from all over Northern Ireland) level.
The annual competition attracted a total of 30,000 entries across all categories and the theme this year was 'A Wonderful World'.
And on Sunday, Sarah, who is aged seven, her mum Stephanie and dad Hugh travelled to the Croke Park stadium in Dublin where she was presented with her certificate and prize money.
"She was so delighted. We were all very surprised when she won," said Stephanie. "Croke Park was brilliant. She got to see the grounds and all the artwork was on display."
Sarah, a primary 4 pupil at Bocombra PS, found out about the competition during Country Comes to Town (CCTT), when she went to get her face painted at the local branch's stand.
Said Stephanie: "She only had a week to come up with something and she spent it thinking about what she could draw.
"She was raising money for Action Deaf Youth. They help Sarah an awful lot, and the family, and Sarah did a fundraising walk up Slieve Donard for them.
"So she decided to draw Slieve Donard, and in the bottom right hand she has put herself, her younger sister Harriet and her baby sister Catherine in the pram.
"Sarah started drawing the night before the closing date and she got up at 5am the following day before school to finish it off!"
Sarah, who has a range of complex additional needs and is moderately deaf in both ears, wears hearing aids and also uses sign language to communicate.
She is in the mainstream class but has a one-to-one assistant, Miss Katie Ferguson, for 25 hours.
"Art is a great emotional outlet for Sarah," explained Stephanie. "We are currently going down the autism process so if Sarah is frustrated or annoyed she gets out her art pad and pencils and pens and just starts drawing.
"Sarah finds it hard to hear what is being said, because of background noise, so we are very pleased she has the one-to-one assistant in school."
The win has prompted Sarah to open an account with the Credit Union, where she has lodged her £300 prize money, with the aim of buying lots of art supplies.
Sign Up To Our Newsletter