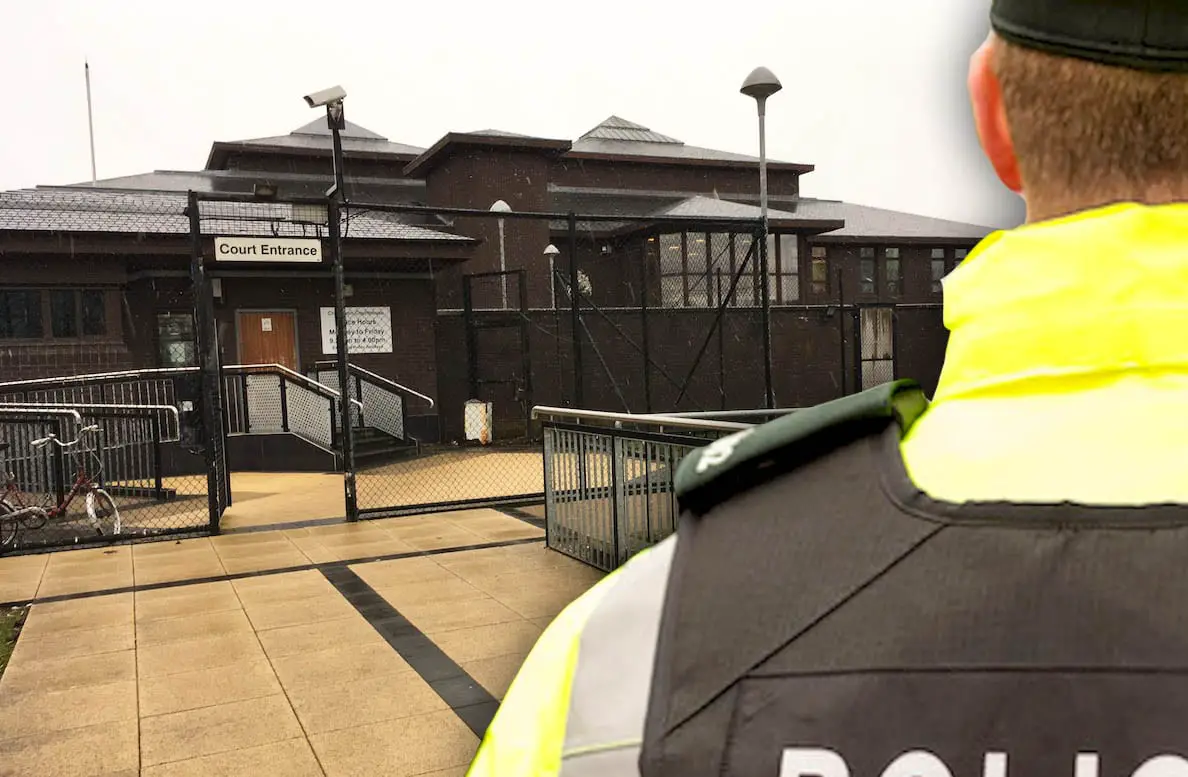 A Portadown man has been warned he must stop committing violent offences or risk not seeing his child again until they turn 18.
Colin Bryars, of Fitzroy Street, pleaded guilty to common assault, resisting police and two counts of assault of police at Craigavon Magistrates' Court on Wednesday.
The assault had been caught on CCTV with the victim the 38-year-old defendant's wife.
The footage showed Bryars along with his wife and three friends walking on Thomas Street, Portadown.
Court heard that it was evident from the video that all were intoxicated by the way in which they were walking.
Byrars then walked away from the rest of the group after he and his partner appeared to have an argument.
Later footage showed Bryars grab his wife by the wrists and force her against a shutter.
The prosecution stated the defendant appeared to be getting something off her before pushing her to the ground and towering over her.
Police were then called to the scene and it was heard that Bryars assaulted two officers by pushing them.
He also resisted police arrest as he refused to get into their vehicle.
Court heard that CS spray had to be used to get the situation under control.
Defence barrister Aaron Thompson called this a "very unpleasant incident" saying it was a "lesson learned" by the defendant after the CS spray was deployed.
He added that Byrars waived his right to a pre-sentence report as "inevitably" he accepted it met the custody threshold.
Court heard that the defendant had previous for violent offences dating back to both 2012 and 2016.
District Judge Bernie Kelly warned Bryars that if continued there was "every chance" a Violent Offences Prevention Order could be imposed.
She explained: "Part of this order is that you will have no contact with any child, including your own."
And she warned him: "If you really don't want to see your child until they are 18 then keep going."
District Judge Kelly also pointed to alcohol being the main factor in Bryars' offences and advised: "If the chief cause is your consumption of alcohol I suggest you stop drinking.
"It would frighten me if I was capable of that level of violence whenever I was intoxicated."
The defendant was handed a five-month prison sentence, suspended for three years, and warned by District Judge Kelly: "This is your very last chance."
Sign Up To Our Newsletter