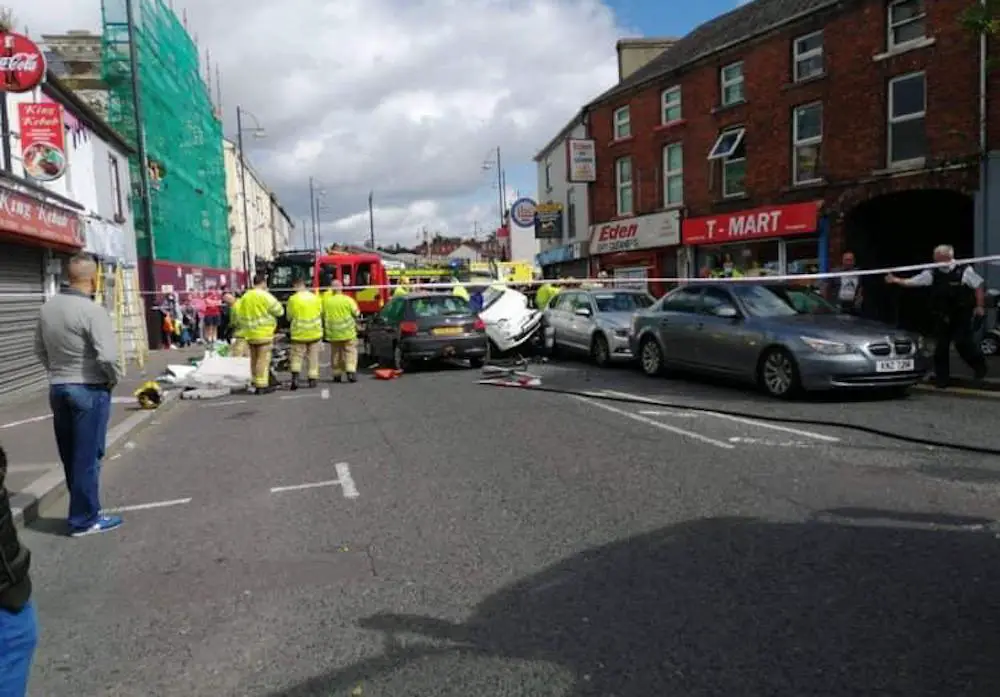 A pensioner who caused a five car pile up in Portadown when she hit the wrong pedal was handed a two year driving ban today (Wednesday).
Having heard that 84-year-old Irma Wright surrendered her licence in the aftermath of the accident, District Judge Liam McNally said it was "unfortunate that at the end of your driving career someone was hurt as badly as this lady was."
In addition to the driving ban Mrs Wright, from the Gilford Road in Portadown, was also ordered to pay a £500 having entered a guilty plea to causing grievous bodily injury by driving carelessly on Bridge Street in the town.
A prosecuting lawyer told Craigavon Magistrates' Court that on September 4 last year, five cars were sitting stationary outside Gary's Bar when the car being driven by Mrs Wright ploughed into the car at the back.
The court heard that such was the force of the impact, the vehicle went up in the air and landed on top of the two cars in front and the lead car in turn was forced into the path of a silver BMW.
With both the defendant and the victim having been cut free from their cars, the lawyer said the female driver of that rear most vehicle sustained fractures to her arm and a vertebra, injuries which caused her to have to stay in hospital for several weeks, followed by a multitude of orthopaedic and physio appointments.
Mrs Wright, who attended court in person accompanied by her son, was spoken to at the scene and interviews by police at a later date, conceding that she "just put my foot on the wrong pedal."
The PPS lawyer said while other drivers involved complained of "whiplash type injuries," none of the amounted to GBI.
Defence counsel Aaron Thompson said the pensioner "has been driving since she was 21 with not so much as a penalty point" but that on the day of the incident, she had been in an automatic courtesy car she was not familiar with when she hit the accelerator instead of the brake.
"It's such a basic, binary mistake," conceded the lawyer who revealed that Mrs Wright has already voluntarily surrendered her driving licence.
Sentencing Mrs Wright, DJ McNally said he was satisfied "that you have taken proper steps" with regard to her driving licence.
Sign Up To Our Newsletter