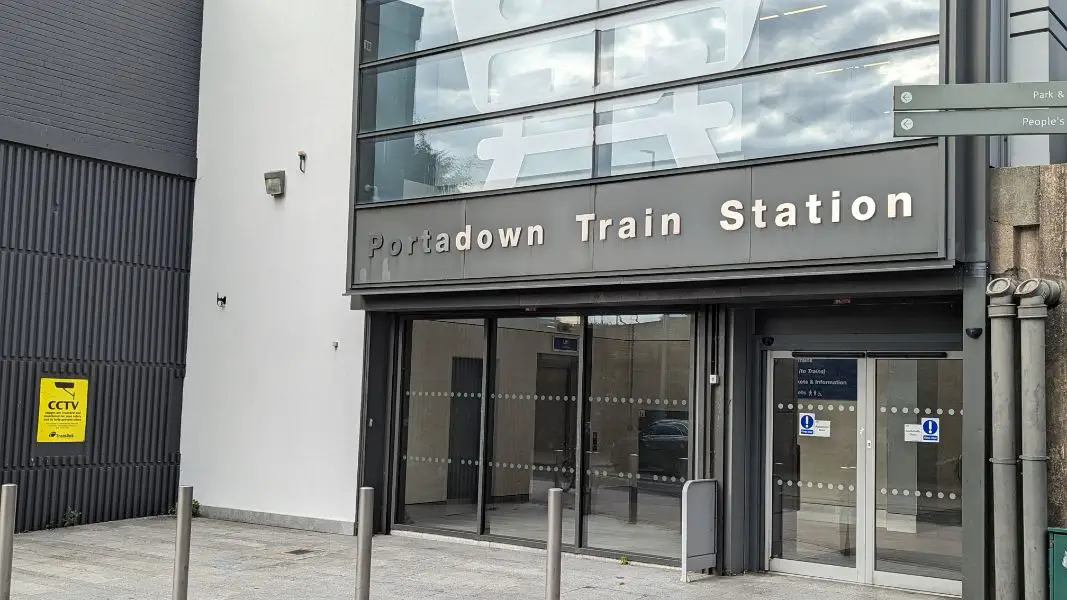 A Newry man who engaged in disorderly behaviour and damaged a hand sanitiser station in Portadown train station has been given a two month suspended sentence.
Kenneth Martin Havern, (39), of Damolly Village, appeared before Craigavon Magistrates' Court for sentencing.
He appeared via video-link from a solicitor's office, charged with disorderly behaviour, common assault and criminal damage.
The court heard that on January 18, 2021, police attended the railway station in Portadown following reports of a male causing a disturbance. When they arrived, they located the defendant being restrained on the ground by members of staff.
Police observed that "seats, bins, charity boxes and a hand sanitiser station had all been tipped over".
Staff told police that the defendant had knocked the items over, causing damage to the hand sanitiser station.
The defendant also attempted to grab a member of staff, putting him in fear of being assaulted. The injured party and other staff members were able to restrain the male until police arrived.
Deputy District Judge Magill, presiding, said: "The man himself has serious health issues. In part, because of those, he is not suitable for a community disposal."
Deputy District Judge Magill queried whether these charges put the defendant in breach of other suspended sentences which had already been imposed.
Gabriel Ingram, defending, explained that the suspended sentence had been imposed on December 10, after these offences had occurred.
Defence said that this was "effectively a clearing up exercise", referring to other recent sentencing exercises that the defendant had been involved in.
On passing sentence, Deputy District Judge Magill said: "You've pleaded guilty to these matters, you're entitled to credit for that. You have difficulties and I hope you're getting help with those difficulties.
"You had just been released from a mental health facility apparently when this occurred and you, actually, according to the report, have no real recollection of it."
Deputy District Judge Magill imposed a period of two months on each of the charges, with the sentence to be suspended for two years.
Havern was further ordered to pay £100 in compensation for the damaged hand sanitiser station, and given 26 weeks to pay.
Sign Up To Our Newsletter