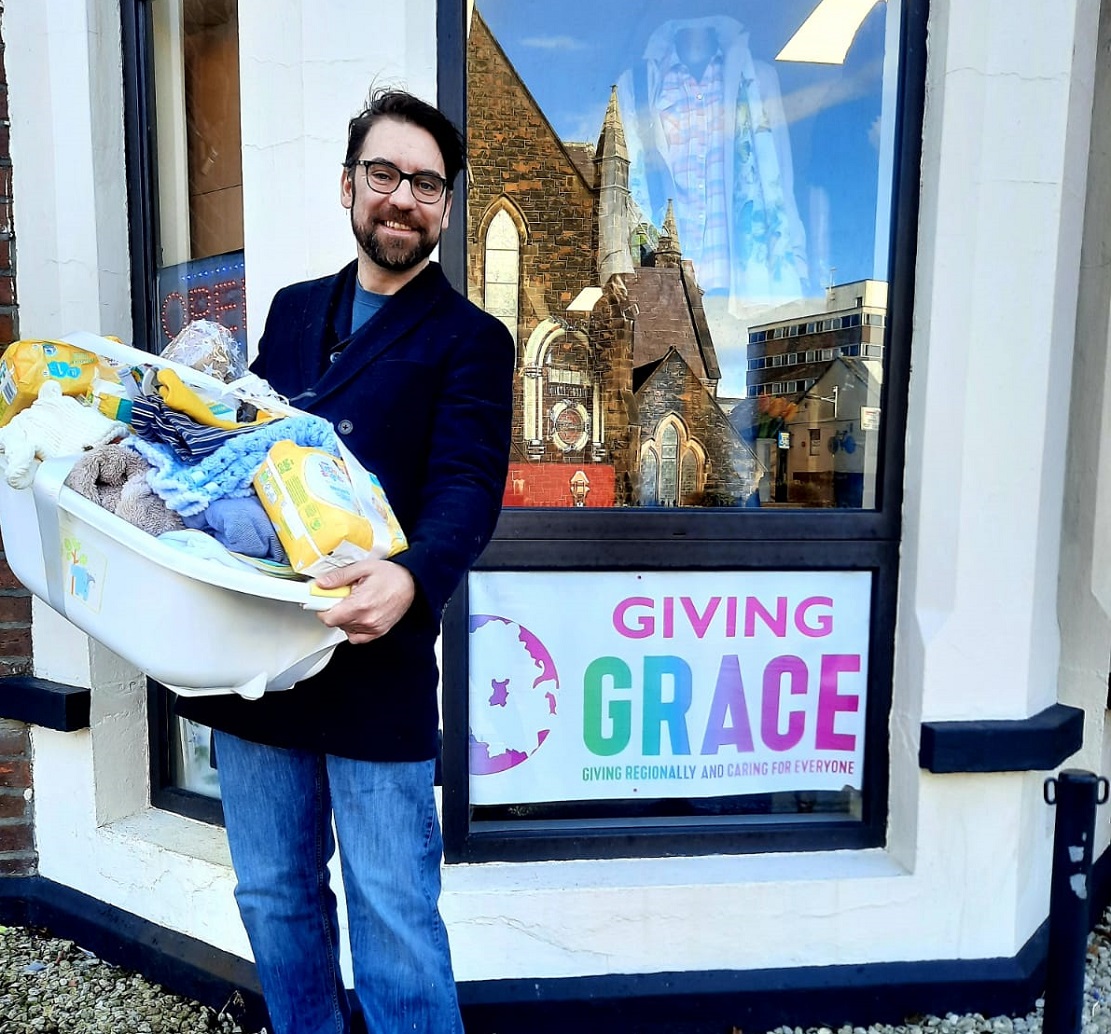 A shop which opened in Portadown  in August is expecting a "tsunami" of  requests for help as food and energy bills rise.
Giving Grace, a community-based, not-for-profit organisation, was set up in August  to help local people in a wide range of situations access reasonably priced clothing and furniture.
Its founder, Lisa Maria Devlin, said the need for help is very real, and that she is expecting to see the "catastrophic effects" of the 50 per rise in electricity bills and five per cent hike in food costs.
A report from the National Institute of Economic and Social Research (NIESR) predicts that extreme poverty in Northern Ireland will increase by 67 per cent in the coming year.
The 48-year-old, who has a daughter and granddaughter, has previously done humanitarian work overseas which she describes as an "eye-opening experience" which changed her life.
Originally from Tyrone but living in Craigavon, she set up the shop alone but is now helped by a manager and a small team of volunteers.
"I am out on the road in the van seven days a week picking up and delivering, " she said. "I love it. It's my life. I can't imagine myself doing anything else.
"We are a community outreach group that saw the need in Portadown. Even pre-Covid times I noticed people were looking for help."
The group has recently launched its Coats for Kids campaign to make sure no child goes cold.
Said Lisa Maria: "A child walked in to the shop one day and his wee head was squeezed into the hood. I asked what age he was and he was 10 and the coat was for age 6-7.
"We literally take the coats off the rails and give them to people if they need them."
With a mission statement of 'no child should go to school hungry', the group also gives out free cereal to children in the morning, which Lisa Maria says is particularly important when schools are closed and there is no breakfast club available.
It is also passionate about fighting period poverty by giving away free sanitary towels. At present, it is supporting a local college and will supply products to a different senior school every month.
Giving Grace also helps struggling mums, including new and single mums, with everything they need for their new baby as well as ongoing supplies of nappies and clothing.
It supports patients in Craigavon Area Hospital, via Social Services, by providing clothes and toiletries, as well as people moving into new homes who need help with furniture. Referral for this support is via a housing officer.
"Someone asked for a reclining chair for an elderly person and we put up a request on our Facebook page and got one within five minutes," said Lisa Maria.
Profits from the sale of donated items also help foodbanks and homeless outreach groups by paying for food, tents, sleeping bags and emergency accommodation.
"We buy sleep pods for the homeless too.  They are made by a friend of mine and have proved very successful in Belfast and Dublin. People can carry them on their back and they are completely insulated," said Lisa Maria.
"We bought £700 of gift vouchers just before Christmas and gave them to Women's Aid, so we support them as well."
The group, which works with organisations such as social services, mental health teams and the Housing Executive, is not affiliated to any church or religion.
It  is open Monday to Saturday from 10am-5pm.
Giving Grace (Grace stands for Giving Regionally and Caring for Everyone) is funded completely through the shop and donations and accepts furniture, clean clothing, shoes, bedding, curtains, household goods and bric-a-brac.
Lisa Maria and staff can be contacted via the Facebook page, https://m.facebook.com/Giving-GRACE-175681324575758,  or call into the shop at 16 Church Street.
Sign Up To Our Newsletter