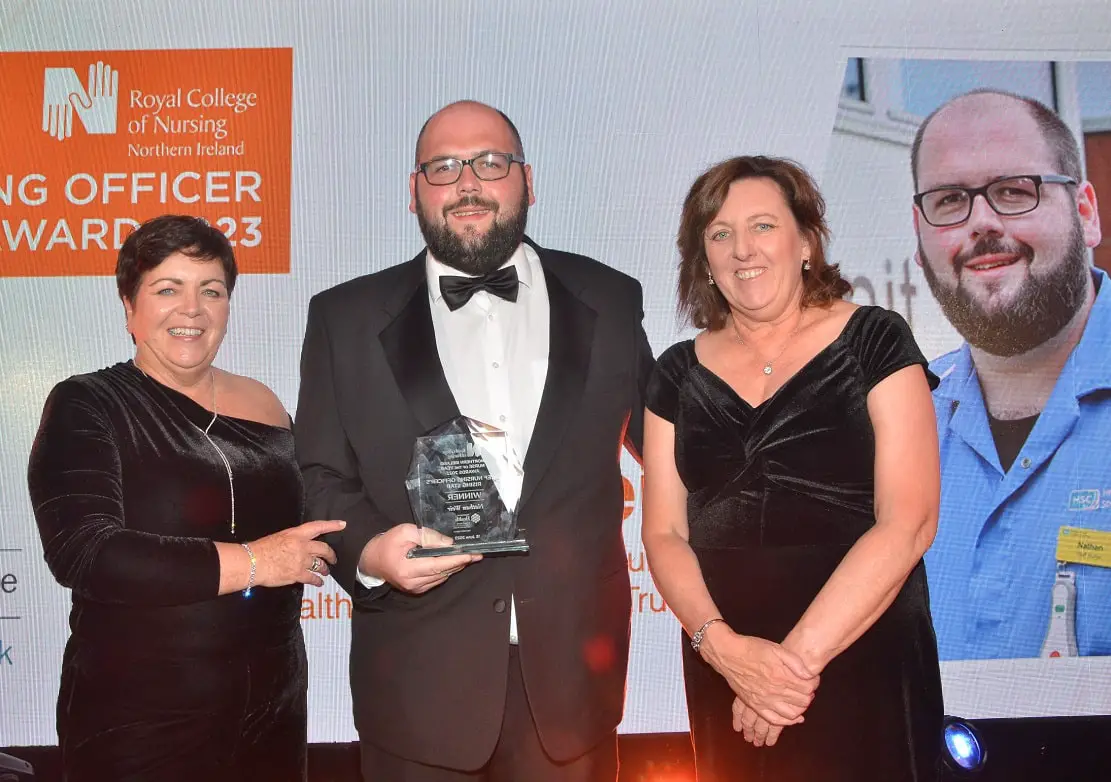 A Portadown man who overcame drug use and depression as a teenager and now helps people with mental health issues has scooped a Nurse of the Year award.
Nathan Weir, a mental health staff nurse in the Bluestone Unit of Craigavon Area Hospital, won the Rising Star Category at the province-wide Royal College of Nursing awards ceremony.
The 34-year-old said he felt "completely humbled" by the win.
Now happily married and a father of two young children,  Nathan started taking cannabis at the age of 14, before progressing to harder drugs.
"I explored every drug I could get my hands on. The only thing I didn't do was heroin. I had a very bad social network. There was a lot of crime and drugs and violence," he said.
At the age of 18, he suffered a drug-induced psychosis.
Explaining the triggers for the episode, he said: "I had developed depression and I had a suicide attempt. I was admitted to Craigavon Area Hospital and staff reported there that I was responding to unseen stimuli in the ward.
"I just remember talking to a wee man called Joe sitting in the bed across from me who seemed to know me really well. But he wasn't actually there. It was the psychosis."
Nathan was transferred to St Luke's in Armagh where he spent around nine months.
"One day the penny just dropped and I thought I'm either going to end up dead or in prison," he said. "But I had no qualifications. I had left school with two GCSEs in science and maths.
"From a very young age in school, pretty much every educator I had, with the exception of two teachers in senior high, said I would never amount to anything. So that's the  attitude I had then."
Once he was discharged from hospital at the age of 19, he found a job cleaning toilets which helped him stay sober and gave him a reason to get up in the mornings.
"That's where I met my wife Jessie and that enabled me to go back to school and get my English and ICT. I learnt how to drive. And ever since then I have been setting small but achievable goals," he said.
"The input I had from mental health services inspired me to want to become a nurse but I had never been in a position to do it. But once my life became stable and my wife finished university she said, 'right big lad, it's your turn'."
In 2017, Nathan left his job in a security firm, where he had worked his way up to management, and took a role as a domestic in the hospital.
When a post was advertised for a peer support worker – someone with lived experience of mental health issues – in the Bluestone Unit, he successfully applied and began working to inspire people to recover.
The following year he applied for the pre-registration nursing programme through the Open University, qualifying four year later in November 2022.
"I have had many moments when I stop and look at how far I have come. There has to be personal responsibility. Nobody is going to come with a magic wand and say it's all there for you," he said.
"That's what I try to encourage in my patients. We can help you so much but it it has to come from you. You have to want to change, you have to want the positive things in your life and get rid of the negative.
"Now, when I come home after a challenging day at work and my two children come running up, that's a better high than anything.
"Walking up on the stage and receiving that award was better than any drug I've ever had."
Nathan believes his own lived experience has helped him empathise with service users.
"A lot of  them know my story and I compare their journey to recovery like a staircase. When you're looking at the very top, you think it's so far to go but when you stop and change your perspective and look back, you think, 'look how far I've come'."
Nathan is also the lead nurse in the relaunch of the peer support scheme within the unit.
"We will have different itineraries for the week, activities, days out and psycho-education groups. Peer support workers can provide a different level of care and understanding, whether it be for grief, addiction, anxiety or depression, " he explained.
"As a team we are all going to work together to inspire people that there is hope for recovery."
Nathan was nominated for the award after sharing his ideas on how to improve peer support with his senior management team.
It is hoped that at least six new peer support workers will be recruited and that the initiative will be fully up and running within the next 12 months.
"If I can help one person in a 30-year career then I have done something right," he added. "Wherever that takes me I'll go with it.
"I have a vision where in the next five to 10 years we are going to have a lot more people with lived experience working within the service, providing that top quality care to the service users."
Read more here on development plans for the Bluestone Unit
Sign Up To Our Newsletter