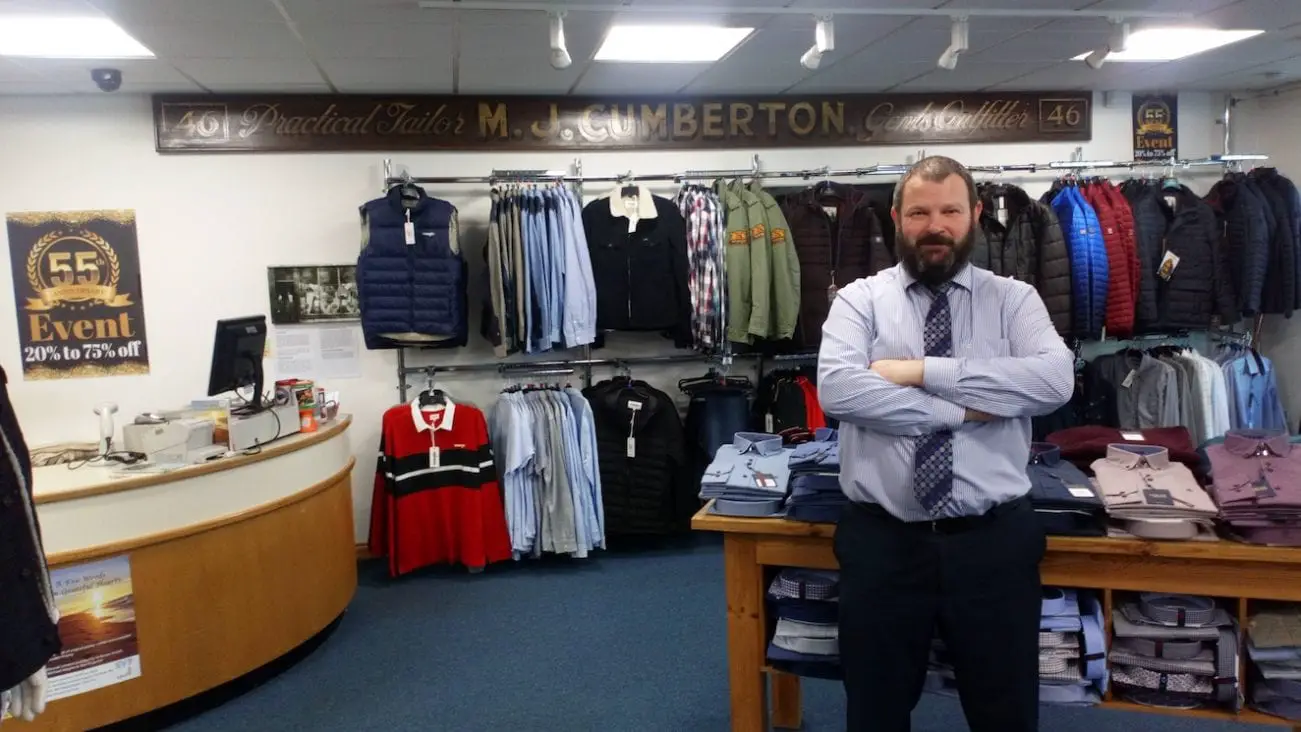 A Co Armagh store, which is celebrating its 55th anniversary this year, all began in humble surroundings with one man tailoring two suits from his own home.
McQuillan's Menswear began life in 1963 when Brendan McQuillan set up his bespoke tailoring workshop on West Street in Portadown before eventually putting down roots on William Street.
The business is now run by Brendan's son, Martin (pictured), and is a far cry from its modest beginnings.
"It dates back further than that my mother's parents; the Cumbertons, they were also tailors and traded out of West Street since 1910," Martin McQuillan explained, when speaking to Armagh I.
Telling the stories of his father setting up the business it is clear to see that the passion runs in the family.
Martin continued: "My father had been working for some time as a tailor but decided to go on his own after being laid off.
"It all started with him tailoring two suits from home before he decided to buy this property from which he traded from."
McQuillan's prides itself on quality, which Martin believes is one of the main reasons the successful business continues to thrive today, is down to loyalty from their customers.
"We have two or three generations of families that just keep coming back and some from quite a distance," Martin said.
"When my father started, many farmers did not come into to town to buy clothes, so my father used to go out to places like Blackwatertown and Keady to measure suits for men."
In 1974 the store moved to William Street and started selling men's clothing as well as the alterations and tailor-made suits.
Later there was also the addition of a men's wedding suit hire department, which Martin says is still a very important part of the business.
And with the increase of online shopping, Martin says nothing beats that hands-on, one-to-one meeting he has with customers.
"There's been a lot of competition from online shopping but we're finding there's a lot of customers coming back to our traditional type of store.
"They can never get the sizes right when shopping online and I think the fact we offer a personal alteration service in the store gives the customer peace of mind."
Martin explained that this was a close family business with one member of the alteration team being employed by McQuillan's for over 40 years, since the age of 14.
To mark their 55th anniversary, the store is offering between 20% and 75% off all stock.
The sale includes brands such as Brax, Drifter, Andre, Red Point, Wrangler and Tricot Marine, Club Of Comfort and North 54.
Sizes in the store go up to eight XL and three-piece suits starting at £99 with free alterations during the event period.
This is all in time for Christmas with a small deposit being all you need to secure a later purchase.
For all the latest deals and stock, check out their Facebook page here.
This article has been sponsored by McQuillan's Menswear, Portadown.
Sign Up To Our Newsletter