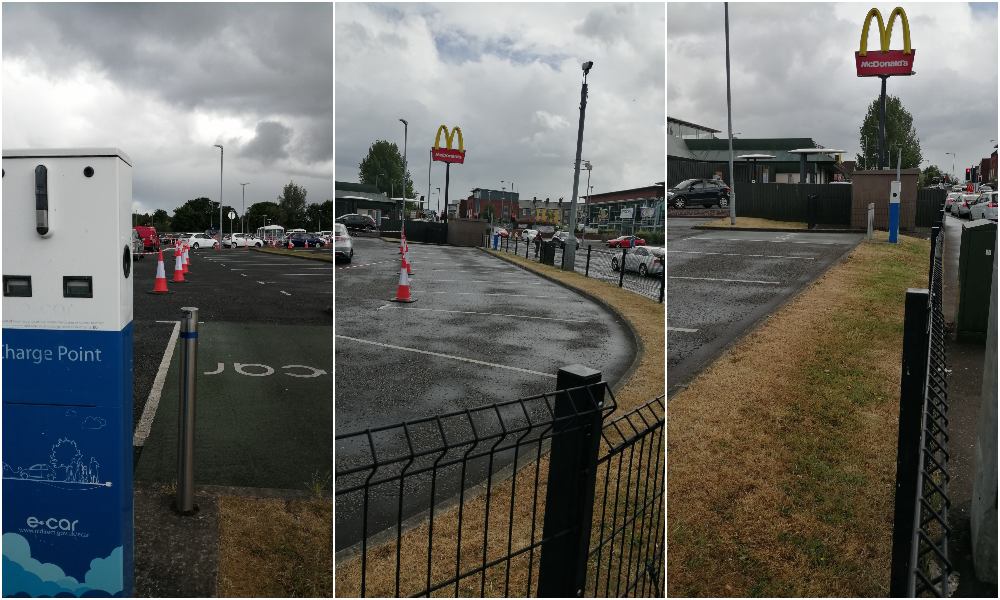 Car parking arrangements to facilitate the re-opening of McDonalds in Portadown has left a bad taste in the mouth for one local motorist.
The man is fuming after the queuing system for the drive-thru at the restaurant at Meadow Lane swallowed up special charging points for electric vehicles.
The takeaway opened with a reduced menu on Wednesday morning.
Police advised motorists in advance of the potential for delays and how to access the Meadows Centre car park.
Using barriers and tape, a queuing area has been constructed to ensure a smoother operation.
But the man, who did not wish to be named, said the plans left a lot to be desired and failed to take others into consideration.
He told Armagh I : "I go there two or three times a week to use the charging points as they're free of charge.
"I'm so angry and frustrated. McDonalds have just taken over this car park in Portadown.
"How am I supposed to charge my car while I'm shopping for groceries at Tesco?
"There is one charging space and two charging points so technically two spaces required. But these have been coned off and there is no access to them at all."
The man said there are no others close at hand and the charging point had been ideal when out shopping.
He added: "There is no charging point at the Iceland car park, but there are two more in the town Fairgreen and Magowan car park, which is a bit of a walk away from Tesco.
"There is no consideration shown here. I could overlook it if it was a Covid testing station but it's only a fast food outlet!"
Sign Up To Our Newsletter