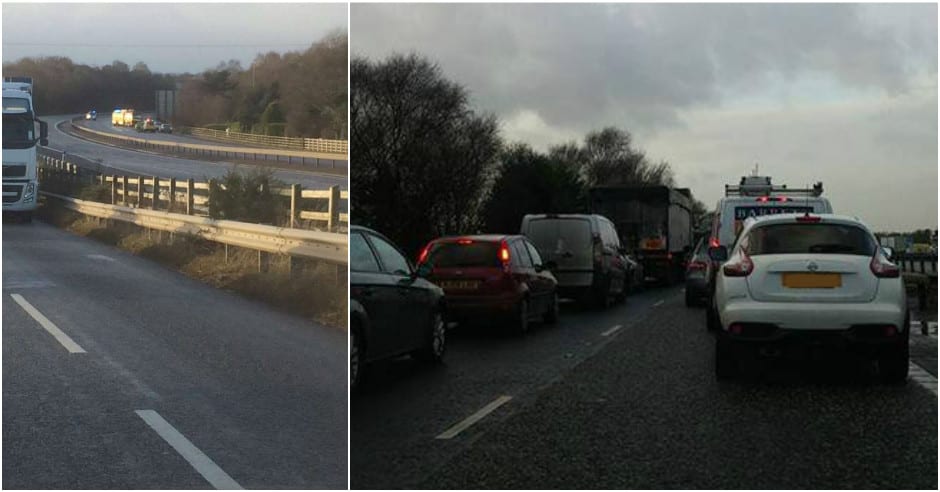 An eyewitness has described the moment she saw a car spin out of control on the M1 this afternoon.
The M1 have been closed in both directions following the one-vehicle collision around 12.30pm.
It happened near Loughgall, between junctions 13 and 14.
Emergency services, including paramedics, attended the scene but it is understood no one was taken from it.
Speaking to the Belfast Telegraph, UUP councillor for Dungannon Walter Cuddy said a friend of his daughter's had witnessed the crash.
"It looks like a man driving towards Belfast lost control of his car completely. A friend of my daughter's was in the car behind and seen it all happen," he said.
"She's 25 and would be a balanced young girl and called  it a horrendous accident, she's in a really bad state as she saw it all first hand."
"It's just very sad at the mouth of Christmas."
Traffic being diverted off at the Loughall roundabout, west bound.
Read more news:
Teenage GAA player Ruairi wakes from coma and now talking
Residents trapped in nightmare as Sherry's Field destruction spirals out of control
Permanent memorial garden to remember 11 who lost lives at Tandragee 100
Storm misery ahead as forecasters say it's about to get VERY, VERY wet and windy!
Firefighters forced to cut roof off car to free trapped woman
Four-year-old girl's version of Jingle Bells will melt your heart
Sign Up To Our Newsletter