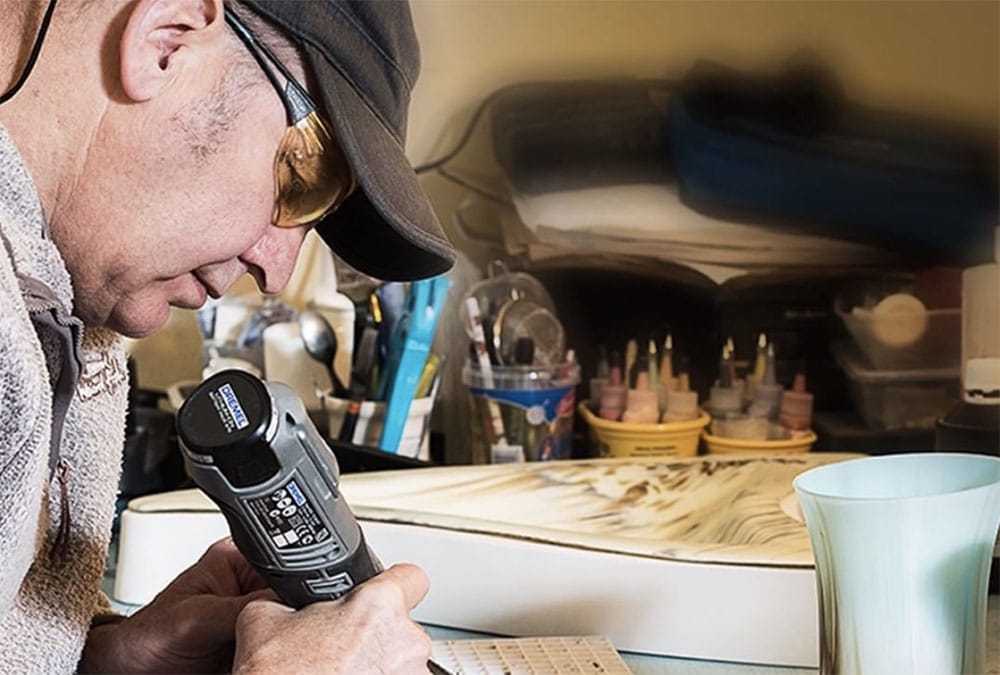 We can all be guilty of giving up too easily sometimes but one Portadown man beat the odds and found a new path in life as an artist.
After a life-threatening skiing accident in 2009, Keith Sheppard was told that there was less than a 3% chance that he would ever walk again.
But little did the now 62-year-old know at the time, this experience would send him on a journey which would end in him creating glass artistry, now found in the homes of some of this country's most famous celebrities.
Originally from Devon, Keith can recall leaving home around the age of 16 to experience the world, doing more "gallivanting" than anything else by his own admission.
That was until he landed on these shores around 45 years ago, where he found work in the civil service and stayed, describing himself as an "implant" on the nation.
All his life Keith embraced the outdoors, engaging in perhaps the more adventurous sporting activities, skydiving and rock climbing to name a few.
He told Armagh I: "I was running marathons in three hours and 45 minutes, I rode my bike to work in the morning 20 miles and would ride it back in the evening time and I thought nothing of it."
However, that part of Keith's life was curtailed on one fateful day back in January 2009 whilst on a skiing holiday with friends in Austria.
He said: "I wasn't doing anything silly, I have spent so much time on skis I would have put myself in the category of an aggressive advanced free skier.
"I had a fall earlier in the day, I did hit my head and I wasn't feeling too well. I was bringing up the rear, we had some guys who said they could ski, so you know what that means, and I was checking them out."
The next thing Keith could remember was everything going black and receiving a blow to the head as he tumbled into a snow gorge.
He explained: "I ended up, suspended upside down in the ravine. I knew straight away that I had done something serious because I couldn't feel my legs from the waist down.
"Lucky enough we were right at the very tallest peak so there was a rescue team not far up, then the helicopter arrived with a doctor but the helicopter left again to get two more crews because they had to cut four trees to get into the ravine."
The whole ordeal took around an hour and a half, and from there Keith was taken to intensive care at an Austrian hospital, where he was put into an induced coma for a week.
The accident had left Keith needing a titanium plate fitted after fracturing his fourth and fifth vertebrae along with dislocating his sixth and seventh.
After another week and a half in intensive care, Keith was then flown to the Royal Victoria Hospital in Belfast for a further week's treatment before being transferred to a spinal unit at Musgrave Park, where he remained for six months.
It was here at his first meeting with a consultant that Keith was informed that there was less than a 3% chance of him ever walking out of the hospital.
Looking back he recalled: "I can remember the first physio, I had an electric wheelchair and the room was at the other end of a hall.
"They lay me down, strapped me into this machine and tilted it up to put the weight legs, I managed it for about 20 minutes before I almost passed out."
Keith can recall hours lying in bed at hospital in the quiet of night trying to think about moving parts of his body.
He said: "I would go back through all of my hardships. I suppose I used up my nine lives years ago with all my antics as a young fella, diving off rocks into waist high water as you do with young bravado."
After one week, Keith had his first movement which was half a millimetre of his big toe on his left foot and that was the start.
"It is the hardest thing I have ever done, but I suppose there was a determination like hitting the marathon barrier and then going on and doing that three times."
Keith can still remember the day he left the spinal unit at Musgrave Park.
He recalled: "From the very first day I told the consultant I am going to walk out of here and drive the car home.
"That is what I did, but I only walked 15 metres on two crutches and got into my adapted car. I remember that day well, it was very emotional."
Keith commented: "It is very hard to assess why I progressed and others didn't. If I had gone to a French hospital I don't think I would have survived, I had top rate medical insurance for skiing because of what we do.
"I was fit from the start but there is definitely a mental application to it. I was in a medically induced coma for a week, it was touch and go because of swelling around my neck, which I could do nothing about."
Whilst in hospital in Austria, Keith's wife, Denise , was flown over to see him where a doctor described him as a fighter and declared he would make it.
He said: "They say we use less than 10% of our brain power. I am a firm believer that there is a certain aspect to that. I would describe it as being lucky but unlucky.
"It is hard to accept even how I am now, I am emotional now because I don't have my physical abilities. It is still difficult to come to terms with, I still walk short distances with two crutches and I still have a wheelchair which I am loathe to get into."
Upon arriving back home, Keith then had the thought of "what am I going to do next?"
After leaving hospital on July 24, he returned to work one week later in a wheelchair as he had six months left to complete in order to receive his full pension.
Keith said: "Everyone was brilliant, I was graduated, working a few hours a day as that was all I could manage. I was looked after and had some time owed so I retired in April, 2010 but had more or less finished in February time.
"But it was difficult, facing everybody again in a wheelchair."
Stuck with what to do, Keith took the opportunity to go and visit his sister in Cornwall which opened his eyes to a new career.
He said: "Cornwall is a big mecca for art. For ages I was thinking of what to do, I can sit around and mope about it, but I needed to keep my mind active and keep my thoughts off my injuries.
"Whilst visiting galleries, we saw wood and metal work but then I saw this glass artistry and I thought, yes, I will have a go at that."
After conducting a bit of research, Keith found that internationally renowned Karl Harron had a studio on the Ards Peninsula.
From there in 2011, he began training with one-on-one sessions under the tutelage of Karl for a period of around six months.
Keith then began trying to find his "unique artistic signature" and he found this in the combination of copper and glass.
In November of 2011, Keith was delivered the news that a council-led business engagement project were taking up a stand at the Showcase Dublin.
"We only had the middle of November to January, I had nothing of any substance which I could put on a display and I was racking my brains with what to do."
Fate, it would appear, stepped in. While completing a commissioned bowl, Keith accidentally damaged the glass but, after consulting with the client, it was agreed that he attempt to save the piece.
He said: "I did this effect on the glass which turned out really well. I brought it round and she loved it but when I suggested bending it into a bowl shape she said 'no, no can you not stick it in something'."
Keith got his hands on some bog oak, placed the piece inside it and found the combination fitted just right.
He then went on to make two similar pieces for the showcase and as a result of this his work was picked up by the Guinness Gallery in Dublin.
"Two years later Elizabeth Guinness admitted that she took a risk with me but 10 years later I still work with them."
From there, Keith's work has been on display in galleries throughout Northern Ireland, London, Dublin and beyond.
Looking ahead, he said: "I am now moving more towards bigger art installations and sculptural work, like an old waterpump windmill I made which got judges choice at the Bangor Castle Walled Garden Sculpture Exhibition".
Keith is also proud to have produced the Ulster Tatler awards for two years which means that some of his pieces can be found in the homes of Northern Ireland's top celebrities.
If you would like to find out more about Keith's work you can check out his website and Instagram page.
Sign Up To Our Newsletter