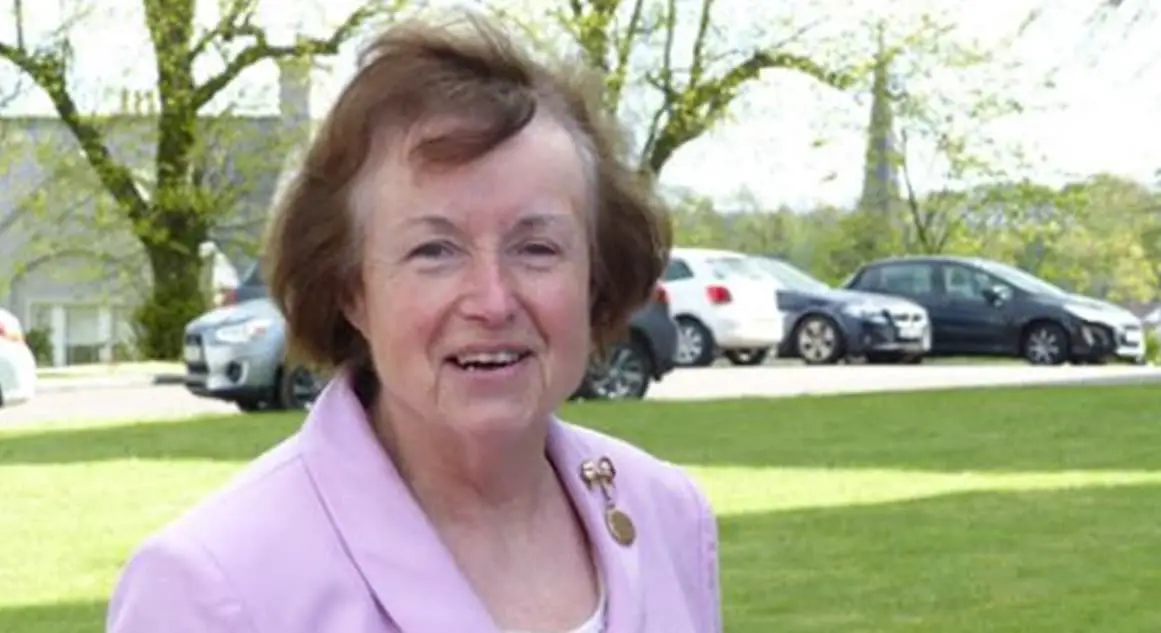 Tributes have been paid to Helen McClenaghan, the former chief executive of the Armagh-based Southern Education and Library Board, who passed away on Friday.
Mrs McClenaghan had devoted a lifetime of service in the field of education and it led to her being awarded an OBE by The Queen for her endeavours.
From the classroom to the boardroom, she had helped shape young minds as a teacher at Portadown College, and would go on to spend 30 years as a serving member of the SELB, based on the Mall in Armagh.
She bowed out in 2009, after 11 years of fulfilling the role of chief executive with distinction.
Married to Stephen, she had one daughter, Frances, and sympathies have been extended to them and the wider family circle from the many and varied associations she had throughout a rich and rewarding life.
Mrs McClenaghan was much admired and respected by her colleagues and peers and helped lead the Board through some challenging times for education in Northern Ireland.
She had also served as the chairperson of the Speedwell Trust, a Dungannon-based charity set up to promote shared education, and was a former deputy chair of the Council for the Curriculam, Examinations and Assessment.
Mrs McClenaghan, among her many interests, enjoyed travel and she was a keen local historian too.
She was a member of Craigavon Historical Society.
It paid tribute via social media and said members had been "deeply saddened" by news of her passing.
It said: "Helen was the Craigavon Historical Society's first Honorary Secretary and latterly she had been a tireless worker for the Society organising our lecture programmes and outings with her characteristic blend of determination, selflessness, understatement and wit.
"In recent years she was instrumental in obtaining financial support for the Seagoe Parish Digital Archive. Concerned for the Society's long-term future, she was also at the forefront of our initiatives to attract new members who would reflect all of area's rich history.
"She is a great loss to not only the Society but to the many other organisations she volunteered with and to her family to whom she was devoted. Our thoughts are with them at this very sad time."
Among those other organisations was Craigavon Museum Services.
A spokesperson expressed great sadness and added: "Over the years Helen was a great supporter of the work of the museum and local history throughout the borough.
"She is great loss to the area as has been reflected in the many tributes to her.
"Our thoughts are with her family at this difficult time."
The Church of Ireland Board of Education (Northern Ireland) also paid tribute to Mrs McClenaghan.
Bishop Ken Good, who worked closely with her while chairing the Board of Education, said: " Helen McClenaghan's contribution to education in Northern Ireland has been quite exceptional.
"Her influential work as Chief Executive of the Southern Education and Library Board was widely admired and respected. Both before and after her retirement, she was particularly generous to the Church of Ireland with her time and expertise, serving on diocesan and central Church boards of education and other committees.
"I greatly valued and appreciated her constructive wisdom, her clarity of mind, her spiritual perspective and her good–natured humour. I extend my sympathy to Helen's husband, Stephen, their daughter, Frances, and to her wider family circle."
The Archbishop of Armagh and Chairman of the Board of Education, the Most Revd John McDowell, added: 'With the death of Helen McClenaghan, the education sector and the Church of Ireland have lost a great critical friend and source of encouragement.
"Helen has been at the centre of education policy and practice for many years, and shared her enthusiasm and knowledge with a very characteristic directness and verve.
"I join with all those who knew and worked with Helen in offering my personal sympathies to those who are most sorely bereaved of her."
Dr Peter Hamill, Secretary to the Board of Education, said: 'Helen's wisdom and knowledge of education in Northern Ireland was unsurpassed.
"She will be sadly missed by all members of the Board of Education. Her energy and drive to improve and enrich schools for young people was an inspiration to us all."
Vice-Chair of the Speedwell Trust, Eric Rainey described Helen as "a remarkable lady", who was "passionate about children's education, an early advocate of shared education in Northern Ireland, generous and compassionate".
Sign Up To Our Newsletter