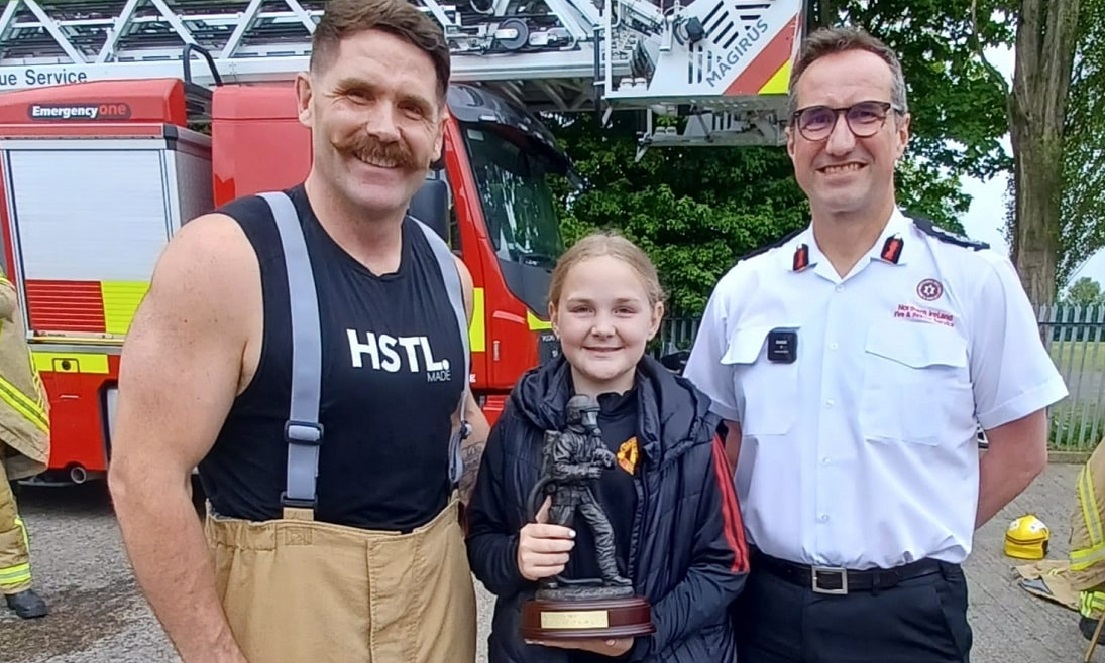 A Lurgan-based firefighter who proved his fitness skills in the ultimate test said he couldn't have given any more.
John Purdy, who joined the service 11 years ago, was crowned overall winner at the annual Firefighter Challenge, which is run by the NI Fire and Rescue Service (NIFRS).
The 37-year-old negotiated a series of obstacles and challenges – all in a winning time of three minutes, six seconds – describing it as an "absolutely fantastic day".
John, a full-time firefighter, is a member of White Watch Lurgan and also runs The Lifting Room gym in Richhill with his wife Narelle.
He said: "We had to climb a turntable ladder into the fourth floor of a fire tower, climb down, pull a hose aloft, put on the breathing apparatus, climb through confined spaces and then run carrying objects and casualties.
"I couldn't have pushed any harder. My lips were going blue by the time I was finished.
"But it was lovely as well because my daughter Robyn was there to witness it and it was very much about setting standards for my kids and showing them, especially my daughter, that females can do it too and she can aspire to be one of them."
The father-of-three, who lives in Portadown, is a firm believer in looking after not just his physical health but his mental health.
"We see a lot within the service, from fatal road traffic accidents to really nasty calls, so you have to look after your mental health too," he explained.
"You can't be taking that home, so the fitness allows you to channel that energy, and keeps you physically fit for the job, which is really important.
"Even to function as a firefighter, you have to carry a lot of kit – the breathing apparatus alone weighs 20 kilos."
John came second in last year's competition, losing to his nearest rival by 15 seconds. Ironically, he beat the same firefighter in this year's contest, with the margin again 15 seconds.
"He was 22 years of age so I was quite chuffed to beat someone who was quite a bit younger than me!" he added.
Although the job has "its high, lows and everything in between", John says he loves it.
"No two days are the same. When I clock in, I could be turning out to a house fire and then to a school visit on fire safety," he said.
"I could then be going to a road traffic collision where I am holding someone's hand and telling them they're going to be fine or dealing with a grieving relative."
With a military background, he believes serving in Afghanistan has held him in good stead for working in the Fire Service.
"I genuinely think I had to experience Afghanistan and a certain world to realise how good we have it here and how lucky we are to have people in the Fire Service," he said.
Meanwhile, John, who is also a member of the Fire Service's CrossFit team, has been selected along with two other firefighters to represent NIFRS at the British Firefighter Challenge in England next year.
Sign Up To Our Newsletter