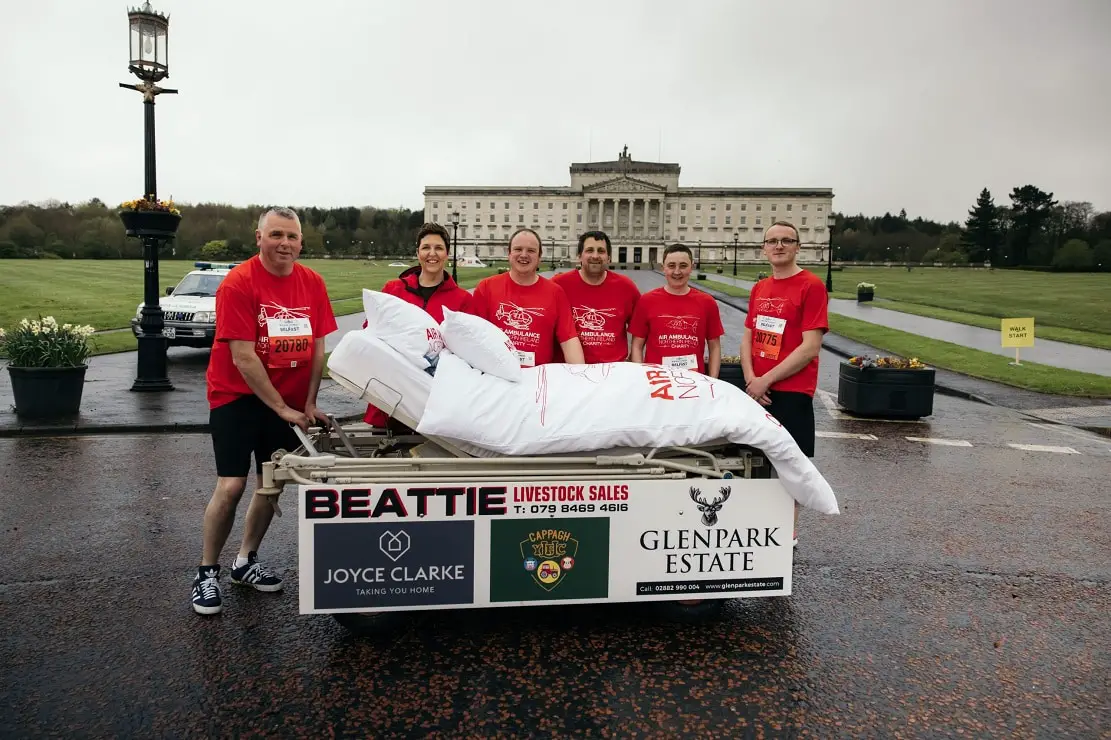 A whopping £10,000 has been raised in aid of the Air Ambulance NI by a small team from the farming world.
Farmer and Portadown estate agent Libby Clarke signed up for the Belfast Marathon ahead of undergoing a hip replacement in December due to injuries received by an intruder attack on her farm nine years ago.
Spurred on by this, well-known auctioneer, Richard Beattie, John Long and Cappagh YFC members Adam Wilson, Matthew Wilson and Jason Sproule got on board with the idea of pushing a bed around the eight-mile route.
The team travelled to the starting point of Stormont Buildings, Belfast, where the bed caused quite a stir!
They were the last people to start the course, but they soon progressed through the field as the team kept pace at a spirited rate. The atmosphere on the day was fantastic, with well wishers lining the route and cheering on competitors along the way.
From the moment the team announced their intention to take part in the Belfast City Marathon, friends and family dug deep to support their chosen cause of the Air Ambulance NI, with the final tally coming to a huge £10,000!
Libby Clarke commented: "We are indebted to the overwhelming generosity of everyone who donated. It really is very humbling to see just how kind people are. What is perhaps not widely known is that the Air Ambulance NI is a charity, and relies heavily on fundraising to keep the service flying."
She explained: "It costs £2.5 million each year. The AW109 helicopter can reach anywhere in the province in approximately 25 minutes and the rapid response is vital in an emergency situation. If a patient reaches hospital within the Golden Hour (60 minutes after their injury) their chances of survival are dramatically increased.
"Given that farming is one of the most hazardous occupations, the Agri community is grateful for the AANI on a regular basis with 3.5 calls per week to a farm in NI."
---
Watch: Portadown estate agent taking on part of marathon challenge for charity following hip replacement
Sign Up To Our Newsletter