A fundraising coffee morning hosted by 10-year-old, cat-loving schoolgirl, Faith Downey in her Portadown home has raised £173 for Cats Protection's Belfast Adoption Centre.
The event was the brainchild of Faith and her fellow school friends Rachel McClelland, Catherine Robinson and Lydia Downey, who are self-titled as the Funky Felines Committee!
The coffee morning proved to be a great success, with a host of feline enthusiasts attending to show their support by purchasing hot drinks and tray bakes.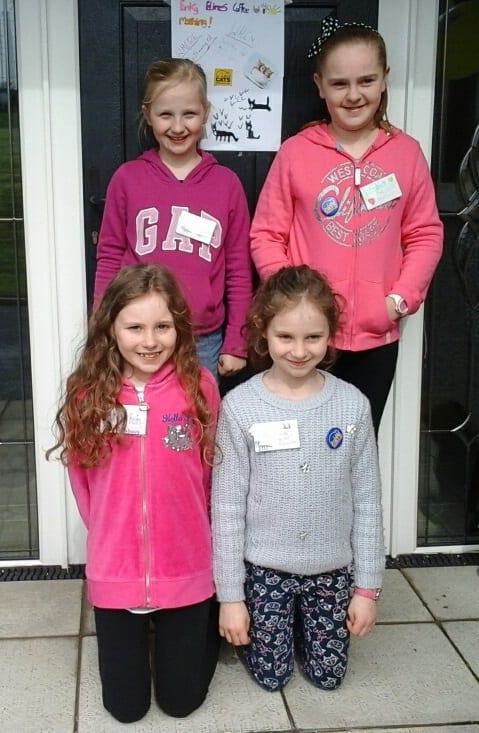 The event was a great opportunity for people to meet and find out more about the charitable work of Cats Protection and the Belfast Adoption Centre.
Faith said: "I wanted to raise money for the Belfast Adoption Centre after recently visiting the centre with my family to meet some of the cats and kittens looking for their forever homes. My pet cat 'Mittens' and my sister's pet cat 'Suzy' also inspired me to do something to help cats in need."
Belfast Adoption Centre Deputy Manager Andrew Doherty said: "It is so encouraging that Faith and her friends received such great support on the day so we'd like to thank everyone who came along and supported the girls and their brilliant idea.
"If we didn't receive such wonderful support from the likes of fantastic people like Faith and our local community, so many more cats would needlessly remain homeless."
Cats Protection's Belfast Adoption Centre is part of a national network of over 250 volunteer-run branches and 32 centres that together help over 205,000 cats and kittens each year. The charity's vision is a world where every cat is treated with kindness and an understanding of its needs.
Read more news:
Fr Kevin Donaghy announces retirement as principal of St Patrick's Grammar School
Armagh's Lennox House shops and office complex is put up for sale
Council told of multi-million pound 'health hub' plans for Armagh and Lurgan
Family urge support for Air Ambulance in memory of 'our beautiful Lesley-Ann McCarragher'
Brave Rachel's fashion show final tribute to much-loved brother John
Armagh secondary schools 'unable to cope with demand for places' in just nine years time
Vile fake news scam reports multiple teen fatalities in County Armagh crash
Sign Up To Our Newsletter