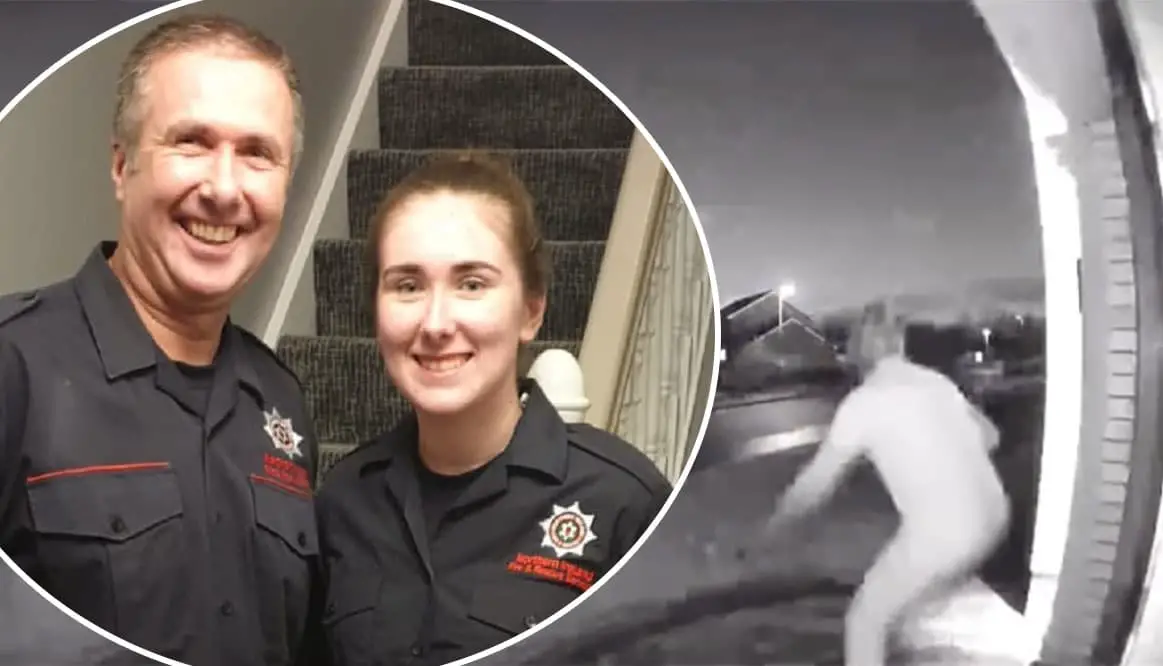 A Portadown father and daughter firefighting duo have gone viral with a collection of videos showing the pair rushing from their home to attend incidents at all hours of the day.
The footage (below) which shows the pair running for their cars in all weathers has already been viewed 1.7 million times on social network site, Tik Tok.
Armagh I caught up with Phil Wilson and his daughter Chloe (pictured) to find out more about the dynamic duo and their unexpected internet fame.
Phil, who initially signed up as a firefighter in 1992, admitted: "The years are quick to creep up on you", when chatting about his daughter joining him at work.
The 49-year-old is in full time service at the Lurgan station, alongside being an on-call firefighter for Portadown. It is in this latter role that Phil is joined by his 19-year-old daughter.
"I literally only started in December, I had always been interested in getting involved, especially with my dad being part of it all too", said Chloe.
"I was finishing off my last few years at school and the opportunity came up, so I just went for it."
So now, instead of Phil's wife, Nuala, being awoken by one alerter going off in the middle of the night, she now has to contend with two alarms.
It was Nuala's gift of a 'Ring' door bell to Phil for Christmas, which led to the video now doing the rounds on social media.
Phil explained: "It comes up with a video every time the door is rung but it also has a sensor which detects and records if someone is coming up the drive way, so it goes off every time we leave the house on a call."
After watching the footage, it was Chloe's idea to put them all together for a TikTok.
She said: "I just thought it would be funny to put it together, I didn't expect it to get the reaction it got. It just shows people what exactly goes on in our role as on-call firefighters."
One notable similarity in all the clips is Phil's ability to be the first out the door, he commented: "Maybe it is just experience, or maybe it is a bit of competition."
Talking about the reaction, Phil added: "It is funny seeing some of the comments that have been on it; there would be a lot of Americans on it and they are wanting to know why I am getting into the right hand side of the car.
"They are also wanting to know why we are taking to separate cars, but because she has only joined, the chance of her getting out on the first appliance is pretty slim, whereas I would be first out, so she would be waiting on me coming back from a call, so that is why she goes up in her own car."
Asked about what keeps him in the job, he stated: "I enjoy it that's why I have kept at it and I think my daughter is enjoying it so far too."
And that certainly appears to be the case with Chloe already harbouring ambitions to take on a full time role if one becomes available.
Check out the video below..
Sign Up To Our Newsletter