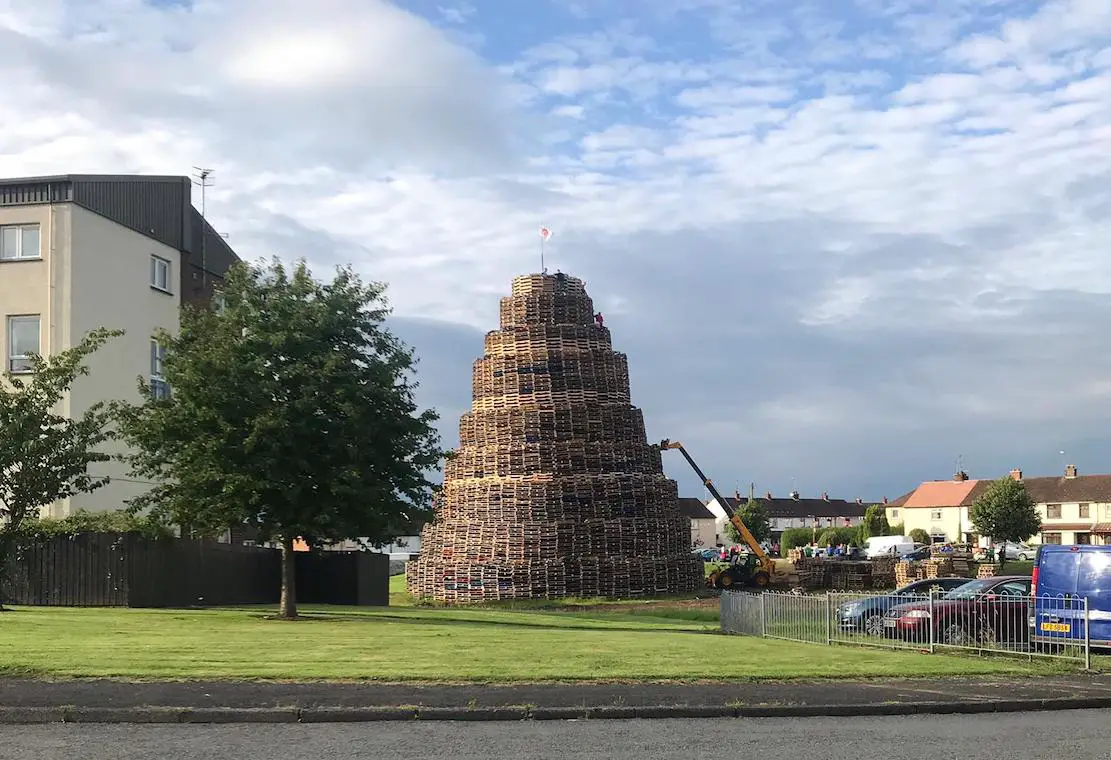 A bonfire positioned dangerously close to a number of block of flats in Portadown will remain in position after the ABC Council failed to find a contractor to remove it.
The Council attempted to employ one of up to 35 firms across the UK and Ireland but those attempts have proven fruitless.
Sinn Féin councillor Paul Duffy strongly criticised what he described as a "shameful u-turn" by the Council.
The Portadown representative was commenting after senior council officers revealed that an earlier decision to employ contractors to remove materials from the bonfire had now been reversed.
"The decision….is a complete abdication of council's duty to ratepayers, particularly those living in the two blocks of flats where residents have been told to leave their homes.
"We all have a right to live free from fear and intimidation in our homes but this Council is failing dismally in its duty to protect ratepayers and uphold its legal responsibilities.
"The lack of leadership from within unionism in tackling these bonfires is also telling.
"As a result, residents will tomorrow be faced with a decision to take shelter in a community centre or hostel or risk their lives. That is a shameful indictment on all those involved."
Sinn Féin councillor Catherine Nelson described the situation as "ludicrous".
Speaking to the BBC, councillor Nelson said: "We're asking those people to evacuate their homes so that a bonfire can be lit – if they don't evacuate their homes, their lives are at risk
Sinn Féin Councillor @CatSeeley has slammed moves to force residents in Corcrain, Portadown to evacuate their homes so that a dangerous bonfire can be lit. If they don't leave, their lives will be at risk. pic.twitter.com/eJL6dmnAtx

— Sinn Féin (@sinnfeinireland) July 9, 2019
"That's not acceptable in 2019. We are currently playing roulette with people's lives and property".
She added: "We have new-born babies in these blocks of flats, we have elderly people in these blocks of flats, they are being asked to evacuate their homes in order for this bonfire to be lit."
She said she "didn't buy" the council's statement that they had been unable to secure a contractor.
"I don't expect our rate payers will buy that," she added.
SDLP councillor Thomas O'Hanlon said the bonfire in Portadown poses an immediate risk to the safety of hundreds of residents and the security of property in the immediate vicinity.
"Having advice from the Northern Ireland Fire and Rescue Service and from the Council's own corporate risk management team we believe it is necessary in the interests of public safety to act," he said.
"The council secured and appointed a contractor and was prepared to intervene.
"We have now been informed by the PSNI that a protestor has set up camp on top of the bonfire. The belief is that this risks causing substantial damage by lighting it prematurely. These actions are putting both the protesters and the local community they claim to come from and support at serious risk.
"Council officials with the support of statutory agencies must make their own operational decisions. At this point, council will now proceed to prepare mitigation measures to protect communities, this is likely to mean evacuation of many homes.
"We should not be in this position. This is not about denying communities their right to cultural expression.
"This is about protecting life and property. There are many who have questions to answer as to how and why we are in this position today. I want to thank our team in council who have worked hard to make progress and seek a resolution.'
"I would appeal for calm and even at this stage ask the bonfire group to think of their community. This is a sensitive time and issue, calm heads and safe communities are needed now and in the days ahead."
No sign of a resolution here in Portadown yet as concerns continue after residents living near this growing bonfire on this big council-owned green are advised to leave their homes before the fire is lit later this week. pic.twitter.com/VBPVlgm7dF

— Kevin Sharkey (@tv_KevinSharkey) July 8, 2019
Sign Up To Our Newsletter