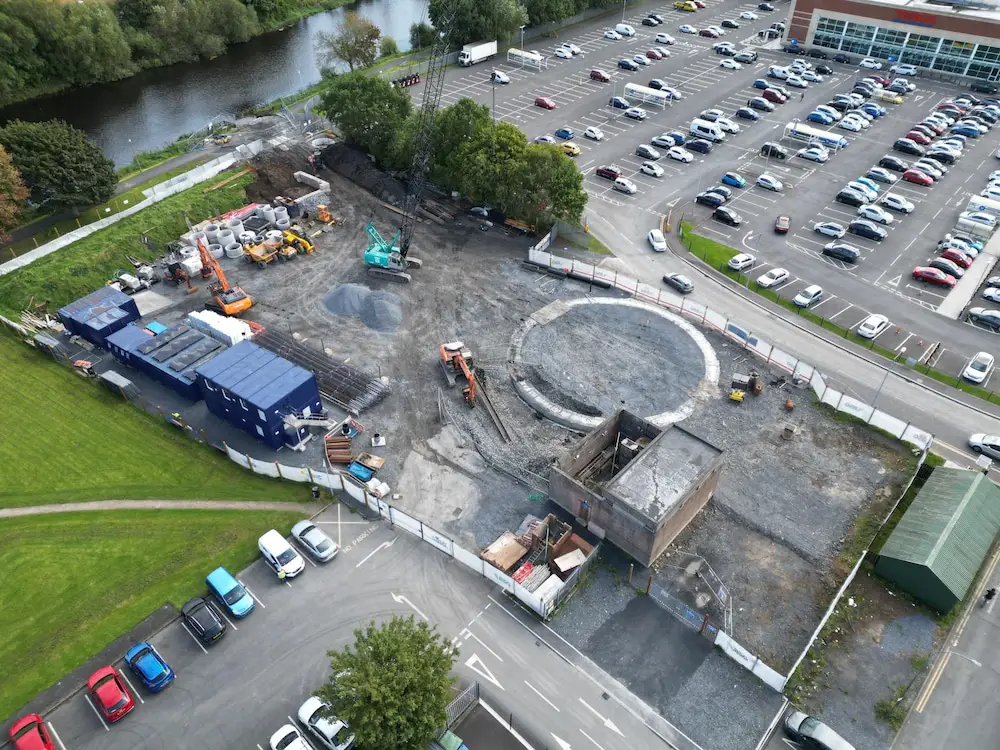 Contractors working on NI Water's £7.8m wastewater network upgrade in the Meadow Lane area of Portadown are to implement a temporary contraflow system from mid-October to December.
The works includes the construction of a modern new wastewater pumping station adjacent to Meadow Lane East Car Park and the installation of over 600m of large diameter sewer by tunnelling methods to minimise disruption.
The tunnelling works require the establishment of tunnel compounds. With the first tunnel compound now complete, contractor BSG is planning to construct the second compound which will be located adjacent to Tim Hortons on Meadow Lane.
To ensure the safety of the public and construction workers during the construction of the compound, the grass section at the front of Tim Hortons, and one lane of Meadow Lane will be utilised during the enabling works.
This second compound is expected to get underway on Monday, October 16. The compound and installation of the tunnel shaft will take around 10 weeks to complete and will require traffic and pedestrian management.
This will include a contraflow system and a traffic signal phasing alteration on Meadow Lane between its junction with Portmore Street and its junction with A27 Bridge Street.
During this time two-way traffic will be maintained on Meadow Lane with the following traffic management in place: Meadow Lane northbound (towards the town centre) will have a contraflow in place between Portmore Street and Bridge Street with northbound traffic diverted into the southbound lane.
The filter lane for Meadows Retail Park will not be in use for southbound traffic. Motorists wishing to turn right may do so from the southbound lane. There will be a different traffic light system in place to allow motorists to turn right.
Traffic exiting Meadows Retail Park will only be able to turn right. A signposted diversion will be in place for motorists.
For pedestrians, the footpath directly in front of Tim Hortons will be closed. Existing pedestrian crossing points on Meadow Lane will remain operational. A diversion will be clearly signposted for pedestrians. Access to and from the Meadows Shopping Centre will be unaffected for motorists and pedestrians during these enabling works.
Once the compound has been set up, Meadow Lane will be fully reopened and will remain open during the first phase of tunnelling works.
Work on the new wastewater pumping station, which includes the construction of a new underground storage tank capable of holding 1,500,000 litres of stormwater, is progressing well.
Commenting on the programme of tunnelling work and efforts to keep disruption to a minimum, Lisa Hughes, NI Water Senior Project Manager said: "NI Water and our project team from McAdam and BSG have planned the installation of this 1500mm diameter sewer by trenchless means (via underground tunnelling), rather than traditional open-cut construction methods, in a bid to reduce disruption in the area.
"We would take this opportunity to thank Tim Hortons and the council for their support in accommodating the establishment of the tunnel pits on private lands which has been fundamental to progressing the tunnelling process. Equally, we would also like to thank local businesses, residents and the wider public for their ongoing patience and cooperation while we continue with this essential programme of work to improve and add capacity to the local wastewater network."
Looking ahead to other works planned in the area, Lisa continued: "A third and final tunnel shaft will be required in Meadow Lane East Car Park to facilitate tunnelling towards the new pumping station. Additional car parking spaces have been created within the car park to offset the space required for this tunnel shaft.
"NI Water will provide further communication in advance of work starting in Meadow Lane East Car Park and the next phase of tunnelling works getting underway. The team will strive to minimise the impact of all works on the local community and deliver this multi-million-pound project in a safe, efficient and timely way."
Sign Up To Our Newsletter