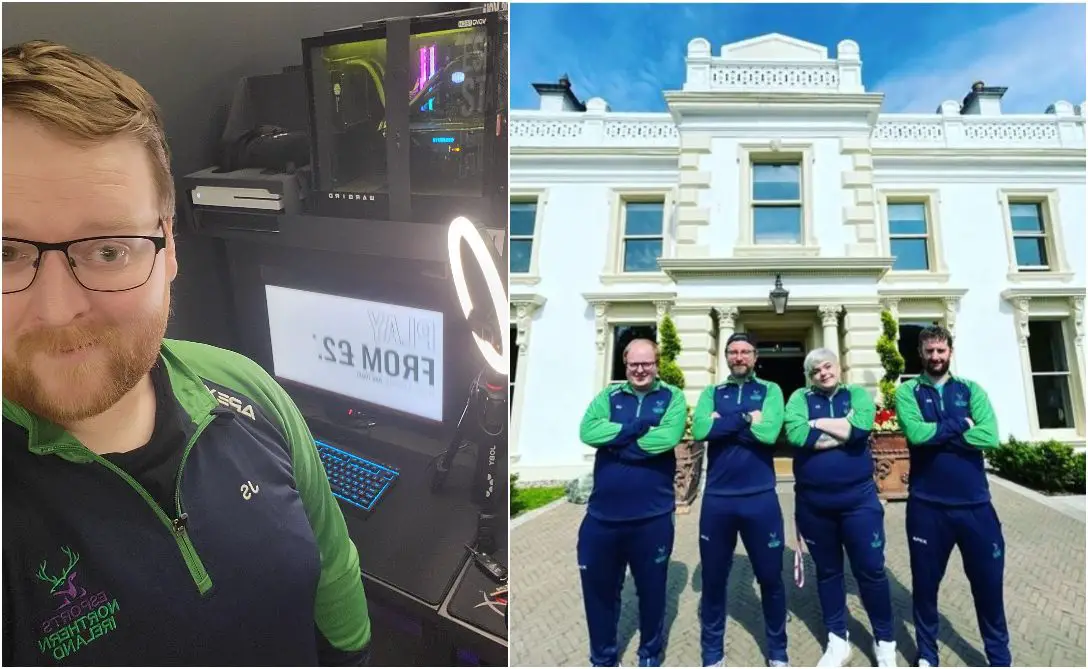 The explosion of esports has led to a new generation of heroes and one County Armagh man will help managing a Northern Ireland of gamers at the inaugural Commonwealth Esports Games in Birmingham next month.
For Annaghmore man Jamie Scullion, esports has offered him an opportunity to forge a career in something he loves – computer games.
The popularity of esports has skyrocketed in recent years and, as a result, Jamie has taken up a role at Belfast Metropolitan College lecturing in esports.
The course began last year with 35 applicants – 19 took up their places in September. This coming academic year, there are currently 95 applicants but the course can only accommodate 24. The College is considering an additional classroom to double its intake.
Speaking to Armagh I, Jamie, who is a manager for Team NI explained how he got involved in esports, what his role entails, and why it's much more than just sitting down in front of a screen and playing games.
He also explains how the esports event in Birmingham has been sanctioned by the Commonwealth Games Federation (CGF) Executive Board but that it will have separate branding, medals and governance.
Emma Rose and Nick Hatton will make history for team NI as the players when they compete in Birmingham in the men and women's Efootball.
"We're all in the athlete's village with everyone else," explains Jamie. "And if this trial event goes well, then in four years time we're competing again in Australia and then again the Olympics."
The 30-year-old has been playing games for years but has spent about 10 years in esports. Alongside his colleague Michael Smyth, the pair are helping oversee the Commonwealth programme due to their experience within the industry.
But what exactly does an esports manager do?
"We oversee logistics; we would help coach the players, put on a training schedule, meet their needs and generally help them with those sorts of things," said Jamie.
"It's a bit harder in Efootball as it's an individual player game but in the likes of Dota 2 (an online 5v5 battle arena) there is a lot of strategy and tactics involved.
"I'd be in the background, standing behind the players, coaching them through everything, from what to do, what to pick. As for the Efootball, it would be more like your traditional manager when help is provided before the match."
While online gaming has grown in the last 10 years, Jamie believes Covid has played a huge part in the explosion of esports.
"People have been indoors a lot in the last couple of years, many of them playing games. Lots of people have started looking more into the competitive side of things.
"Now, we have things like Dota International where there was a £40million prize pool for the winners. There was League of Legends Championships, where there was £2.25m for the winners. There's a big industry in it now."
It's still early doors in Northern Ireland with no professional teams at the moment, however, there are two grassroots teams.
One such team – Belfast Storm – brings in younger players, trains them up and puts them into competitions.
Like traditional sports, it's through these competitions that those players get picked up by a bigger team with more sponsorships attached, thus allowing talented gamers to become professional.
But playing is not the only career available in esports, as Jamie is testament to.
"You have video production, sound engineers, managers…there are so many jobs in esports," he said.
"And anyone can play esports. Our Efootball team, we have Nick who is 42, we have Emma who is 31. There is no range and no limits, it's so inclusive."
In Belfast, the esports course covers a wide range of skills, from health and fitness – it's a huge part of the industry – as well as more traditional media skills. Esports productions are akin to those of TV. Inevitably, those skills are transferable to so many other roles beyond esports.
But for Jamie, he's loving seeing something he has a deep passion for grow like it has – and continues to.
"Esports brought in 60-70 million to the UK economy last year and is set go grow 8-10 percent, so it's a great time to get in," he said.
The Commonwealth Esports Championships will take place at the International Convention Centre (ICC) in Birmingham on August 6-7, 2022.
Follow Team NI's journey on Twitter here.
Sign Up To Our Newsletter