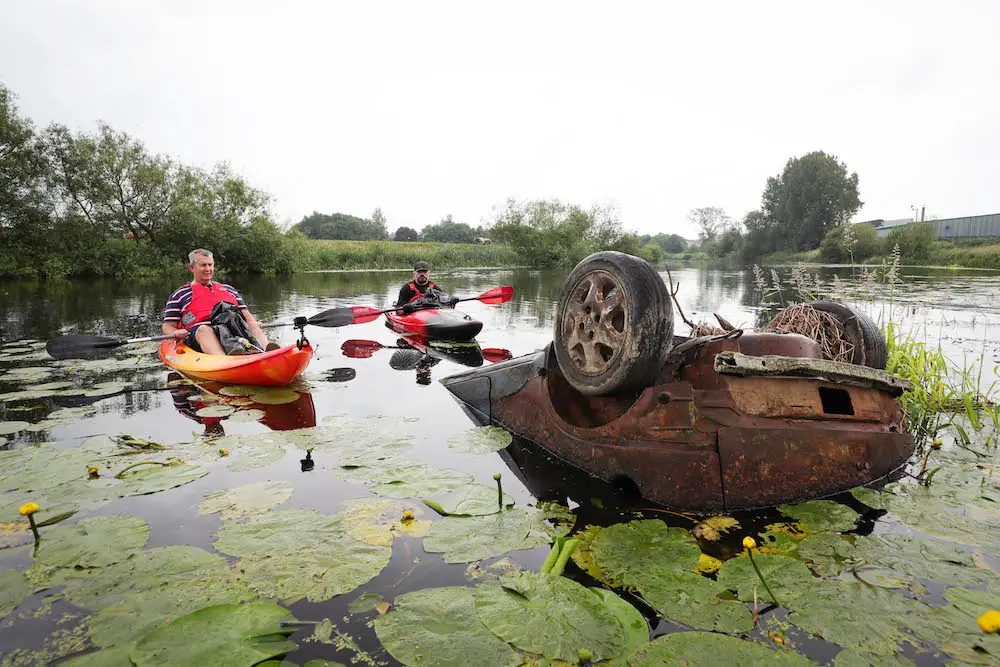 Almost 20,000 plastic and glass bottles, 800 football, rugby and tennis balls, 120 bin bags of rubbish, 60 pieces of footwear, 22 plastic ducks, 15 traffic cones, 11 shopping trolleys and bicycles – these are just some of the things fished out of a Co Armagh river over nine months.
The Environment Minister Edwin Poots made the startling discovery as he took to the River Bann in a kayak, to take part in a litter pick up in an effort to clear it of debris and improve the water and habitat quality for wildlife and nature.
The Minister was escorted by local resident Jon Medlow, who spent from September 2019 to April 2020 voluntarily sweeping the river for litter and often fills a dinghy full of rubbish.
Speaking after his experience, the Minister said: "I am shocked at the level of pollution, debris and waste in our waterways.
"The volume is truly appalling and it's obvious that it has a profound and damaging impact on the fish and wildlife using our rivers and on the ecosystem including organisms, plants, grasses and trees near the river banks.
"We all love getting out to enjoy the multiple benefits that our outdoors provides – the pleasant scenery, the exercise and the good feeling we get from being close to nature.
"But like me, many of you will have witnessed the ugly and damaging impacts of litter and dumped rubbish. Many of us are careful but others are selfish and lazy and simply dispose of things without thinking or caring about the effects. Those people need to change our ways.
"A plastic straw takes approximately 200 years to decompose, a plastic bottle 450 years and some plastics never decompose. It is our responsibility to help our environment to thrive.
"I've seen only one river today but it should be enough of a warning to us all whether it is in rivers, in our forests, on land or on our beaches– dispose of your waste and rubbish correctly, do not fly-tip or drop litter, recycle often, reduce the packaging you use and please, protect our natural world and keep it healthy."
Jon Medlow has been voluntarily clearing the River Bann for almost a year.
He added: "The River Bann Cleanup began in September 2019 after I noticed the excessive amount of litter in my local river, weeks previously. I purchased a kayak and four person dinghy which was attached to and towed by the kayak.
"During my eight hour shifts on the river, the dinghy was filled to capacity each time.
"Over a nine month period and with over 500 hours of lifting litter, I covered a 12 mile stretch of the River Bann from Portadown Golf Club to the Bannfoot at the mouth of Lough Neagh.
"I have been able to purchase two kayaks and equipment to enable others to get onto the river and help with the clean-up, free of charge.
"All of these volunteers had never been on our local river before and for some, it was their first time on a kayak.
"All have enjoyed this experience and many are keen to get back onto the river again and help keep it clean."
The full list of items recovered is truly incredible.
Between September 2019 and April 2020, this following was taken from the River Bann – and they did not make their way there on their own!
11672 plastic bottles
7793 glass bottles
1381 cans
466 footballs
311 tennis balls
156 soft plastic balls
124 plastic buckets
118 bin bags of rubbish (polystyrene trays, crisp packets, plastic bags, chocolate wrappers, deodorant, shower gel, sun lotion, lighters, veterinary medicine bottles, detergent, windscreen wash, tampons, condoms, shampoo, moisturiser, foam boards, sauce bottles, spray paint, pram wheels, inhalers, syringes, silicone sealant tubes, toothbrush, fixadent, polystyrene cup pieces, bottle caps, baitbox packets, cigarette packets, vape bottles, pregnancy tester, fishing hook packets, biscuit wrappers, light bulbs, nerf darts, washing up liquid, ear bud sticks, pens, coats, tampon applicators, biscuit trays, hairbrushes, anti-mosquito spray, prescription medication, car anti-freeze, disposable gloves)
57 footwear
45 plastic drums (3 containing used oil, 1 leaking fuel)
26 plastic plant pots
25 plastic containers (1 with oil + water mixture, 1 with petrol, 1 with oil)
22 plastic ducks
17 paint tins
15 traffic cones
13 oranges
11 shopping trolleys
11 x 1/2 fishing rods
10 & 1/2 lifebuoy rings
10 fire extinguishers
9 chairs
9 hurling balls
8 basketballs
7 bananas
7 bicycles.
Sign Up To Our Newsletter