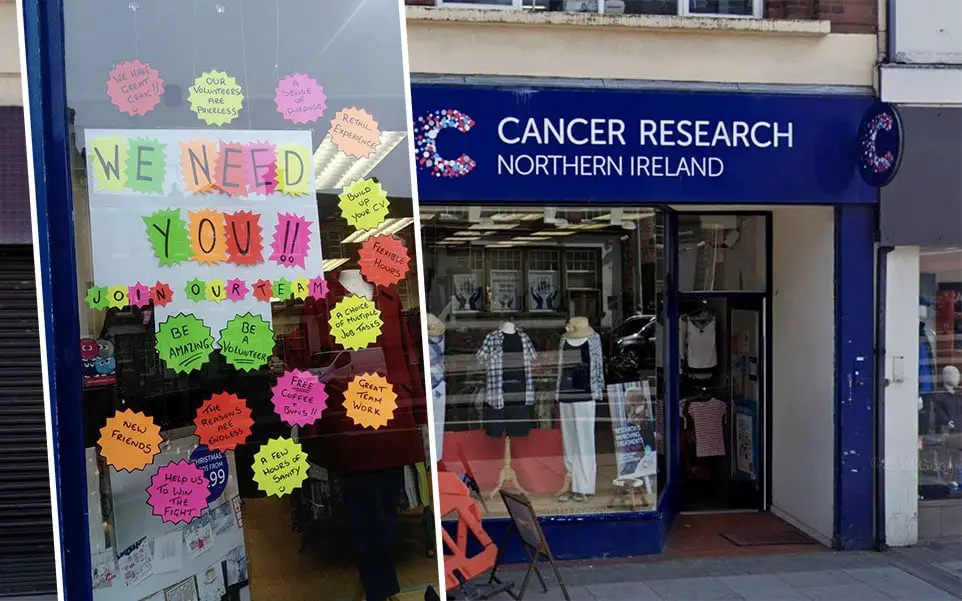 A Cancer Research branch in Portadown has closed its doors for the final time having raised over £1.5 million in its 23 years in the town.
Cancer Research UK has thanked the people of Portadown for raising such an incredible sum of money by supporting their local charity shop since 1997.
As shops across the UK began re-opening following lockdown, Cancer Research UK confirmed that as the lease has expired, its Market Street store will remain closed.
Shoppers and volunteers at the shop have helped raise £1,576,783 to help beat cancer sooner since it opened.
The closure coincides with the launch of an urgent new TV appeal to help get Cancer Research UK's life-saving work back on track. Thanks to the generosity of its supporters, the charity currently funds around 50 per cent of all cancer research in the UK.
However, as a direct result of the coronavirus pandemic, it expects to see its fundraising income decline by up to 25 per cent in the next financial year – putting this life-saving research at risk.
Area trading manager Kathryn Gallagher issued a heartfelt thanks to all the staff and volunteers who have kept the shop going for so long.
"We've had some of the most amazing staff and volunteers in the Portadown shop and they have done a fantastic job over the years," she said.
"I want to say a huge thank you to each and every one of them.
"Now, more than ever, we need to raise as much money as possible to fund life-saving research and that means investing our resources in a way that maximises profit, awareness and supporter engagement. With this in mind, I sincerely hope our customers will continue to support the charity and visit our other shops in the wider area."
Cancer Research UK spent more than £2 million last year in Northern Ireland on some of the UK's leading scientific and clinical research.
To find out more about Cancer Research UK's work and how you can help – or to shop online – visit: cancer.org.uk
Sign Up To Our Newsletter