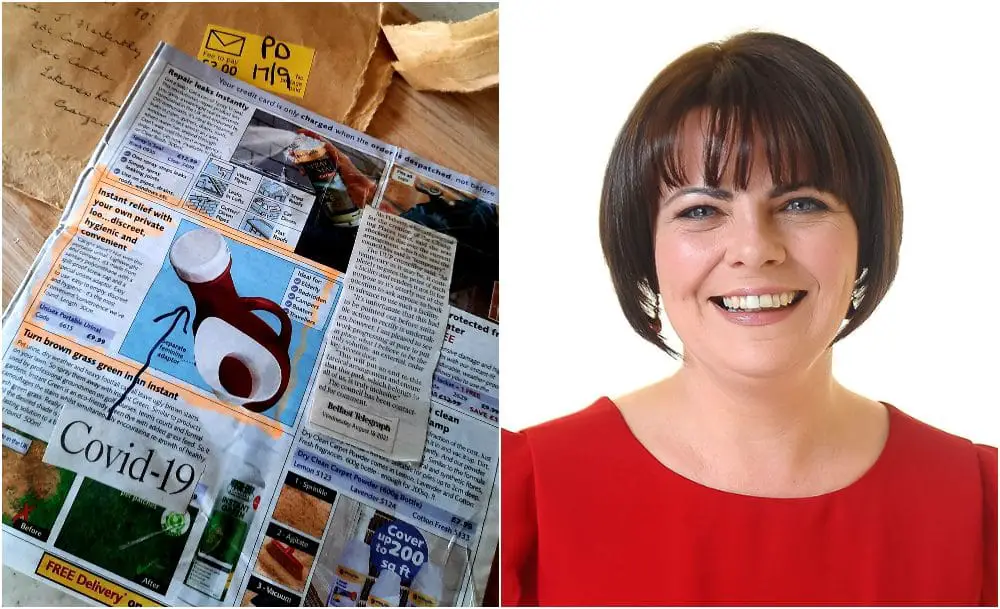 A Portadown councillor has brushed off a "bizarre" letter, delivered to her home, as nothing more than 'part and parcel' of her role as a public representative.
Ulster Unionist councillor Julie Flaherty has been unabashed in her campaign to improve the facilities for those with more complex needs, and in particular, the introduction of changing places toilets in various venues across the ABC borough.
However, earlier today (Wednesday), she was left bewildered – and admittedly somewhat amused, in a laugh or cry kind of way – by a packaged letter seemingly mocking her campaign.
Tell us your thoughts on this in the comments below. 
In it was a magazine opened on a particular page with a promotion on a handheld unisex portable toilet, vigorously highlighted in orange, inferring that the £10 device would solve the issue.
Alongside that was a newspaper cutting carefully Sellotaped to the adjacent page highlighting quotes attributed to Councillor Flaherty in August regarding the 24-hours notice required to use the changing places toilet in Portadown People's Park.
Strangely, the words 'Covid-19' were also printed and taped to the page (retro 90s stalker style), with an arrow pointing towards the portable handheld toilet. The inference from that simply missed on its intended recipient – and us all!
"Another Covidiot," as Councillor Flaherty aptly put it.
"Some poor soul at Council had to pay to put a stamp on it as they couldn't even manage that," she told Armagh I, choosing to see the humorous side of the whole episode.
"It's just bizarre but it's nothing new to me, it just shows how accessible councillors are," she added.
"I'm sure other Councillors would say the same but it's 24-7, seven days a week, we get messages about all sorts and yes, sometimes they aren't nice. But to be honest, I get a lot of lovely messages from people supporting me in my various campaigns, so I'm not going to let some one get me down like that; they've clearly got far too much time on their hands."
Posting the image on social media, Councillor Flaherty said: "Well now…occasionally a lovely little "thank you" note does drop through the door of the homestead…but it's been a while since I got one like this. Thanks-but no thanks for the advice.
"Honestly…some people will never get it – I'm glad you don't have to. At least it was noticed I suppose. #ChangingPlaces #breakthestigma #nomorefloors."
Sign Up To Our Newsletter