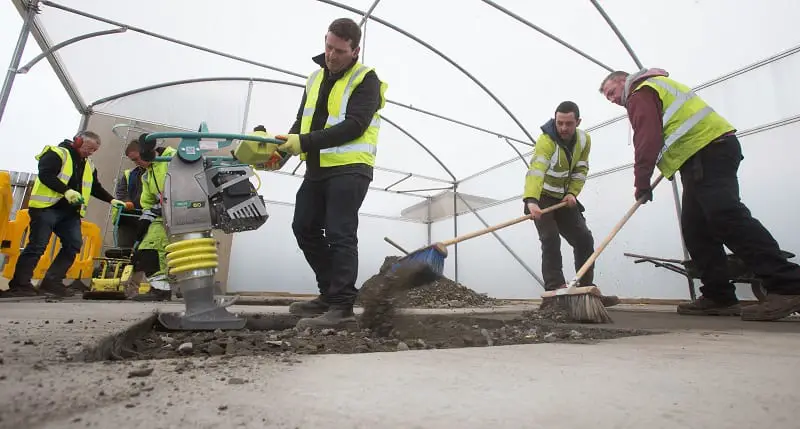 Portadown-based Industry Training Services (ITS), which operates Northern Ireland's largest health and safety training facility, has recorded a 20% rise in the number of qualifications delivered following a £150,000 expansion.
The capital investment at ITS over the last 18 months has seen the company move to new 10-acre purpose built premises just off the M1 motorway and expand its training offering reaching record levels of training delivery.
This growth has cemented ITS' position as Northern Ireland's leading provider of health and safety training solutions to the construction, civil engineering, utilities, manufacturing sectors and beyond.
Managing Director Brendan Crealey said it had vastly extended the scope of training offered by the firm: "In the 15 years since ITS was established, we have provided training to around 50,000 people.
"That includes more than 7,000 qualifications delivered in 2016 alone – 20 per cent higher than the figure for 2014."
Brendan said the nature of training had changed markedly over the past decade as standards of occupational wellbeing have improved across all sectors.
ITS' facility was specially designed to provide training for covered street works, confined spaces, scaffolding and working at heights, operating large plant and machinery, first aid and safety in excavations.
He continued: "The most common types of training we provide have traditionally been specialist qualifications for the construction industry while there is always high demand for emergency first aid training and our manual handling course.
"However, a growing area is guidance for working in confined spaces which has experienced a 50 per cent rise in participant numbers in the past two years as enquiries, especially from the food manufacturing sector, have increased."
This month, the firm has taken delivery of a new dumper, digger, roller and other plant and machinery amounting to approximately £50,000.
Brendan added: "For candidates on our plant and machinery courses, they'll now be trained on newly equipped and up to date vehicles.
"That puts them at a major advantage when going out into the workplace.
"Having good and updated plant and machinery allows participants to experience all the modern safety feature and controls, which in many cases far outweighs what is available in more dated equipment."
Cormac O'Donnell, Business Director at utilities firm McNicholas Construction, a long-term customer of ITS, said the new facilities had supported the improvement of their health and safety performance.
"We have a long-standing relationship with ITS, which trains more than 200 McNicholas employees every year so we consider them our health and safety training partners.
"The new facilities at ITS feature a mock street complete with street lighting and gas piping, which we laid.
"The streetworks area is unlike anything available at training facilities elsewhere and allows our workers to train in an environment as close to reality as possible.
"It means staff can gain experience working alongside other utilities and ensures our employees are among the best trained in the industry."
ITS, which was established in 2001, moved to its new premises at Derryneskan Road in 2015.
Sign Up To Our Newsletter