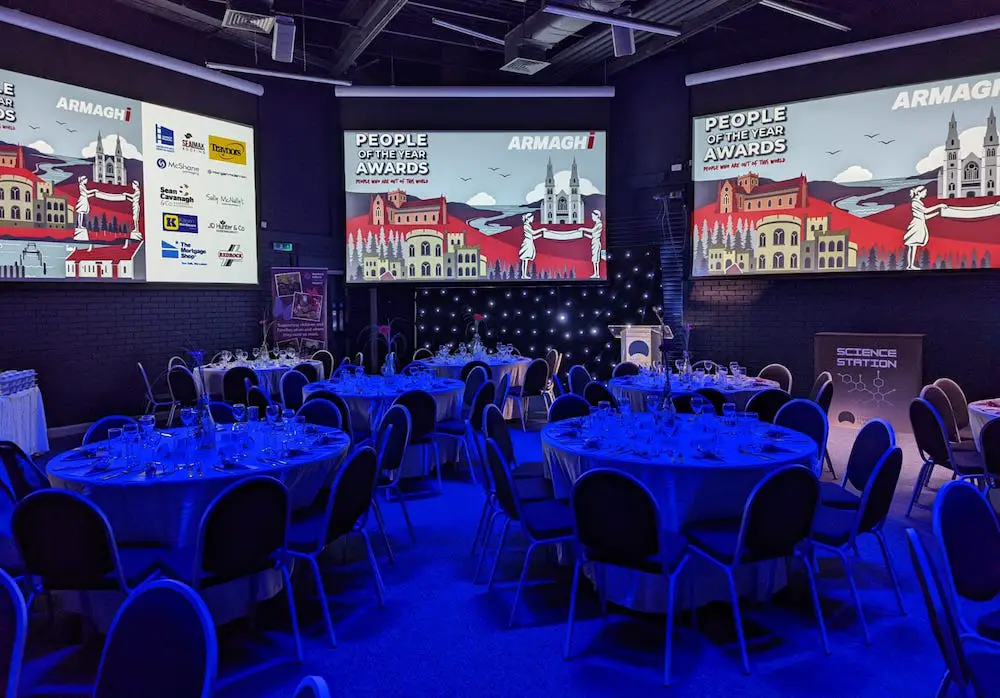 You nominated in your hundreds and voted in your thousands and tonight's the night!
Armagh I People of the Year awards in association with Alora Rejuvenation are being held for the second year at Armagh Observatory and Planetarium.
Kicking off at 6:30pm, with a drinks reception, the awards ceremony begins at 7:30pm and you can catch live updates here.
The programme for this evening is entirely digital and interactive. Simple click on any of the prompts, icons or logos where you will be able to sign up to our newsletter, read more information on our sponsors, join us on social media and much more. Download the full interactive programme here
And we're delighted to have the evening hosted by Northern Ireland's weatherman and TV presenter Barra Best, with our entertainment by "The Woodbees"
Follow live updates from the event below. Categories and finalists are as follows:
Good Neighbour Award (sponsored by Tarasis Enterprises) 
Mary McCann
Rosaleen Quinn
Carer of the Year (sponsored by Alora Rejevenation)
Patricia Black
Paula Magee
Sports Personality in a sporting arena (sponsored by Sally McNally's at the Corner)
Étain Devlin
Daniel Wiffen
Inspirational Young Person (sponsored by McShane Packaging)
Olly Cartmill
Eimear Cunningham
Overcoming Adversity Award (sponsored by Allied Customs Services)
Karly Finnegan
Glenda Mullen
Community Impact Award (sponsored by Aonach Mhacha)
Roma Carlisle and Kate Martin
Louise Taylor
Time2Play
Fundraiser of the year (sponsored by Sealmax Roofing)
Deirdre Breen
Deirdre McCann
Inspirational Educator of the Year (sponsored by MessyPlay NI)
Sandra Flynn
Martin Rafferty
The Extra Mile: Employee Endeavor (sponsored by JD Hunter & Co Supermarket)
Kelly Gardiner
Sinead Mackle
Rescue Champion of the Year (sponsored by Dentistry @ Markethill) 
Niall McConnell
Lurgan Red Watch NIFRS
Eco Warrior (sponsored by Traynors)
Emer Rafferty
Wilson Family
Download the full interactive programme here
Sign Up To Our Newsletter