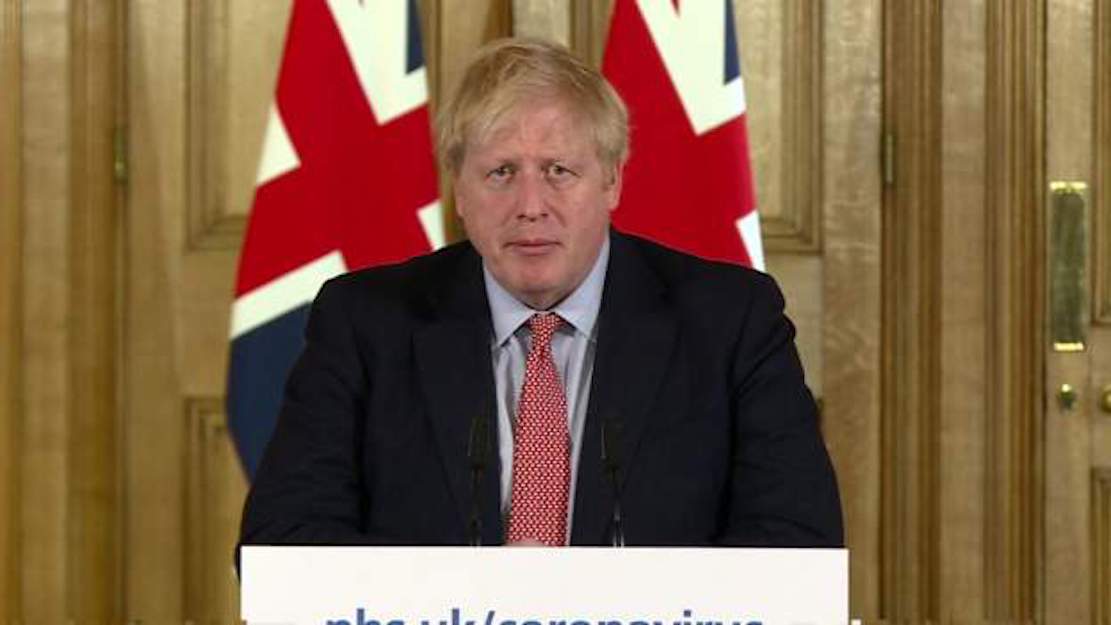 The Northern Ireland Executive says it will consider a plan for "a phased, strategic approach to recovery" at its meeting on Monday.
The statement came after Sunday evening's statement by the Prime Minister Boris Johnson as he set out his plan to ease lockdown restrictions.
His message tonight was: "We must stay alert, control the virus and save lives."
Prime Minister Johnson said it was now two months since people had had imposed restrictions on their freedom "of a kind we have never seen before in peace and war".
And he praised the public who had followed social distancing and had put up with restrictions "overwhelmingly".
Mr Johnson said: "Although the death toll has been tragic and the suffering immense, and although we grieve for all those we have lost, it is a fact that by adopting those measures we prevented this country from being engulfed by what could have been a catastrophe in which the reasonable worst case scenario was half a million fatalities."
He said thanks to the public the NHS had been protected and undoubtedly many thousands of lives had been saved, but he added that people "must stay alert" and we must continue to control the virus and save lives.
Prime Minister Johnson said there are millions of people who are both fearful of this terrible disease and at the same time fearful for their livelihoods.
To that end, he set out a plan "to address both fears". He described it as a "road map for reopening society, a sense of the way ahead and when and how and on what basis we will take to proceed", promising to set out more details before Parliament on Monday.
He said there were five things which needed to be in place – to protect the NHS, a sustained fall in death rates, a sustained and considerable fall in rates of infection and the challenge of getting PPE to the people who need it, and lastly to make sure that any measures taken do not force the reproduction rate of the disease back up.
To chart progress and to avoid that rate going back up, Mr Johnson said it was intended to establish a new Covid alert system which would have five alert levels – level one being that the disease is no longer present and level five the most critical which could have come about if the NHS had been overrun.
Mr Johnson said the level during lockdown would have been level four.
He said the system will be able to detect local flare-ups and he also said it was hoped to have testing of hundreds of thousands carried out each day.
The Prime Minister said: "This is not the time simply to end the lockdown this week."
But he outlined steps to be taken and said from this week staff who can work from home should work from home but people who cannot work from home should go to work, in sectors like manufacturing and construction. He said they should observe social distancing and "avoid public transport where possible", encouraging them to walk, travel by car or bike.
From Wednesday he said people should be able to "take more and unlimited exercise"; he said they could sit in the sun in their local park and play sport, but only with people from same households and they must again obey social distancing.
And Mr Johnson added: "If we begin to fulfil the conditions in the next few weeks and months we may be able to go further."
He said he hoped, by June 1 at the earliest, for a phased reopening of shops and to get primary pupils back into school. It was his ambition that secondary school pupils sitting exams next year would get some time with their teachers before the holidays.
By July, at the earliest, it was hoped to begin to reopen hospitality settings, again provided they are safe and promote social distancing.
These ambitious, he said, were "not driven by hope and mere necessity but by science and data".
The Prime Minister said he was also "serving notice that it will soon be the time to impose quarantine on people coming into this country by air".
Mr Johnson said that it was a gradual process and if the situation changed and having monitored progress it was not working then "we will not hesitate to put on the brakes".
"We have been through the initial peak but it's coming down the mountain that's often more dangerous," he warned.
The Northern Ireland Executive responded to the statement almost immediately.
In correspondence from the Executive Office, it was revealed that, earlier today, First Minister Arlene Foster and Deputy First Minister Michelle O'Neill participated in a COBR call with the Prime Minister Boris Johnston and the First Ministers of Scotland and Wales.
The Northern Ireland Executive will consider its plan for a phased, strategic approach to recovery at its meeting tomorrow (Monday).
First Minister Arlene Foster said: "People across Northern Ireland have listened and acted on the public health advice over the last six weeks. They have stayed at home, kept their distance and washed their hands and because of that, they have saved lives.
"We have flattened the curve of infection, reduced the R rate to below one and protected our health service but we are not out of the woods yet. It is important that we continue to follow this advice.
"As the Executive begins to finalise our plans for recovery, we need to strike the balance between continuing to protect lives and the health service and give people hope for the future.
"The changes that we will introduce will be gradual, proportionate and based on scientific and medical advice and will be taken at the right time and in the best interests of the people of Northern Ireland."
Deputy First Minister Michelle O'Neill said: "Society has changed beyond all recognition over the past six weeks as people have followed the advice to stay at home and save lives. That remains the message.
"As an Executive we know it has been tough and we understand the impact the regulations are having on what was once our normal lives. But we are at a critical stage in the fight against the virus and so our recovery must be phased, gradual and strategic.
"The decisions this Executive will take in the days and weeks ahead are some of the biggest we will ever have to make. We know that six weeks into the restrictions, people need some light at the end of the tunnel.
"We also know that recovery will only happen one step at a time, to do otherwise risks undermining the sacrifices people have already made and increases the risk of a second spike in the future."
Sign Up To Our Newsletter