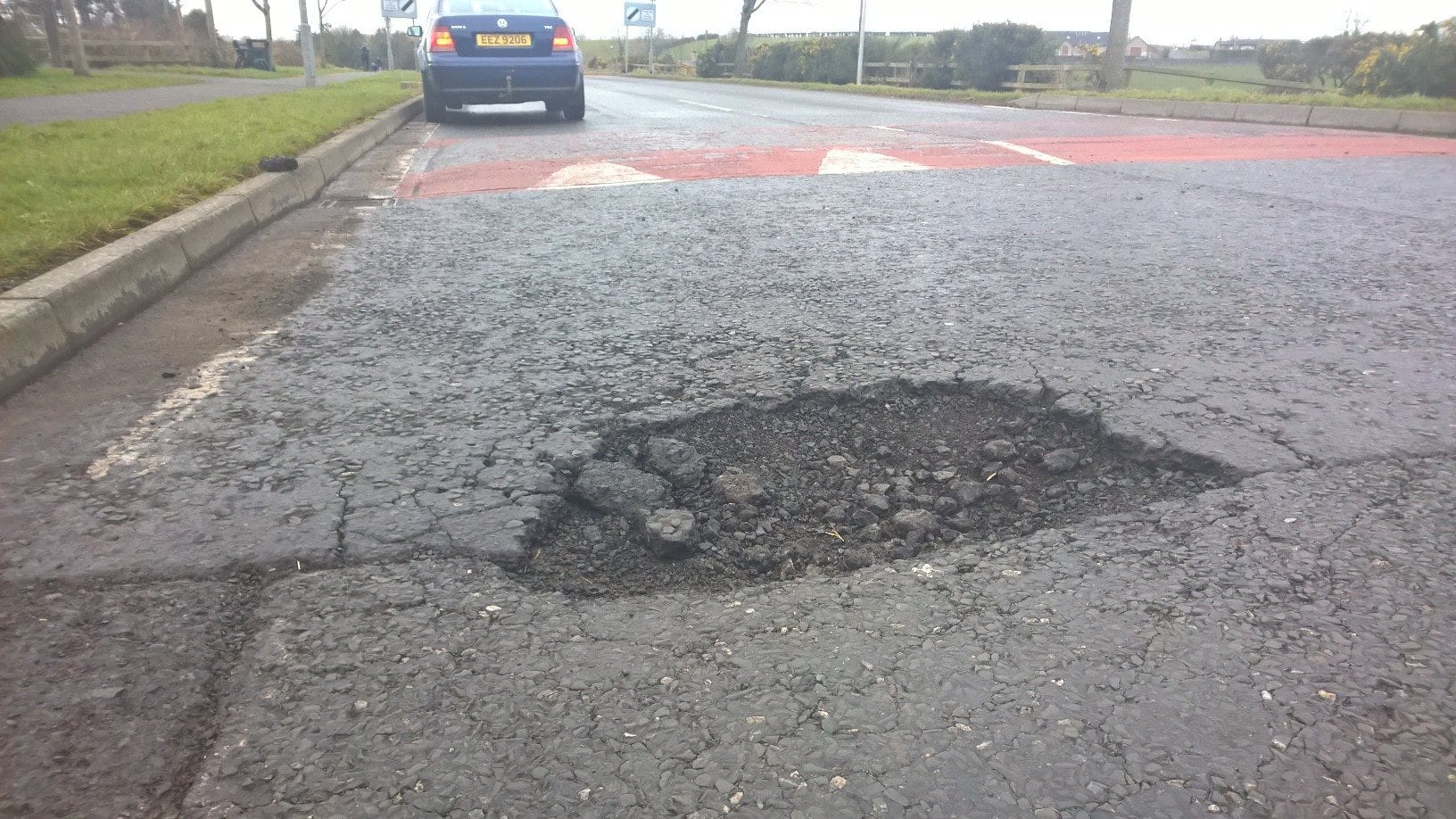 Provision has been made for "a limited routine roads maintenance service" as part of the budget announced by the Secretary of State today (Thursday).
This will include the "repair of large potholes".
No actual detail is given in terms of just how much will be made available and where exactly it will be targeted.
But in the absense of a fully functioning Executive in Northern Ireland, Karen Bradley's budget – according to the Department of Finance – provides "the clarity needed to allow departments to plan for the incoming financial year".
It will include allocations to target pressures on health and education.
Meanwhile, full funding will be provided for street lighting and traffic signals, amid earlier claims that lights may have to be switched off altogether.
Today's developments follow the publication by the Department of Finance in December of a briefing document on the Northern Ireland Budgetary Outlook, which illustrated the choices that might need to be made to set a budget.
The feedback on that briefing has been considered and departments have worked with the Department of Finance and the NIO to identify what decisions and steps might be required to deliver a budget for 2018-19 that would "address the key pressures in public services, particularly in health and education".
The budget is supported by revenue-raising and flexibilities from the UK Government.
This includes £25million generated by increasing the regional rate, and a decision to allow £100million of existing funding – normally ring-fenced for capital – to be invested in ongoing public service provision, enabling departments to further protect and preserve key services.
The Department of Finance says the budget will provide an increase for the Department of Health compared to the comparable actual funding levels in 2017/18, although given that cost pressures are increasing at a greater rate, difficult challenges in meeting demand remain.
It will maintain schools budgets at 2017-18 levels in cash terms, as well as ensuring that other services to schools, some specific initiatives and youth services can continue to be provided. It will also ensure there are sufficient funded pre-school places to meet the demand for all three to four year old children in Northern Ireland, as well as funding support for deprived communities through initiatives such as Sure Start and the Pathway Fund.
The budget will alsp provide funding for the Tackling Rural Poverty and Social Isolation programme, as well as maintaining funding for "vital services which provide significant value to rural communities and wider environmental benefits".
As well as the "limited" routine roads maintenance pot, it also enable the "continuance of existing public transport services and ensure minimal risk of water outage events and adverse environmental impacts".
The Department of Finance released details this evening and said: "While this is a challenging budget given the broader financial constraints, frontline services have been protected where possible.
"The constrained financial position reinforces the need for departments and the wider public sector to work collaboratively to deliver outcomes for all and maximise impact.
"This budget will also enable Departments to begin to transform how they deliver services and £4million has been set aside for that purpose.
"In addition, through the financial annex to the Confidence and Supply Agreement, £100million will be invested to progress health transformation; £20million will be invested in severe deprivation programmes, £10million in mental health services and £80million in health and education pressures.
"The overall capital budget will deliver the flagship projects identified by the previous Executive, as well as funding existing contractual commitments, health and safety requirements and a number of other projects.
"£200million for infrastructure from the Confidence and Supply Agreement will provide a welcome boost to available funding and will allow, for example, the developing and planning of the York Street Interchange project ahead of the construction phase.
"This budget has involved a number of difficult decisions for Departments and substantial savings have been identified that will need to be implemented in the course of 2018/19.
"Some funding streams will not receive budgetary uplifts and indeed will have to be reduced, with savings plans and cost controls being implemented across the NICS departments and in arm's length bodies. The focus will however be on protecting frontline service provision as far as possible."
The budget will be enacted in legislation in due course and will also be "monitored closely throughout the year" with resources "reallocated to highest priority areas in the usual way".
The Department of Finance adds: "Given current circumstances, this is a budget for 2018/19 only and therefore does not provide the much needed clarity and strategic direction for the future.
"Preparatory work for 2019/20 and beyond will be taken forward over the coming months and further strategic decisions will need to be made to ensure that a budget is in place in good time before 2019/20 and to make departments' financial positions sustainable."
Detailed tables are available online at: https://www.finance-ni.gov.uk/publications/2018-19-northern-ireland-finances
Sign Up To Our Newsletter