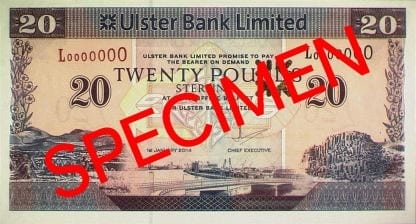 Police are warning people to be alert to counterfeit currency circulating locally.
The PSNI received a report of fake £20 notes being used in the Newtownhamilton area today.
The bank notes are Ulster Bank.
Police are asking people to be vigilant.
Business owners and staff should be alert to the possibility and check all notes they are receiving.
Ulster Bank has previously offered similar advice and urges: "When trying to authenticate a banknote, look for as many genuine security features as possible and never rely on looking for only one feature when deciding on whether a banknote is genuine.
"Take your time, particularly if light conditions are poor or you are handling a large number of notes.
"Feel the note in your hands and look at it closely: if you have any doubts, compare it to one that you know to be genuine.
"Remember, remain vigilant and do not rely on just one feature, check a few."
For more information visit: http://digital.ulsterbank.co.uk/globals/security-centre/counterfeit-banknotes.html
Sign Up To Our Newsletter