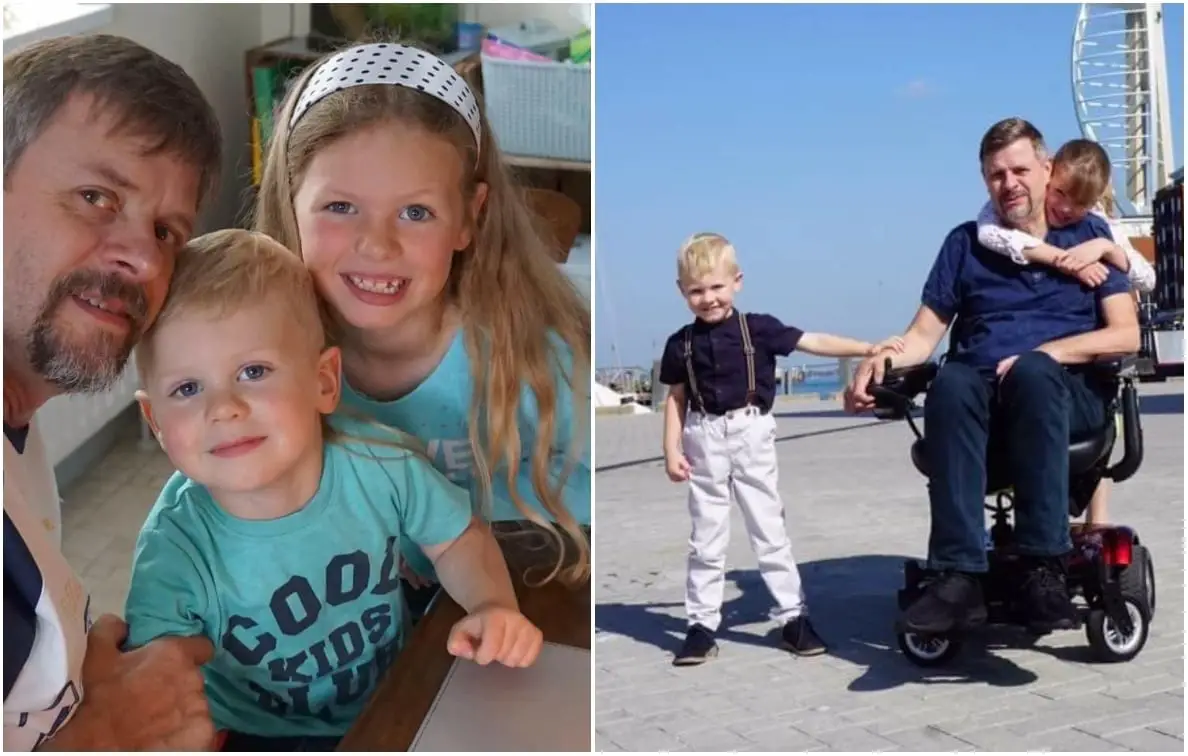 A Co Armagh mother-of-two – whose husband was diagnosed with motor neurone disease – is planning to abseil down the Europa Hotel to raise money for a charity which has been a life-line for the family.
Tammy Lines, from Newtownhamilton, is hoping to raise money for the Motor Neurone Disease Association when she undertakes the challenge on Father's Day.
The 34-year-old married husband Stephen (pictured below) two years ago and they have been together for over a decade.
Tammy told Armagh I : "I am trying to not only raise funds but raise awareness of this rare disease."
As well as being a carer to Stephen – who was diagnosed with MND in January 2016 – the couple have two young children, eight-year-old Daisy and Noah (3).
Tammy will undertake the abseil along with MNDA NI volunteer, Anne Sleith.
Anne became involved with the MNDA when she retired; her mother Maisie Keenan passed away from motor neurone disease and now Anne spends her time volunteering, as an association visitor, to support people like the Lines family.
A JustGiving page has been set up and Tammy – who is appealing for the support of local people – wants to give back to help others.
"My husband was diagnosed with motor neurone disease back in January 2016," she explained.
"It was a huge shock as his first symptom of this disease was a little finger on his left hand that stuck out too far.
"We all thought it was just nerve damage from a previous accident but we were very very wrong.
"It took Stephen a long time to come to terms with his diagnosis, he was in denial for a long time. He couldn't accept it considering he was only 45 at the time.
"We didn't tell our children about Stephen being ill until it was necessary as we didn't want to cause them any extra distress.
"So we kept it secret for months, trying to avoid talking to people so they wouldn't ask questions about Stephen. No one knew apart from immediate family and the health professionals.
"Our children realise that their Daddy is sick but they just don't realise how ill he is and will become…. We will face that together when the time comes."
Stephen was working as a mechanic when diagnosed and continued to work for about a year before Tammy says he lost his job on health and safety grounds.
She continued: "When he lost his job it was a major blow to his morale, having gone from working five or six days a week for almost 30 years to sitting at home staring at  four walls doing nothing.
"After work stopped his condition deteriorated rapidly as he was no longer being as physically active as he was. His mobility gradually got less and less and he now struggles with day to day tasks."
Tammy says the MNDA NI has done "so much to support us in these past two years" and now she wants to undertake this abseil to give something back.
"From grants to have work completed on our house so that Stephen can drive his electric wheelchair in and out freely and safely on a newly installed ramp , to giving grants to the kids so we could buy them Christmas gifts, to invites to afternoon tea where we got to meet other people going through the same thing as us, not to mention regular visits from Anne for general support, chats and keeping us up to date with MNDA news and events," she said.
"We want to give something back to the Motor Neurone Association NI and that's why myself and Anne are abseiling down a 51m high building on Father's Day in Belfast in June.
"No matter how much we raise it will all count in the end to help people that are in the same situation as us.
"It's nice to know the MNDA NI is always there to support us throughout this terrible unpredictable journey."
To donate to Tammy's JustGiving page, please click the link here.
Sign Up To Our Newsletter