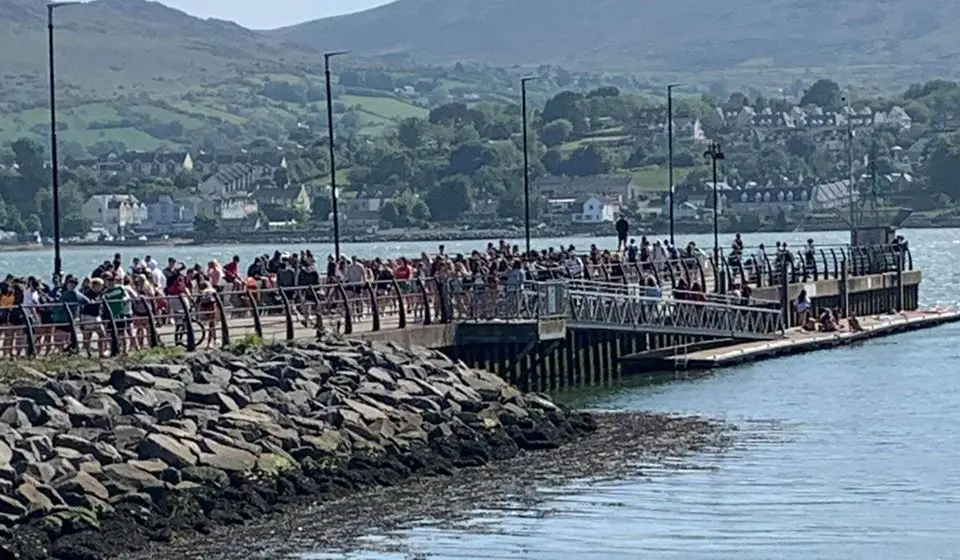 Calls have gone out to parents to help ensure that there is no repetition of shocking scenes in Warrenpoint where hundreds of young people gathered on Thursday.
As the weather clocked up the highest temperature of the year to date – and more to follow over the weekend and throughout next week – there have been fears that images such as this will help undo all the good work which has been done to date to prevent the spread of Covid-19.
Images of Warrenpoint Pier highlighted that the message has been treated with complete contempt by many.
On a day when the Northern Ireland Executive looked to ease further restrictions, the pier was packed along its entire length and even on the roads on either side.
The easing of restrictions as part of step one last week allowed for gatherings of friends outside of six but encourages social distancing.
This was what materialised instead.
The Executive has warned that this is no time for complacency and says there is a risk of worse to come if people simply ignore advice and do their own thing.
To that end, Independent Councillor Mark Gibbons says parents should talk to young people and try and impress upon them the need to avoid situations like this. This was happening as people prepared to take part in the last 'Clap for Carers' on Thursday night.
Councillor Gibbons said the situation at Warrenpoint Pier was "nothing short of disgraceful".
"There is only so much PSNI, council and other agencies can do," he said.
"This is out of control and a complete disregard for lives that have been lost, our NHS staff and key workers and for all the good people who have isolated and sacrificed so much.
"Please contact PSNI 101 to report anything you see similar."
The PSNI had also expressed concerns over the crowds of young people who had gathered "with no ability to socially distance".
And in a direct appeal they added: "Parents please ensure you know where your kids are and that they are behaving responsibly."
Sign Up To Our Newsletter