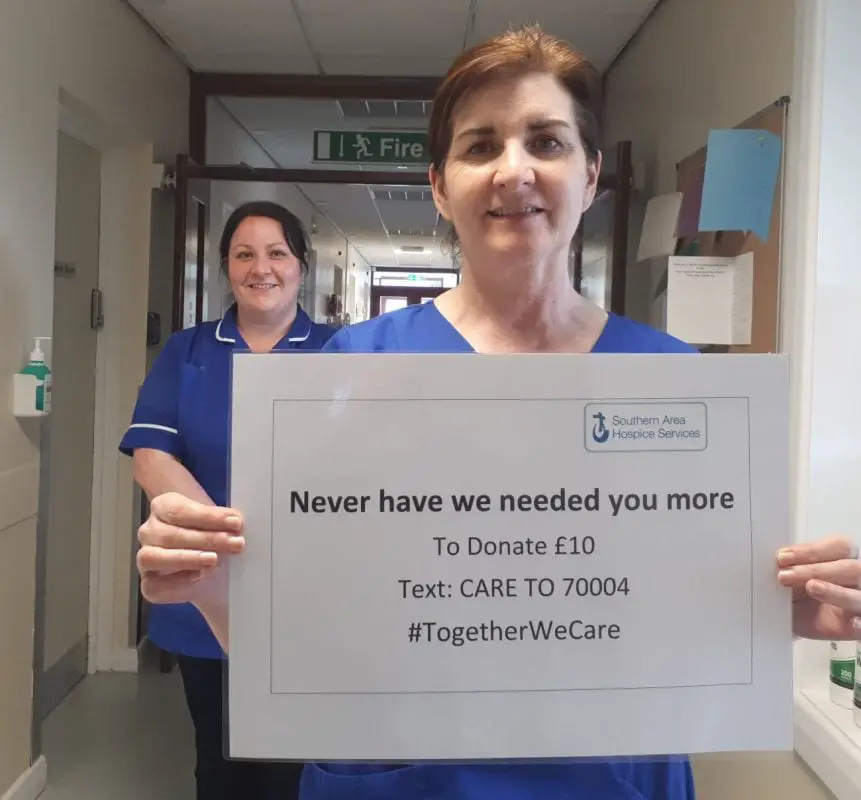 An urgent appeal has been made for donations to ensure the vital work of the Southern Area Hospice Services can continue after the cancellation of all fundraising events because of COVID-19.
The Southern Hospice, based in Newry, has said there are a number of ways in which people can give money, which is needed now more than ever.
This picture says it all – nurses, Jackie O'Rourke and Jenny Wilson, are asking you to please continue to support the Hospice during these unprecedented times.
A spokesperson for SAHS said: "With all of our fundraising events cancelled or postponed due to the COVID-19 crisis, it is to you, our many friends and supporters, that we must turn to for help.
"We are still here providing essential care, support and advice to the people in our community that depend on us, and we want to continue with our work.
"But we need your help – and so today we are asking you to donate whatever you can afford, to ensure that in these most uncertain of times for us all, our doors remain open and we can continue to provide the care our patients and their families need.
"Your support now is vital – anything you can donate will make a difference. We can only care because people like you do.
"Thank-you and take care."
If you are able to support your local hospice during these unprecedented times you can do so in a number of ways:
Phone: 028 3025 1333 (9am – 5pm Monday -Friday) and donate over the phone
Facebook: Use the donate button on our Facebook page https://www.facebook.com/southernareahospiceservices/
Website: Visiting the donate section on the website https://www.southernareahospiceservices.org/donate-now
Text: To donate £10 now Text:  CARE to 70004
Post: Post your donation to: SAHS,  Fern House , Courtenay Hill, Newry, Co Down, BT342EAThank you on behalf of everyone at Southern Area Hospice Services.
Sign Up To Our Newsletter