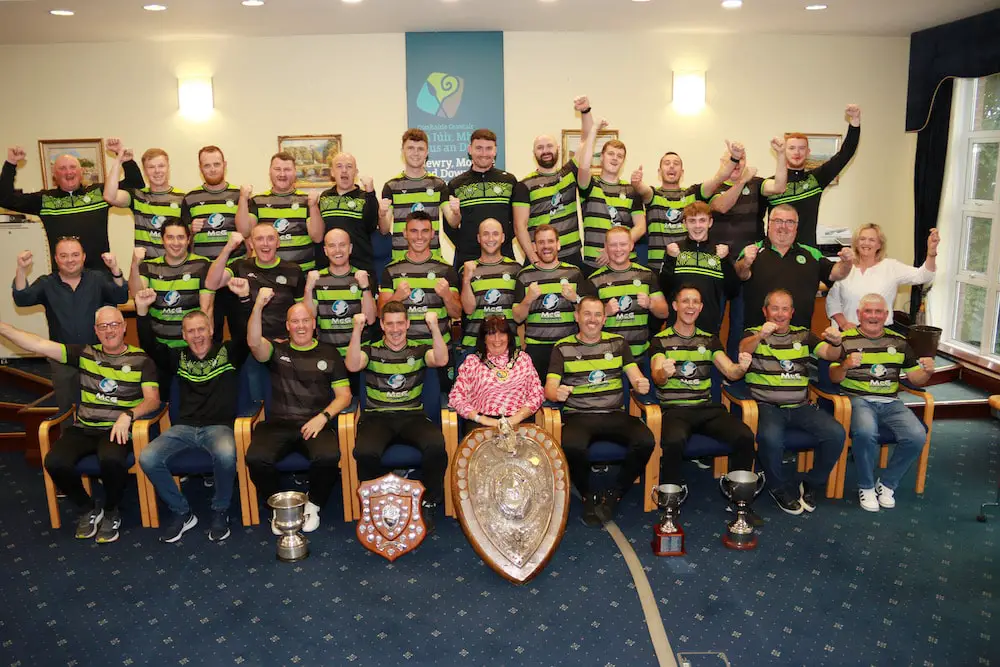 Cleary Celtic FC's five-trophy haul has been marked with a civic reception by Newry, Mourne and Down District Council Chairperson, Cllr Valerie Harte.
At a recent Civic Reception held in Newry's Council Chamber, Cllr Harte presented the team with an engraved crystal bowl in recognition of their remarkable achievements in the 2021-2022 season.
Speaking at the reception Cllr Harte said: "I am truly delighted and honoured to host this Civic Reception to recognise the amazing achievement of this team and its management.
"It is very important to me that I recognise achievements in sport in our district. I know that during 2022 your team had some outstanding performances and were on a record winning season. You created a new historic chapter in the Carnbane League by becoming the first team to win five trophies in one season.
"I would like to thank Cleary Celtic Management Team – John Hogg, Robby Quinn, Paul McElroy, and also a mention to James McCorry and Jim Fox for the time and effort they put into helping the team give their best. You have helped to guide and drive this team on to become the successful team they are today.
"I can only imagine the time and effort put in over the weeks and months, in all sorts of weather to ensure that success could be achieved."
Concluding her address to Cleary Celtic, Cllr Harte said: "What an inspiration you are, not only to your own community but to the people of the wider Newry, Mourne and Down District. Your hard work, discipline, determination and will to win have led you to the strong position you are in today.
"Being part of a team such as this is much more than a game to be played, it is a lifestyle which promotes discipline; a sense of team spirit and friendship that instils loyalty, purpose and integrity. I am delighted that you have retained the Carnbane League, Mid-Ulster Shield and the Fr Davies Cup this season 22/23.
"Finally in conclusion Cleary Celtic, I want to thank you for all coming this evening. I look forward to celebrating with you all during 23/24 when your club will be 40 years competing in the Carnbane League."
---
This addition to our site is meant to elevate your experience by adding new real-time commenting features, personalised user profile and on-site news feeds.
Click the Log In button at the top of the website to start commenting.
Sign Up To Our Newsletter