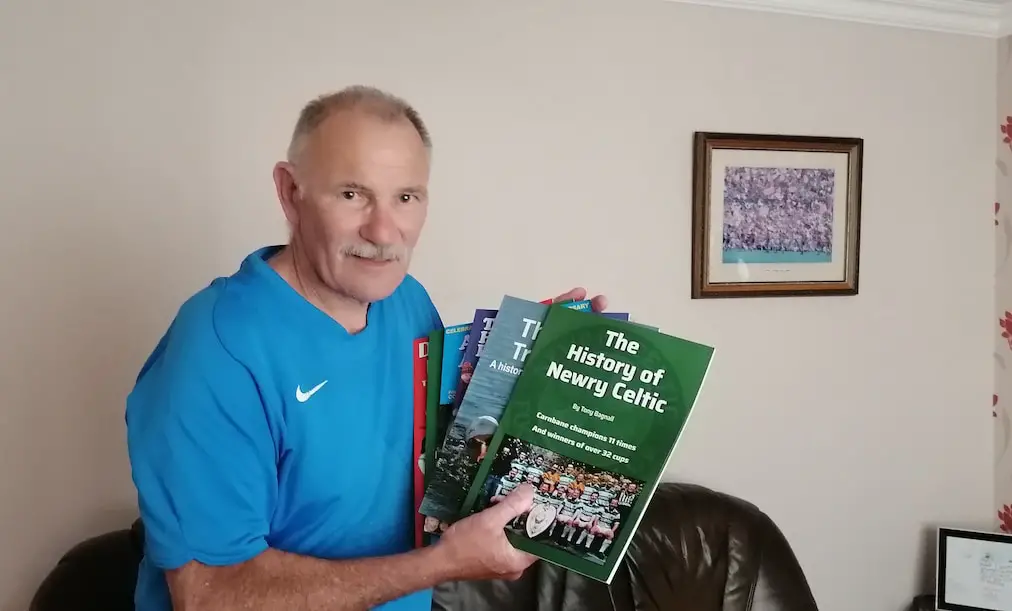 If you take a spin out to Camlough Lake or Newry swimming pool you might run into this week's podcast guest.
You might also read his name on one of the eight books he's written about subjects ranging from local football histories and sporting heroes, the story of the showband era – 'Do You Come Here Often'- the history of Derrybeg, plus the only book written on triathlons in Ireland, 'The Irish Triathlete'.
His latest book – 'The History of Newry Celtic,' was just launched to a full house in Nan Rice's in Newry.
Tony Bagnall, – Journalist, musician and Ironman – knows his stuff about all of the above subjects. He was the first person to compete in an ironman from the Newry area, when he was 38. And he's also the oldest man do complete that mighty feat at the age of 71.
Tony is now 76 but he certainly doesn't look it. He doesn't do much running these days but he cycles or swims on a daily basis – not for the love of it mind you. "People confuse enjoyment with satisfaction," he says.
When he's not keeping fit, Tony can usually be found putting pen to paper, or keeping his many Facebook followers entertained with his amusing and informative stories – mostly about the many characters from the area that he's come across over the years.
Tony wears many hats. But the former welder, who took to writing in middle age and became Sports Editor of the Newry Democrat, is modest about his many achievements.
He says he wasn't a great musician or the best footballer, but he admits that he can write well.
Of all of the things the popular man local legend is, Tony is first and foremost a story-teller and for this week's Armagh I podcast, he tells us all about his upbringing in Linen Hall Square as a 'Barackovian'.
He talks about his bands, including the brilliantly named 'Sons of Rest' and their misadventures, including an ill-fated chance to appear on Hughie Green's 'Opportunity Knocks', and how drummer Willie Reilly short-changed Newry menswear owner Kevin Russell who kitted the band out with the obligatory showband uniform.
He tells us some of the stories in his book on Junior Football, including how referee Mousie Fitzpatrick was sent off by the other referee in the same game, Jim McCardle – it's complicated!
And how an insult in Newry is really an underhanded compliment!
For all of this and more, listen below or subscribe and download here: Apple Podcasts – Google Podcasts – Spotify.
Title music: NEW HORIZONS – Lesion X
Sign Up To Our Newsletter